Estimated Reading Time: 4 Minutes
It's a fact that retirement in Costa Rica is way different than it is in Florida. The reason for this blog is to show those who plan their retirement in the tropics that Florida and Costa Rica are two different worlds. Your lifestyle should indicate where to retire.
I was reading on Private Communities, that Florida has about active adult (55+) communities and we have ZERO such communities. It seems these 38 communities in Florida market mostly to those interested in golf, water recreation, tennis, and pickleball. This reminded me of several clients who moved to our beautiful country in the past. After some years, they thought they would be better off retiring to a real retirement community in Florida, where thousands of people retire every month. Once they moved to Florida, they realized how much they miss Costa Rica.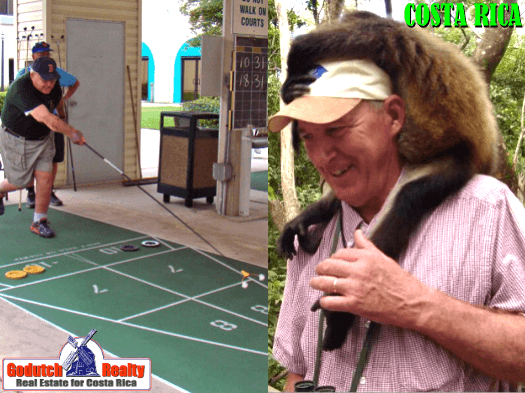 Our lifestyle
Most of us, during our lives and our career, have acquired a lifestyle. Some love to read a good book or enjoy a nice glass of wine. Others cannot live without concerts and theater, or want to live a different adventure every day.
Some of those who visit, never come back to Costa Rica. But adventurous future retirees realize that retiring to Florida is a big mistake. Let me tell you why.
Retirement and amenities
Many people who work hard their whole life (or not) dream of retiring to a beautiful place with nice weather every day. They think they'll love being surrounded by nice and entertaining people on a beautiful golf course or well-landscaped parks and sidewalks. Are you looking for a 55+ or a retirement community with all the amenities that come with it? Then you need to move to Florida and not to our beautiful country! And it's great you have those different options.
In the land of the Pura Vida, we don't have any of those retirement communities with amenities like a country club with golf, tennis, and fitness. We do not have communities with activities including various card games, social events, and poolside entertainment.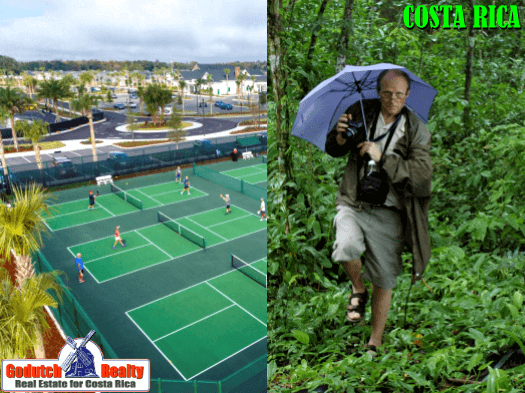 Organized Retirement
Retirement in the Switzerland of Central America is not like:
Take a tour through Paris or London on a tour bus, where the driver tells you went to look left or right.
Dining in a fancy restaurant where someone explains to you what every course is
Sports such as pickleball, tennis, bocce, corn toss, darts, and shuffleboard
What is it like?
So what is retirement in Costa Rica like then? I hope you're adventurous and that you will like the ride on a rollercoaster. Every day can be an adventure. Something new and unbelievable can happen to you all the time, not always positive ones, but that depends on you!
Here are a few, so your retirement will be full of incredible days:
There are over 800 miles of coastline, so we have hundreds of beaches to go to,
Nowhere in the world the Gallo pinto and Casado are so good as they are here,
28% of the country is protected by national parks, reserves, and wildlife refuges, you couldn't visit them all in a lifetime,
The country contains nearly 6 percent of the world's biodiversity, so there is a lot to see, hear, feel, and experience than you'll ever find in Florida,
Drink the best coffee in the world every day, at breakfast or whenever you feel like it, café Ateneo,
We live in the happiest country in the world,
If you complain about the weather here, there is something wrong with you!
Here, you can dress without stress, if you follow the suggestions,
The warm, friendly, and hospitable Ticos that you'll meet every time you leave the house,
You can wear flipflops year around,
Meet the crocodiles around the Tarcoles Bridge and much more. I strongly recommend you grab one of the combos.
Visit any of our volcanos: Arenal, Poas, Irazu, Rincon de la Vieja.
Whitewater rafting is for all ages, just pick the right one for you.
I could make this list a mile long. But I'll leave some of the homework for you to do.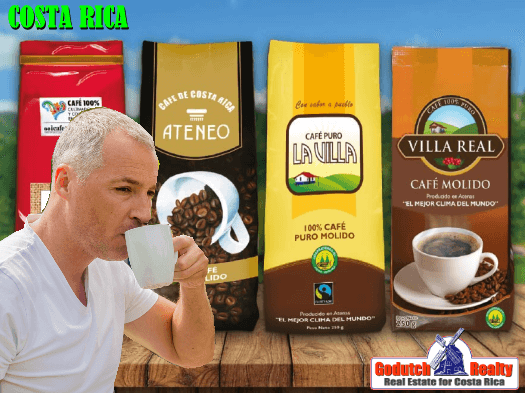 Most real estate professionals sugarcoat everything when trying to sell you a property here. I love people to be happy and I do not enjoy seeing so many become ugly Americans because they made the wrong decision moving here. Therefore, last but not least, I put together 28 cons to living in Costa Rica and the solutions.
Do you feel you're ready to buy or rent now? Then contact us.
Used in featured image: Travel photo created by freepik – www.freepik.com and Image by Dragana_Gordic