Estimated Reading Time: 6 Minutes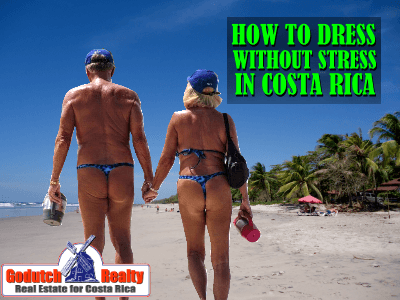 Costa Ricans still dress quite conservatively in public, although they are not as prudish anymore as they used to be.
Costa Rica is not that 3rd world country where I moved to in 1980 anymore. Although, of course, television and foreign influence have opened their minds tremendously. But there are still certain things you cannot do and specific clothing you cannot wear because it is simply not done.
That is, if you have any respect for their traditions. The Catholic Church still has a lot to do with that.
When I moved here, it was unheard of for men to wear shorts in San Jose or Escazu. Women could not dress very short and show a lot of skin.
Being Dutch, I grew up in a very liberal culture. Forty-five years ago, women would leave the top of their bikini at home to go to the beach. There were already many nude beaches then. And in Costa Rica, we still don't have any of those. And God forbid, you go topless…
At sports, when I grew up, all men would shower together after the game, with nothing on. Women would do the same thing. We wouldn't think any of it. When I moved here, I found that all those things were unimaginable. And many still are now. There are still unwritten dress code rules that you should know.
Just to explain this better: the morning-after pill was legally approved in Costa Rica in 2019. The same morning after pill gave me the possibility of not marrying my girlfriend when I was 16. That was in 1971, 48 years before!
So, what should you wear on each occasion? You want to know what type of clothing you want to bring with you, right?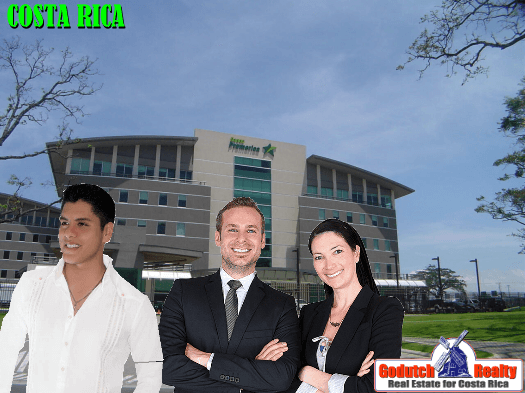 Formal dress at work
Due to the warm weather in Costa Rica, for quite some years, the Guayabera was customary. The Guayabera, a Cuban invention, was created to eliminate a more traditional dress with a suit and tie. The reason was that most office buildings in Costa Rica didn't have any air-conditioning.
In today's office fashion, office workers do not use the Guayabera anymore. Instead, a dress shirt and tie are ubiquitous or a two-piece suit, depending on the business environment. I know only one Costa Rica real estate agent who uses a suit or even a tie. Most of us dress very casually, depending on if our clients are locals or foreigners.
Country Club and public pool
Are you a member of a Country Club? The dress form depends significantly on the club and if it's in the city or at the beach. Some clubs are very competitive socially, so members worry more about dress codes. In others, members dress very casually.
In Costa Rica, it is not customary to show a lot of flesh. When I moved here, I wore a Speedo water polo brief once. The pool management told me to find myself a pair of shorts or leave the pool. Thong bikinis for men and women are unheard of in a country club or public pool in the Central Valley. At the beach, it's acceptable, but anybody who does will catch a lot of attention.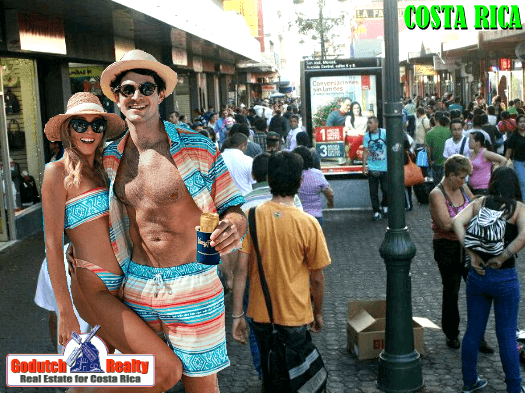 Shopping
When they don't work, the locals dress very casually but without showing a lot of flesh. The younger generations are, of course, more generous with showing what they have or don't have.
It was unheard of to wear shorts and flip-flops while shopping 15 years ago; it is pretty standard now. Latins are generally vain people, so they like to dress well. They would never go into a mall "looking like crap." We have all seen those internet photos of the people of Walmart, but Ticos go to Walmart well dressed. Looking good at all times is very important to men and women alike.
When shopping in beach towns, you cannot expose any private body parts. But I have never seen anybody fined for indecent behavior. A man can walk without a shirt in the streets of a beach town. While in other countries, people get fined for that. But, I do not recommend walking shirtless in the streets of San Jose or any other city in the Central Valley.

The beaches
As you all know, the beaches in Costa Rica are all public. So there are no rules like you would have in a club. Unlike the Brazilians, it is not customary for Costa Ricans to wear tiny little bikinis or thong bikinis on the beach. However, that is changing fast. When you choose a beach lifestyle, you also have to adjust to the local customs.
Not wearing a bikini top on the beach might get you arrested. Topless is simply not "done." But wearing a tiny one will assure you the attention of every man on the beach, especially if you are a young blonde with blue eyes.
There are no nude beaches in Costa Rica either.
The law
The constitutional court of Costa Rica has sentenced: "To ensure the respect for the people's rights, we must recognize the autonomy of each human being and accept the right of everyone to be different.
In this specific case, it is a conflict between the rights of a citizen and the right to project to others as you want. Provided they do not violate the minimum standards of morality and decency, and social interest to perceive that person within a framework of normalcy that has imposed the traditions in our society. Therefore, in accordance with the above, it is not possible to discriminate the plaintiff only by the way they chose to project as a society."
If you're not sure what to wear on certain occasions, once you live in Costa Rica, ask your GoDutch Realtors. We have all been here long enough to know what is acceptable and not.
Contact us now if you are ready for that purchase. And we appreciate your referrals as usual.