Estimated Reading Time: 8 Minutes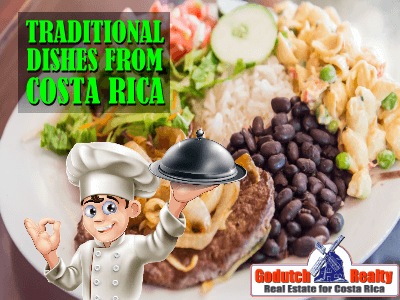 You might think that the only traditional food in Costa Rica is Gallo Pinto. But Gallo Pinto is not the ONLY traditional food they have.
The Spanish words traditional Costa Rican food is comida tipica Costarricense. Rice, corn, and beans are the main ingredients, but there are many vegetables here that they also include in their daily diet.
I used to own Condimentos Escazu in the 1980s, the leading spice factory in Costa Rica before Ticos even heard of McCormick and Durkees.
In the 1980s, the Tico kitchen didn't know much more than achiote en pasta (annatto, which is a red food coloring), pimienta La Estrella (cornflour with a taste), and bomba (a mix of several spices). Most local spice brands at the time would use corn as fillers to make them cheap. Therefore, most traditional food used to be quite tasteless to people from other cultures. When I sold the brand to "Los Patitos," we were offering a variety of 65 spices. Costa Ricans now cook more internationally, but the traditional food still requires those same spices.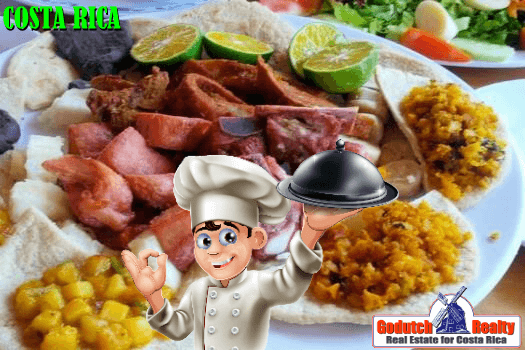 Culantro
Cilantro or culantro in Spanish is an important ingredient for almost every dish. I'm not too fond of it because it's so bitter. So, if you don't like a bitter taste, don't forget to ask the waiter when dining out, "sin culantro por favor."
My wife, Dany, is a Tica, and she is an incredible cook. Now and then, she likes to include Tico dishes on our menu, but she uses different spices than the traditional ones. In my food, she doesn't use any culantro ever!
Xmas
I have published a blog about traditional Christmas recipes, such as tamales, which you can find here.  Therefore, it's not necessary to mention those dishes again.
Tico Dishes
Let me give you an idea of a few Tico dishes. There are not very many traditional main dishes. Most of the traditional food in Costa Rica is appetizers and desserts. I'll try to include a recipe, but I don't promise it's the best you will find online.  Some recipes are in Spanish, so I invite you to use Google Translate.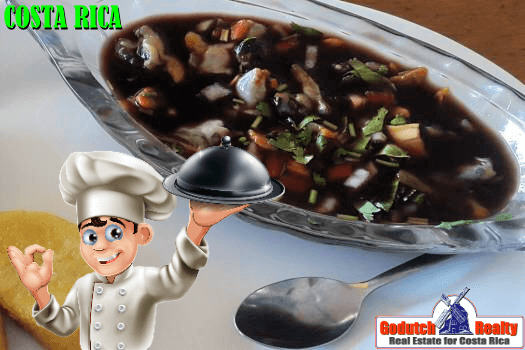 Dining out
If you're just a little too lazy to try cooking the Tico food yourself or want to try it out first, these restaurants might be a good solution:
Appetizers
Appetizers are very common in Costa Rica, commonly called bocas. Many years ago, you'd get a small appetizer to go with every beer you'd order in any bar in Costa Rica. Unfortunately, this is very rare now.
Many appetizers are served on a tortilla, which is called a gallito. There is a huge variety of gallitos, recipes now:
Chorizo
Papa
Chicharrones
Lengua
Arracache
Salchichon
Picadillo de chayote
Flor de Itabo
Picadillo de Papaya Verde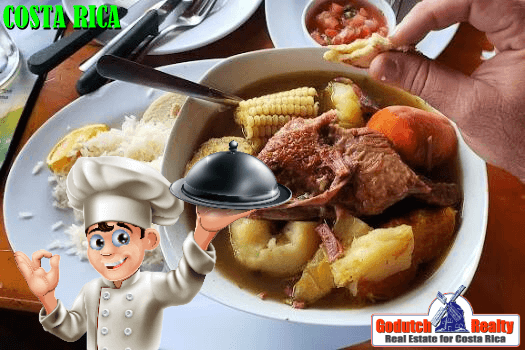 More appetizers
Chifrijo
Chifrijo is quite famous. A bar owner in Tibas created the original Chifrijo, which has become a traditional national recipe. It's basically a mix of chicharrones, rice, beans, avocado, chimichurri (or Pico de Gallo, served with fried tortilla chips.
Ceviche
Ceviche is a common appetizer and traditional food in Costa Rica. There are many ways of serving a ceviche:
Pescado – Corvina fish
Camaron – Shrimp
Mariscos – Seafood
Chuchecas – giant ark, grand ark, mangrove cockle (Anadara grandis)
Pianguas – clam./many-ribbed ark (Anadara multicostata; Anadara tuberculosa)
They're all served with cilantro and soda crackers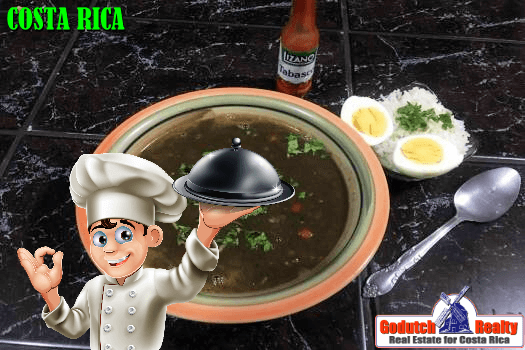 Patacones
These are green plantains, sliced an inch thick, flattened with a bottle or something heavy, and then fried twice. They are served just with salt or top them with cheese, avocado, salsa, or any dip. Check on La Pataconeria restaurant for more ideas or visit them. It's well worth it.
Chancletas
Use a large chayote, and fill it with cheese and natilla, called chancletas. Delicious!
Enyucados
I haven't seen enyucados for a long time. Normally enyucados, are a very traditional food of the Costa Rican rural areas. They're made of cassava and filled with ground meat.
Chorreadas
Chorreadas are corn pancakes and served with natilla (sour cream).
Pozol
Pozol is a very popular dish, prepared with corn and pork. Cooking it is quite a bit of work.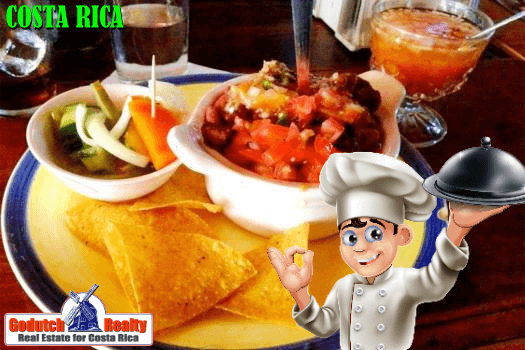 Soups
If you're just too lazy to cook or prefer the authentic flavor of soups by Costa Rica recipe, you can order from La Casita de la Sopa – see Facebook.
Olla de Carne
Olla de Carne is one of the most traditional meals in Costa Rica. But, you don't eat it like a regular soup! Instead, Olla de Carne is a soup that is the main dish. Olla de Carne consists of a broth with beef cut in pieces, with large chunks of vegetables. It is often accompanied with white rice or rice with achiote.
Sopa Negra
Since beans are one of the main ingredients, Sopa Negra, with frijoles, is pretty traditional. But, of course, one of the ingredients is cilantro. The soup is often served with an egg cooked in the soup and accompanied with white rice.
Sopa de Mondongo
When cooking Sopa de Mondongo, send everyone out of the house. The smell is horrible. But the taste of this soup is incredible when it's well cooked. The primary ingredient is tripe, and typically potatoes, yucca, squash (chayote), carrots, and the usual spices are added.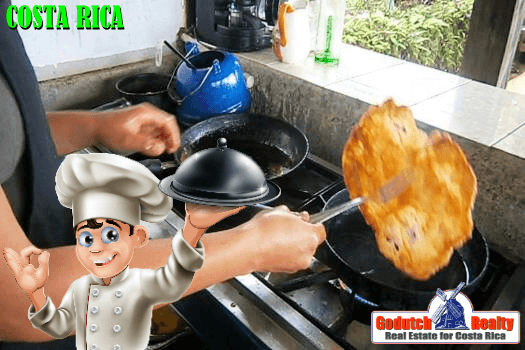 Rice
Many main dishes are based on rice. Almost every dish in Costa Rica is served with rice. But several dishes are rice with something:
Gallo Pinto
I've done a special blog on Gallo Pinto, so I'm not going to give you more than the link to it.
Arroz con Pollo
Rice with Chicken – Arroz con Pollo is a simple dish but very common in Costa Rica. They are often served at parties. You can also cook this dish with shrimp – Arroz con Camarones or pork – Arroz con Cerdo.
Casado
The name casado means "married" and is a dish that you can get in any local "soda" or restaurant. The main ingredients are rice, beans, plantain, and you'll have a choice of pork, steak, or chicken.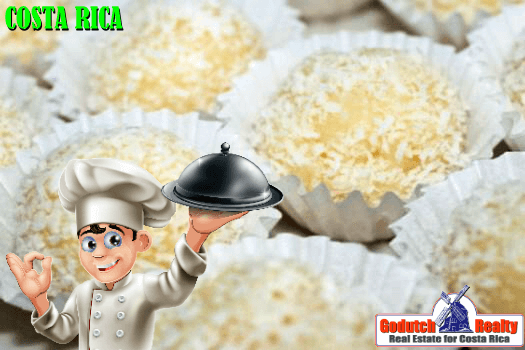 Desserts
Most Ticos are sweet tooths. Therefore, there are quite a few desserts among the traditional food of Costa Rica.
Budin – Cake made of old bread
Arroz con Leche – Rice pudding
Atol – Corn starch pudding
Cajeta – Milk Caramel
Cocadas – Coconut cookies
Dulce de Leche – Milk Cream
Prestiños – dough-based deep-fried pastry
Helados de Sorbetera – Home-made ice cream
Tamal de Elote – Sweet corn tamal
Granizados – Churchill – snow cone
Zopilotillo – A dessert made of sour milk, cinnamon, and cloves
Platano con queso – Plantain with cheese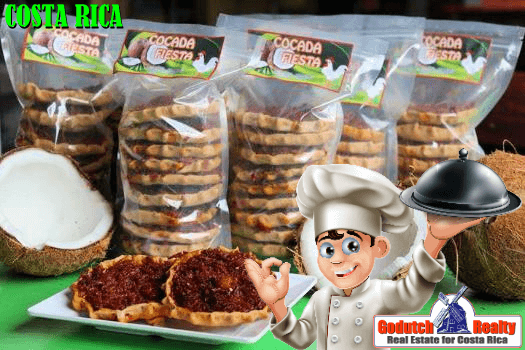 Try it out!
Adjusting to food in your new home country is an essential part of adapting to the country, the culture, and the people. I'm sure that those who try out some of these traditional food recipes will successfully adapt. However, if, once in a while, your stomach asks for international food, try Plaza Tempo.
Are you just starting your search? Then I recommend checking out our blogs about how to prevent culture shock.
---
If you like this blog, subscribe to my newsletter by clicking the banner below.

I DO want to remind our readers that we appreciate any referrals you can send us. Also, please remember the GoDutch Realty agents when you talk about your home in Costa Rica; we appreciate it.