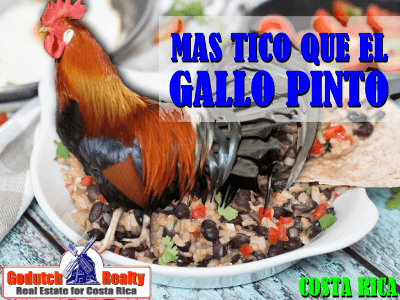 In Costa Rica, you will hear the expression Mas Tico que el Gallo Pinto.  Literally translated, this means a person is more Costa Rican than a spotted rooster. Does that make sense?
Gallo is rooster and Pinto means spotted. Gallo Pinto is the #1 food for the Ticos. It is the famous rice & beans that Ticos eat at breakfast, lunch, and dinner. The real significance of the expression is that a person is more Costa Rican than the famous Gallo pinto.
The real significance of the expression is that a person is more Costa Rican than the famous Gallo pinto.
Also, the expression can be used as an answer in the following opportunities:
When someone feels attacked for not having any nationalist beliefs.
If there is a doubt that a person has the Costa Rican nationality. To defend him/herself, the person will use this expression to prove the opposite.
When someone believes the person is from another country for some reason. Sometimes a Tico / Tica who has lived abroad for a long time, he/she has acquired a foreign accent. In that case, pride comes to play and the expression is used to give proof of being a "real" Tico or Tica.
To confirm that a foreigner has fully adapted to the local culture and language. Usually, this foreigner has been in the country long enough to be able to Spanish with the typical Tico expressions and words.
At home, we speak Spanish and I learned my Spanish in Costa Rica, with all its nuances. I am considered by many locals to be mas Tico que el Gallo Pinto.
Aprons
You can also become más Tico que el Gallo Pinto the easy way. Show off to your friends you're a real Tico by buying this apron from Arteria. You'll love some of their products that are offered at very affordable prices. They have stores in different parts of Costa Rica and quite a few distributors. (I'm not getting any commission, so don't worry…)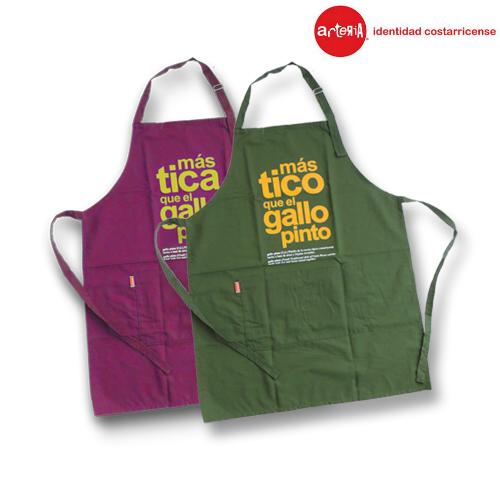 Tico
If you don't know where the word Tico comes from, Wikipedia explains the word very well.
Tico (feminine Tica, plural Ticos, Ticas) is a colloquial term for a native of Costa Rica. Costa Ricans are usually called Ticos by themselves and persons of other Spanish-speaking countries, in place of the more formal costarricenses.
Gallo Pinto
The Ticos usually call their Gallo Pinto just "Pinto".
To be able to make a quality pinto, you need to cook the rice the day before.  In Guanacaste, for example, a pinto is made with fewer spices and a little more toasted. In the Central Valley, the pinto is much more colored with more spices and is less dry. On the Caribbean side, they don't call it Gallo Pinto but Rice 'n Beans and is prepared with coconut oil.
If you want to try cooking a good Gallo Pinto, try this recipe and for Rice 'n Beans try this. This is just an example. There are many ways to make a Gallo Pinto.
Moros y Cristianos
In other parts of the world, you will find a similar dish, of Cuban origin, with the name Moros y Cristianos. If you ever visit Spain, you'll find that dish in many restaurants.
Festival
Every year in March, the "Fiesta Nacional Gallo Pinto y Las Delicias Ticas" is held in the Parque Central of San Jose. In March 2017, the organization handed out 25,000 free orders of Gallo Pinto to the participants. The Banco de Costa Rica and the Municipality of San Jose have been organizing this event for the last 10 years.
Other expressions
The following expressions also have a similar meaning
Más Tico que un ayote
Más Tico que un chayote
Mas Tico que el agua dulce
Más Tico que la olla de carne
Also, other expressions with the word pinto:
Someone who eats a lot of food "es bueno pa'l pinto".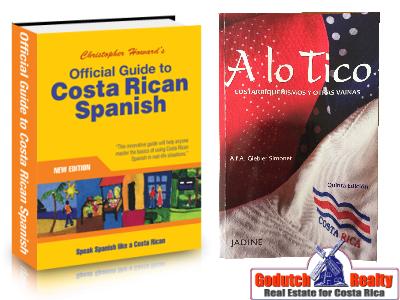 Learn
If you would like to speak fluent Tico and be más Tico que el Gallo Pinto, I recommend you purchase two books:
A lo Tico by Alf A. Giebler Simonet.
Official Guide to Costa Rican Spanish (speak Spanish like a Costarrican) by Christopher Howard.
As a result, you will learn a lot of Spanish. You might even get to speak Pachuco (more about that in another blog) soon. In addition, for your real estate rentals and purchases in the Central Valley of Costa Rica, contact us.
Feel free to leave your comments on this blog.
---
If you like this blog, connect with me on Google+ or subscribe to my newsletter by clicking the banner below.

Finally, I DO want to remind our readers that we appreciate any referrals you can send us. Please remember the GoDutch Realty agents when you talk about your home in Costa Rica, we appreciate it.