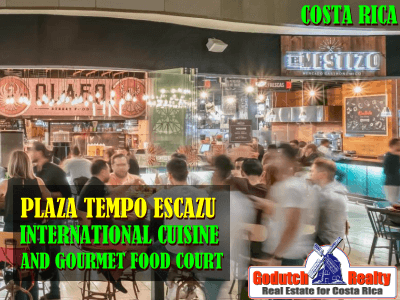 Today, I'd like to tell you all about Plaza Tempo Escazu Gourmet Plaza. It has been a while since I've recommended any restaurants. The last time, I recommended a restaurant, I recommended you to Go Fish, which I still like a lot.
Escazu has always been an amazing place for wining and dining. There are now so many places to eat well in Escazu, it will take you quite a while to try them all out.
Restaurateurs in Costa Rica have figured out that the more competition, the merrier. So finally, El Mestizo – Plaza Tempo was born. A one-stop for street food and fine dining.
Plaza Tempo is located between CIMA hospital and PriceSmart in Escazu, on the south side of highway 27. Right where you see the signs of the Holiday Inn Hotel and the Mercedes Benz showroom.
When you come into this office/hotel/food center, you should drive right down into the parking garage in the basement. There are hundreds of parking spots and then you can take the elevators to ground level.
Parking has the same cost as Multiplaza shopping mall. But here you can redeem one-hour parking with the restaurant you go to.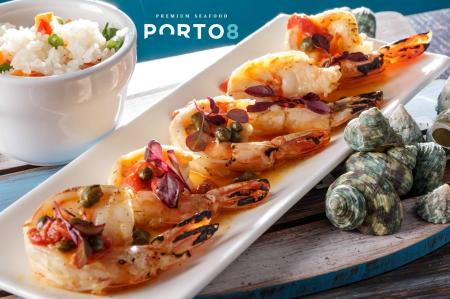 Restaurants come and restaurants go, so I cannot promise that those I'm recommending will be there forever. Have a good look at the Plaza Tempo Escazu website before you make any plans.
Plaza Tempo Escazu has many formal restaurants, with their own space, and even terraces. But there is also a gourmet food court, which they call El Mestizo – Mercado Gastronomico.
If you'd like to order home delivery, many of the restaurants are on Uber Eats too.
El Mestizo
The El Mestizo  – Mercado Gastronomico is an informal food court, where you have a choice of 13 concepts.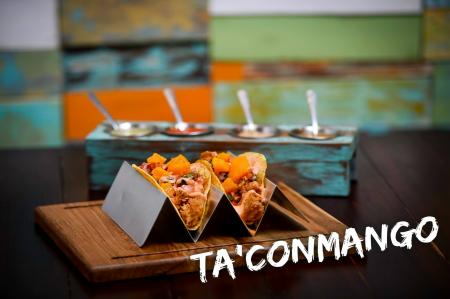 Battuto – Pasta
Kamikaze Wok –Asian
Sie7e – Urban
Sublime – Sandwich Bar
Illig Biergarten – German
Falafel House –Libanese
La Pataconería – Fried plantain
Olafo – Street Food
En Paleta – Ice cream
Ili Vanili – Confectionary
Cabo Taco – Mexican
3 Croquetas – Spanish tapas
Plaza Tempo Restaurants
If you're looking for more formal seating for you and your friends, have a look at the more formal restaurants that Plaza Tempo Escazu offers.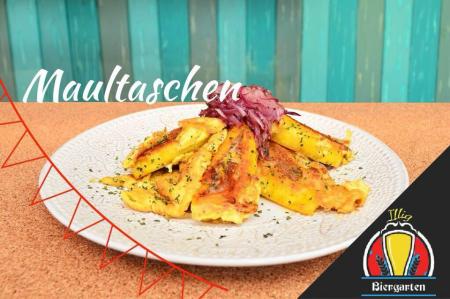 Milá Bistro
Los Antojitos – Mexican
Porto 8 – Premium Seafood
Sicilia Deli – Italian Trattoría
Poke – Poke bowls
Rafaella Mercado Urbano – Comfort food
Kololo Ramen – Korean
Nokke – A Speak Lounge, great cocktails
If you like good food, give it a shot, you'll love it. The Plaza Tempo Escazu gourmet center has everything for everyone. Easy access, easy parking, try it out.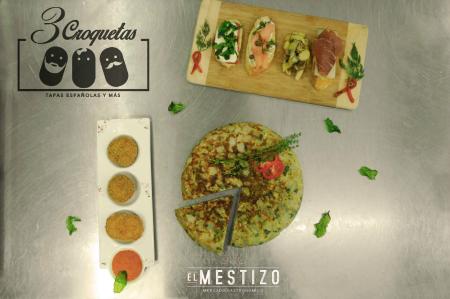 Feel free to leave a comment in the comment section at the end of this blog about any of the restaurants you've tried.
We appreciate your real estate business and your referrals. Know anybody who wants to buy property in the Central Valley? Then contact us. Thank you!
The grammar of the Spanish version of this blog was checked and corrected by Wagner Freer of Spanish School for Residents and Expats in Escazú. We strongly recommend this language school as your best choice to learn Spanish. Now also in Ojochal, South Pacific as Green Project Language School.

---
If you like this blog, connect with me on Google+ or subscribe to my newsletter by clicking the banner below.

I DO want to remind our readers that we appreciate any referrals you can send us. Also, please remember the GoDutch Realty agents when you talk about your home in Costa Rica, we appreciate it.