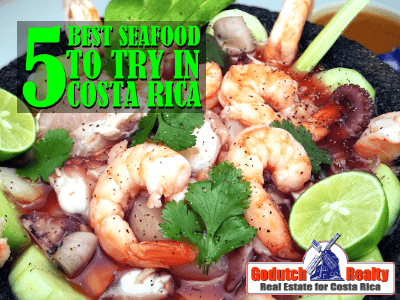 Do you enjoy seafood as much as I do? Before I moved to Costa Rica, I was strictly a meat person. I would kill for a medium-rare steak!
When I married Nina, who is a seafood person, I was introduced to the world of seafood. And I really never went back.
When straddling both the Pacific Ocean and the Caribbean Sea, Costa Rica enjoys a lively seafood industry. The country has two large gulfs, and numerous bays, and two coasts. It's not surprising that fishing in Costa Rica rakes in at least 13 thousand tons of fish (worth $49 million) each year. The waters off of the subtropical country yield different types of seafood including tuna, crustaceans, and even exotic skates and rays. And you can bet that the dishes are just as diverse.
The next time you're out for a round of delectable seafood, make sure to catch these: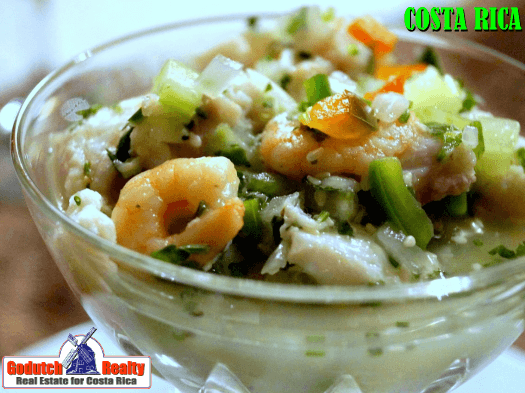 Ceviche
Lots of Central American and Latin countries have their own version of ceviche. What sets Costa Rica apart is that the fish is typically marinated in lime juice (or in soda water) for at least an hour in the fridge. This results in a more cooked and opaque fish.
You can usually find peeled shrimp, chuchecas (blood clams), octopus, and firm white fish like sea bass (Corvina) in a Costa Rican ceviche. A good ceviche is flavored with a mixture of minced onions, garlic, cilantro (a must for Ticos), and tomatoes. Some locals even add a few splashes of ketchup, mayo, or Tabasco for an extra kick! The ceviche is usually accompanied by a soda cracker.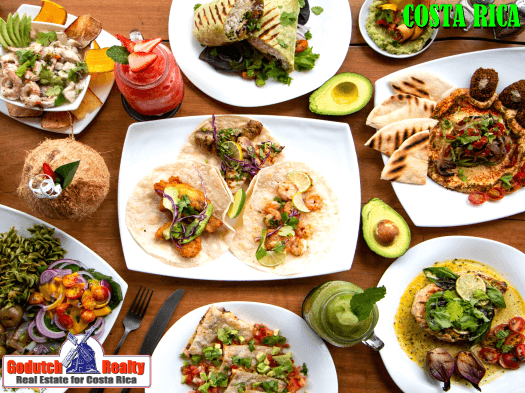 Fish tacos
There's a deep Latin heritage in Costa Rican food, and this is evident in dishes like tacos. You may be more familiar with beef-based tacos, but once you've tried fish tacos, it's like discovering a new world of flavor altogether. Fish tacos are wrapped meals filled with oozing flavors of the sea, and spices.
A ramble through Jacó Beach will offer you a slew of fish tacos made with mahi-mahi (locally called dorado), snapper, salmon, or squid at very affordable prices. It's the perfect blend of homemade tortillas, complemented with tender fish or seafood. They also offer fajitas and others. Besides Jacó, they are in Escazu and Santa Ana too.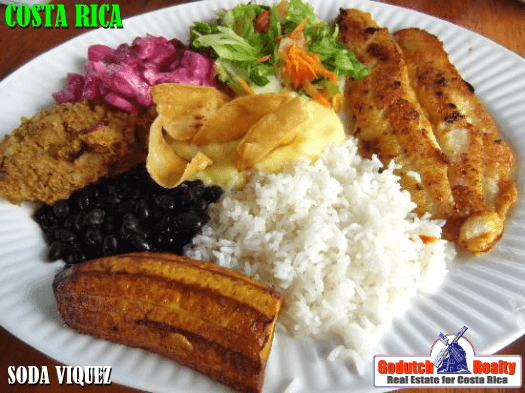 Casado
Casado directly translates to "married." And that's exactly what this dish provides. It's a complex marriage of flavors on the plate and there's really no one recipe— every restaurant boasts its own. If Costa Rica had a national dish, then the casado may very well be it. It contains all the essential Costa Rican ingredients like rice, black beans, sweet plantains, a casserole of potato or squash, and fresh local catch. Some even add fried eggs or avocado slices.
You can find multiple varieties of casado throughout Costa Rica's countless sodas (traditional and unpretentious restaurants, not unlike the American diners).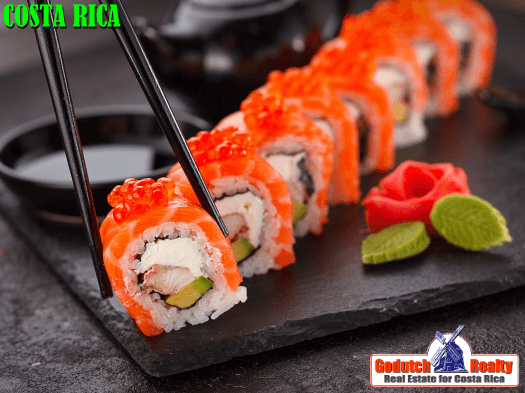 Sushi
Costa Rica and Japan lie almost directly across each other from the Pacific. Costa Rica's rich fishing grounds are chock-full of Corvina, dorado, tuna, snapper, and many others. As Expat Bets' guide to sushi points out, these are similar to the species you'd see in Japan's Toyosu Market and Tsukiji Market.
And just like in traditional seafood markets in Japan, shopping for sushi-grade fish in Costa Rica lets you interact with the fishermen themselves. This makes the experience even more personal and intimate. While sushi may hail from halfway across the world, Costa Ricans are just as proud of their fishing culture.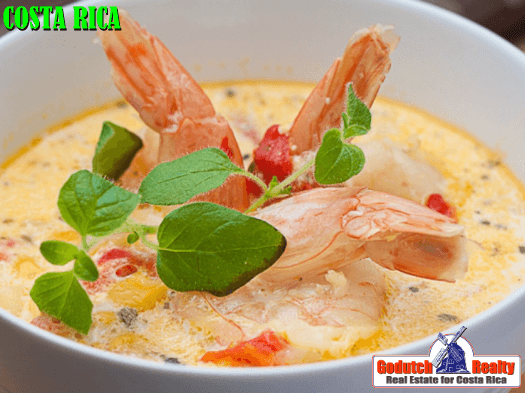 Rondón
You can see the resourcefulness and creativity of Costa Ricans in the rondón, or seafood and coconut stew. The stew is made with whatever fish and vegetables are available, mixed in with coconut milk, herbs, and spices. It may include red snapper, shellfish, cassava, and chiles, with a side of breadfruit.
According to Eater's primer on Costa Rican dishes,  rondón was brought to Central America by Jamaican laborers in the late 19th century. Therefore, the stew is more common on the country's Caribbean coast.
Exploring local food is an essential part of getting to know Costa Rican culture. Their seafood in particular speaks much about their cultural influences and their rich heritage.
Main Image by ALFONSO CHARLES from Pixabay
---
If you like this blog, subscribe to my newsletter by clicking the banner below.

I DO want to remind our readers that we appreciate any referrals you can send us. Also, please remember the GoDutch Realty agents when you talk about your home in Costa Rica, we appreciate it.