Estimated reading time: 6 minutes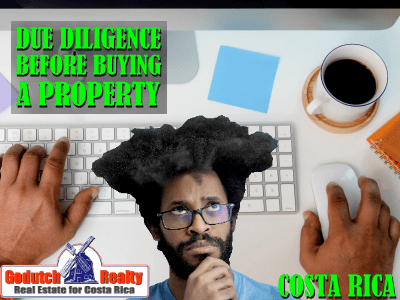 Of course, everyone says they have done their due diligence before they buy a property. Unfortunately, many think they do. They end up buying in the wrong place and say it's everyone's fault, except their own.
This happens more often than you think. That's one of the reasons I always write blogs like "How to stop yourself from buying Costa Rica property in the middle of nowhere".
Nonetheless, it's funny how some people see something totally different than others when looking at the same thing. Even those who have been spouses for many years. Each person can have a totally different perception for many reasons. It happens to almost everyone because the environment is so different than the one they are accustomed to.
A Different View
I never forget that, when I was little, my mom and dad bought an expensive antique oak dining table. They were incredibly proud of having bought the table. It was a showpiece indeed.
One day, we had a visitor who was in his twenties, a university student. His first reaction was "how can you spend that kind of money on a dining table! In the meanwhile, so many people in the world are starving to death"!
This shows how two people can have a totally different view on something as simple as a dining table.
Therefore, it's important that both spouses (or the whole family) share in the due diligence experience, from start to finish.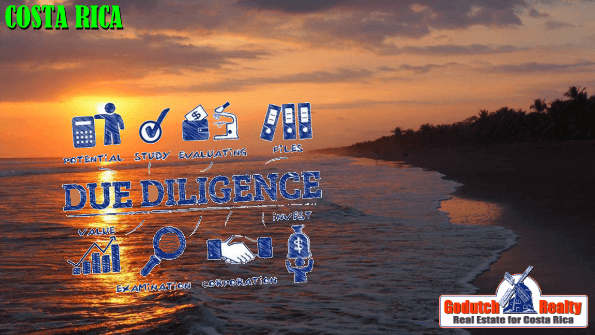 Make Lists
If you already live in Costa Rica, you'll probably have the next step pretty much figured out. Each person involved in the move or retirement to Costa Rica should make several lists:
What is important to be able to enjoy a new lifestyle in Costa Rica
Enlist all the issues you might have with moving to Costa Rica
Which issues do you think your partner/spouse has with moving?
What amenities you will definitely need?
Are you going to bring the dogs?
Besides those 3 lists, there are a zillion other lists you can make to do your due diligence the right way.
Location
Nothing is as difficult as finding the right location to move to. It's amazing how many emails we receive with "please send me houses for sale in Costa Rica. They don't even have a clue about all the differences we have between locations in this small country. Your first decision, before you start emailing real estate agents, should involve the location you'd like to live. Are you looking to live at the beach, a city in the Central Valley, or on rural property?
Please do as much research on the different locations of where to live before you purchase a property in Costa Rica as you can. You can find lots of information on where to live in Costa Rica and if you don't know where to start, try these 20 steps.
Another good example of what I believe is a misperception. I'm sure the writer is convinced of what she wrote in an article on the Lonely Planet that gave her view of the town of Escazu. I have lived in Escazu for almost 40 years now and although Escazu is more 1st world than most cities, it's far from what she describes:
"Packed with gringo ex-pats and moneyed Tico aristocrats, the affluent suburb of Escazú is spread out on a hillside overlooking San José and Heredia. San Rafael, which is one part Costa Rica, two parts USA, is dotted with strip malls, car dealerships, nice homes, nicer cars, and chain restaurants that print their menus largely in English. (The US Ambassador lives in this area in a very secure-looking white-walled compound.)"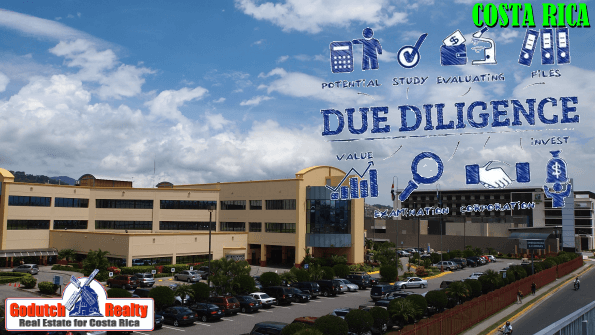 Visit
Now it's time to visit Costa Rica. Don't start shopping for properties yet! Rent a car, find a nice hotel or Airbnb in each location and stay for a couple of days in each location. Do your due diligence on the towns, neighborhoods, and amenities that these places offer. Drive through neighborhoods. Visit stores, hospitals, and golf courses, whatever is more important to obtain that perfect lifestyle that you are looking for. Even if you'd like to be
The Property
Now it's time for another list: the property. Make a list of everything you think your property should have. How many bedrooms, an open floorplan or not, and if you want a single story or a two-story home. Do you want a pool, a covered terrace, and a rancho? What kind of views should work for you?
Once you've figured all that out, give the list to your real estate agent. Don't forget to add the budget! Ask the agent if you can have all that within that budget or not.
Property showings
If you've done your homework right, there is probably no need to look at 50 homes. Now it's time for the next list. Your realtor probably gives you a flyer for each property that you're visiting. Now make the list of the plusses and minuses for each home. You'll see that it's easy to pick the right one(s), so you can make an offer.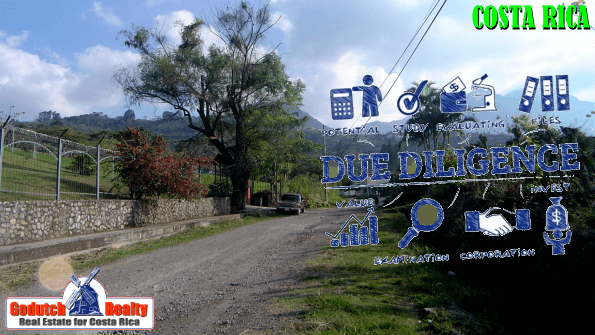 Legal Due Diligence
Once you've made an offer, it's time to start looking for the right lawyer. You can check which awesome attorneys we recommend or you can go online and find your own. Maybe you have a friend who recommends one. We work with everyone, no worries. Ask your agent to also recommend an escrow company. You'll need it, trust me. And although a home inspection is not customary in the local real estate market, we do recommend you request one.
I'm sure you love getting assistance in your due diligence tasks. Therefore, do your homework and start reading our blogs, there are hundreds of them. Then, if you have any questions, contact us, that's what we're here for.
Main image: Photo by Andrea Piacquadio from Pexels
---
If you like this blog, subscribe to my newsletter by clicking the banner below.

I DO want to remind our readers that we appreciate any referrals you can send us. Also, please remember the GoDutch Realty agents when you talk about your home in Costa Rica, we appreciate it.