Estimated Reading Time: 5 Minutes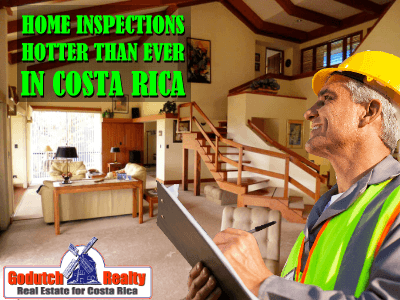 When I started selling properties in Costa Rica, nobody believed in getting home inspections done. Back then, real estate agents were afraid of recommending home inspections because they could lose the sale if the inspection would turn up a serious problem. I am talking about 25 years ago!
This morning, Costa Rica home inspector Tom Rosenberger, told me he is really starting to get busy. Most of his contracts come from real estate agents all over Costa Rica. Tom has done home inspections GoDutch Realty home inspections for years.
After the 2006 real estate boom, business slowed down enough for most of those who called themselves realtors to completely disappear.  The few real estate agents left have become more professional, responsible, and care about their reputation. They work harder to protect their buyer. They also realize they have to do everything necessary to get future referrals from this buyer.
Only 18 years ago realtors declared me crazy that I would recommend a home inspection to every home buyer. Because they were afraid to lose their sale. To me, the advantage of recommending home inspections is that I sleep better at night. Only then the buyer realizes I do everything I can to protect their real estate investment. If there is something wrong with the property I am selling them, the home inspector will find it.
Honestly, I don't like to receive a call from a buyer to bring a shovel to dig them out or bring a boat because their house is flooded.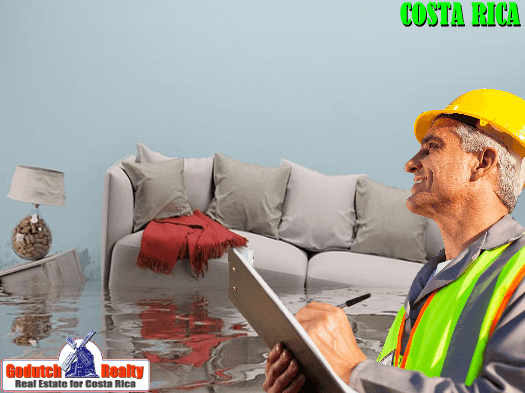 I now find that more real estate offices in Costa Rica recommend home inspections as a standard procedure for several reasons:
Buyer – Agent loyalty
Buyers are now so much more loyal to their agents than before. They tend to stay with only one agent or office when they are in the market to purchase a property. It speaks for itself that the agent reciprocates this. This way, the agent does everything possible to make sure the property they purchase is in as good as possible living conditions. The property is for sure up to the standard that the buyer expects to get for the purchase price.
If a home inspector finds something serious enough for the buyer to default on the purchase, the buyer will ask the agent to keep looking for other options. Of course, when/if the buyer feels the realtor's service is outstanding.
Buyer's awareness and education
Buyers are, due to all the free information on the internet, more aware and pretty well educated on Costa Rica real estate-related topics. Real estate blogs like Ivo's blog and the Easy Times are great tools too.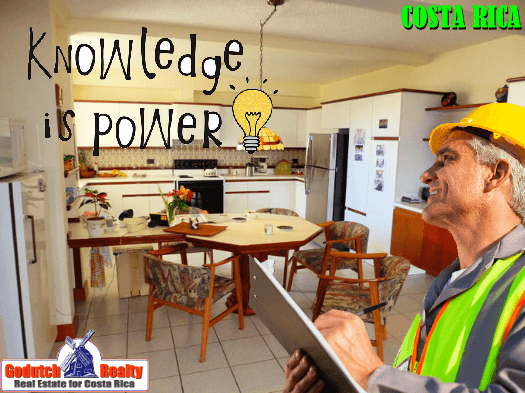 Availability of a good home inspector
Once in a while, I get an email from someone who is a home inspector in another country. The question is if I think he could move to Costa Rica and start a home inspection company.
They don't realize that construction in their home country or state is very different than here. They would need to become a resident first to be allowed to work. And they would have to learn first how homes in Costa Rica are built before they could do a professional home inspection.
Fortunately, home inspector Tom Rosenberger has done lots of construction in the US as well as in Costa Rica. Tom speaks fluent Spanish and English and does a very diligent home inspection as many of our clients have confirmed.
Unfortunately, local buyers are still not convinced they need home inspections. They usually have a family member or a friend who works in construction. But I have never seen a local engineer or architect doing a home inspection as well and complete as Tom does.
By now, you must have figured out that we do everything we can to give you as many tools as we can. Information is king and knowledge is power.
Are you ready to buy now? Then contact us now!
---
If you like this blog, subscribe to my newsletter by clicking the banner below.

I DO want to remind our readers that we appreciate any referrals you can send us. Also, when talking about your home in Costa Rica, please remember the GoDutch Realty agents. We appreciate it.