Estimated Reading Time: 5 Minutes
What is Costa Rica escrow and what is it used for? Do you need escrow?
In short: Costa Rica escrow is a third party that will receive and hold your money for you until you're ready to close your real estate purchase. All escrow companies are registered with Sugef – Superintendencia General de Entidades Financieras – Financial Institution Superintendency.
Is it available in Costa Rica? Yes, it is! Why run the risk of losing your money, use a Costa Rica escrow!
You want to purchase a property in Costa Rica and you have your money still in your own country. Your GoDutch Realty agent has found you the right property and your offer has been accepted by the seller. Congratulations, you are on the way to acquiring a beautiful property in Costa Rica. But you might be a long way from closing yet.
A real estate closing in Costa Rica can be very smooth if you allow a professional to handle it. But the real estate closing can be full of obstacles too. Stay away from those obstacles and use Costa Rica escrow.
If you don't know what Costa Rica escrow is good for, you're not the only one:
Your real estate agent sent the accepted offer to your attorney to have the option to purchase – sale agreement to be drafted. At the signature of this agreement, you will usually have to make an earnest deposit of 10% of the purchase price. Unless you negotiate the amount.
Don't you have a bank account in Costa Rica yet? A bank won't open one until you have residency. So where should you send the earnest money to? Costa Rican sellers usually want that earnest money to go to them but you should insist it goes into escrow with your attorney.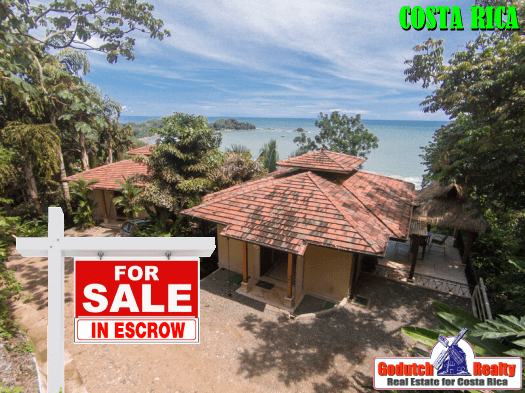 Escrow
For many years, real estate attorneys attending the foreign market had their own escrow account. Now, there are many escrow companies in Costa Rica. This is an example of how the proceeds of a real estate closing were handled before.
A couple of weeks ago, the buyers' agent brought a client who had an attorney representing him who had no Costa Rica escrow account. She held the earnest money check, a cashiers' check in her name (!!) until the closing. When we got to closing, nobody had figured out how to cash a $21,000 earnest money check in the attorney's name. This check covered and had to pay commissions to two real estate agents, attorney fees, and transfer taxes. Then the leftover had to be sent to the seller who was leaving the country the next day.
Banks in Costa Rica do not carry that kind of cash. What an unnecessary hassle at a moment that should be a happy one for everyone: the real estate closing. Guess who spent the whole Friday afternoon in the bank with the seller to get paid.
Nowadays, most attorneys don't want the hassle with Sugef. Money laundering laws have changed the way of doing real estate business in Costa Rica.
The why
The US government pushed the Costa Rican government for years for the need of proof of origin of the funds for anything over $10,000. Today, money laundering laws are in place all over the world.
The when
Don't wait until you run into trouble. First, choose the real estate attorney, and ask your realtor or the lawyer which escrow company to use. Do this before you want to send the earnest money to take the property off the market.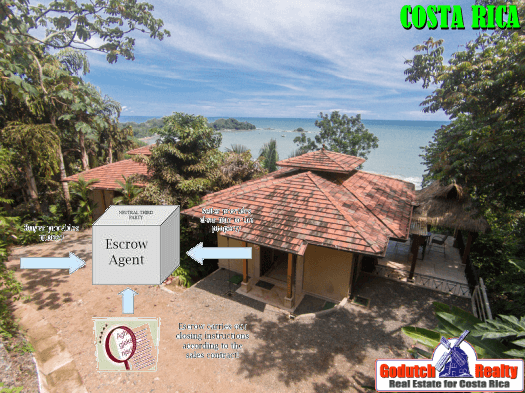 The how
The solution is very simple. All funds, the earnest money as well as the lump sum should go through a Costa Rica escrow account that is registered with SUGEF.
You want to create a paper trail that is supervised by the Costa Rican government (SUGEF).
If you do as described in that transaction above and give the closing attorney a cashier's check in her or his name you ask for trouble. What will happen if she passes away before the real estate closing?
Using escrow in a Costa Rica real estate transaction makes it not only easier for the buyer but also the seller will have no trouble with the proceeds.
Contact a GoDutch Realty agent if you are looking for an expert real estate agent in Costa Rica.
---
If you like this blog, subscribe to my newsletter by clicking the banner below.

I DO want to remind our readers that we appreciate any referrals you can send us. Also, when talking about your home in Costa Rica, please remember the GoDutch Realty agents. We appreciate it.