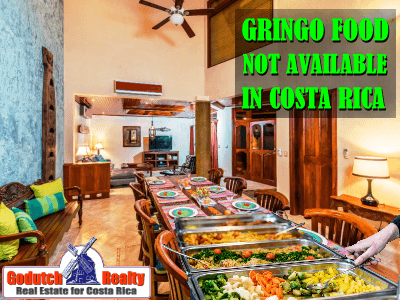 This week, I'm going to continue with a partial grocery shopping list of our hard- or impossible-to-find gringo food items.
Again, I expect to elicit a sizeable reaction from readers informing me where they found gringo food items I said we couldn't find or couldn't afford.
Maybe you missed my blog 2 weeks ago? Then, I'll repeat that in general, grocery shopping in Costa Rica is less efficient than in North America.  It requires many more stops. For that fact, it can also be more challenging, but more fun. Getting to know the local feria vendors, the butcher, and the neighborhood fishmonger is certainly more intimate than getting watching the scanner at Walmart's checkout.
Take advantage of your trips to the States
When you read this, we will have just returned from another whirlwind shopping trip to the U.S.A. We're taking, as always, a healthy list of gringo food and things to pick up while we're in California. In this blog, I'm going to address a couple of items or categories that appear on our most-current list and every other one of our lists, for that matter.
Having your list of things to buy in North America and what to bring back is always impacted by the weight and whether you get a free baggage allowance. Or will have to pay the airline for that extra bag. We always assume it's worth the $40 or $50 extra to bring 33 to 50 pounds of our most-desired necessities back in an extra bag. But that decision is up to you.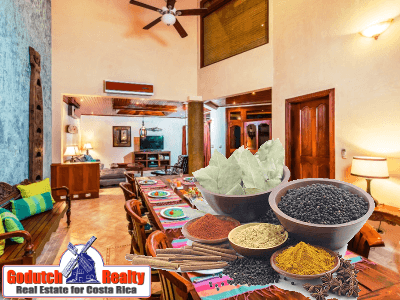 Membership shopping in Costa Rica
Now, I'll preface the following by saying that we are a member of and grocery shop often at PriceSmart. The PriceSmart chain is even related to the big-box chain, Costco. It carries some of the same private-label gringo food products. However, my observation is many, if not most, of the products, carried there are nearly double the price you would pay for them at Costco. But if you need them or really want them, and can't find it anywhere else, then the price doesn't matter as much.
Supplements and spices
Let's continue with the gringo food and beverage groupings from last week and I'll add in supplements. Some supplements are very hard to find in Costa Rica. Especially in large volume quantities. In my experience, they are all much more expensive here.
This includes:
vitamins,
fiber additives,
nutritional supplements like Citrical and glucosamine/chondroitin,
organic supplements, etc.
Herbs like tarragon, some spices (cardamom, as an example) and frequent recipe food additives such as pine nuts are available. But they're hard to find. And when you do, they are often horribly expensive. Not that pine nuts aren't already horribly expensive no matter where they are purchased.
Cereal and dried fruits
Dried apricots are on our grocery shopping list for Costco.  Most breakfast cereals found here are awfully sweet. Some U.S. cereals, like Post Grapenuts, range around $8.00 a box when you can find them. And I have yet to find unsweetened Spoon Size Shredded Wheat in Costa Rica. If I ever do, I'll probably need to arrange for a loan to be able to afford a box. A box of each is on this trip's shopping list. We are now making our own granola for breakfast and buying the economy two pack of Raisin Bran from PriceSmart.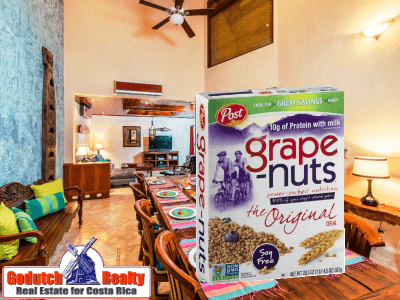 Fresh veggies
If you like mushrooms, they are available but expensive. Experiment with growing your own. If you are hooked on fresh green vegetables, you're pretty well stuck with green beans, peas, broccoli, several varieties of squash. Oh, and Costa Rica's version of spinach, which is much more like coarse Swiss chard and not at all delicate like what is available in the States.
Your alternatives are:
1) to try to grow your own green veggies;
2) find them seasonally and pay a hefty sum for greens like asparagus and Brussels' sprouts;
3) experiment with some of Costa Rica's green alternatives; or
4) go to an upscale grocery like Auto Mercado, get out the wallet, and buy from a limited selection of frozen vegetables.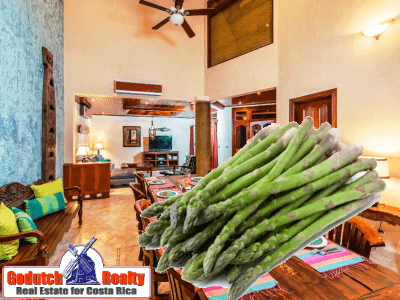 Local and imported fruits, potatoes and rice
Pears, plums, peaches, nectarines, grapes and most apples are imported. Their price easily doubles compared to their purchase in North America. So, substitute locally grown, papayas, pineapples, bananas, melons, mangoes and many local exotic fruits too numerous to mention. It is our observation that many of the fresh fruits and veggies we were used to eating in the States are, generally, more expensive here. The locally grown fare is very fresh and tasty and really affordable.
Use that fact as your opportunity to eat more of the local fruits and vegetables available here. Potatoes are plentiful, but don't look for russets with thick skins; I've never seen one in Costa Rica.
Rice and beans (mostly black beans) are combined seasoning to become the national food and in some form perhaps the national food of most Latin American countries. But it's really hard (and expensive) to find some exotic rice such as long-grained wild rice, some brown rice types and Bustamante rice.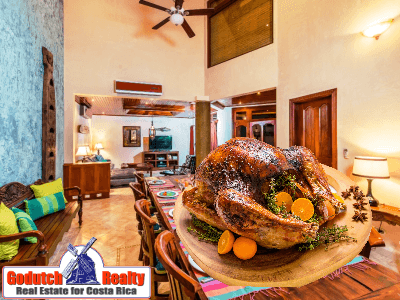 Lunchmeats and fish
If you like sandwiches with lunchmeats, they are pricey. Turkey ("pavo" in Spanish) lunchmeat is more expensive than chicken lunchmeat. Whole frozen turkeys or frozen turkey breasts can periodically be found at Auto Mercado and PriceSmart. But bring your wallet. Also, canned tuna is plentiful in many combinations not usually seen in North America. It is not particularly inexpensive. We buy the large vacuum-pack of tuna at PriceSmart to save a few Colones over the canned equivalent.
Some seafood for which you may be familiar, such as Tilapia and shrimp are readily available here as well as Corvina (seabass), marlin, Tiburon (shark)and much other fish and shellfish. They are local catches or local farm-grown and less expensive than in North America.
The Author
The author of this blog, Ticonuevo, is a US expat who moved to Costa Rica. He and his wife used the services of GoDutch Realty to purchase a property in Costa Rica. In his blogs, Ticonuevo describes his own experiences of taking the step of moving to Costa Rica and getting a new life started.
---
If you like this blog, connect with me on Google+ or subscribe to my newsletter by clicking the banner below.

I DO want to remind our readers that we appreciate any referrals you can send us. Also, when talking about your home in Costa Rica, please remember the GoDutch Realty agents. We appreciate it.