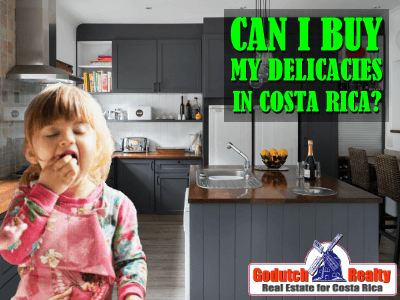 Do you think you will miss your customary delicacies after moving to Costa Rica?
If you are going to reside in Costa Rica, there is one adjustment you are probably going to be required to make. It is learning to find or invent substitutes for delicacies that don't exist here. Other delicacies are so obscure or are so expensive that spending the time to find them and the money to acquire them just doesn't make sense.
My wife and I have only lived in Costa Rica a little over a year. Over this time, we've put in many hours and put on many kilometers searching for all kind and manner of "stuff." My wife's a bit of a gourmet cook. Therefore, a good deal of our shopping trips around the Central Valley has involved searches for delicacies or food ingredients for her latest recipe.
Have you been reading my blog all along? Then you know I've also had my challenges finding specific building materials and hardware for my projects.
I also thought it would be a good idea to discuss a partial list of our hard- or impossible-to-find items. I touched on this shopping topic a couple of times early in my blogs. But this time I would like to get specific and even add some assumptions or reasons why shopping here is not as efficient or as fruitful as shopping in North America. In addition by listing specific items, I expect to elicit a sizeable reaction from readers informing me where they found items I said we couldn't.
Efficient shopping
Is efficient shopping in Costa Rica possible? In general, shopping for delicacies in Costa Rica is less efficient and requires many more stops than in North America. My reasoning is:
1) Most stores are smaller and just won't have everything on a gringo's shopping list. It is likely to make several stops at local hardware stores, ferreterías, to find everything on your list;
2) The specialty stores  like the butcher shop, bakery, paint store, agricultural supply store, and dress shop, are still the norm in most towns;
3) Most stores are independent mom and pop shops. There are, compared to the U.S., fewer "big-box stores" and franchises. And they are located primarily in the largest urban concentrations.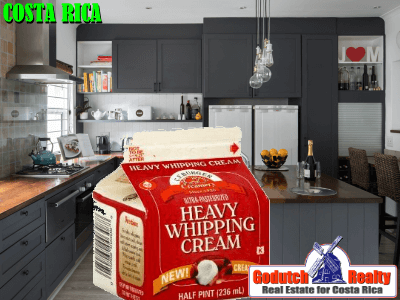 Heavy whipping cream?
First, let's focus on food and drink. Real, heavy whipping cream is just not available domestically as an off-the-shelf item. Whipping cream in a box or a bag from Dos Pinos, and probably others are readily found on the shelves or dairy cases. However, this whipping cream is comparably low in butterfat, because most of the cattle here, Brahmas or Brahma mixes, just don't produce milk heavy in butterfat. If you are a gourmet cook, nothing short of heavy cream will do.
Your alternatives:
1) learn to do without and adjust your recipes and, perhaps, your expectations; or
2) as friends have done, buy directly from a farmer who raises non-Brahma cows. It is a similar problem trying to find fresh whole milk. I think the reason is much the same: cows are producing milk low in butterfat and the demand for cream, butter and the like spreads that low butterfat yield pretty thinly. Most fresh milk found in Costa Rica is 2%.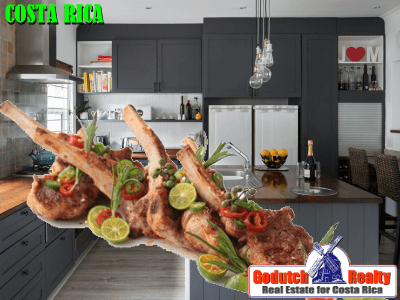 Meats?
If you are a meat person, there are not that many delicacies to be found in the meat department. Where can I find food like ham, aged meats, and lamb?
Our first Easter, we were looking to have a traditional North American ham dinner. After a considerable search, we just couldn't find any ham. We just saw our first imported canned ham (only about a 1 ½ pounds) on our last trip to Pricesmart. You will find meats, in general, are butchered much differently than in North America. Two hams don't seem to be part of the result when a pig is butchered in Costa Rica. As I've said before, beef is not generally aged, but it also not full of antibiotics and hormones. Meats here are not doctored with artificial growth stimulants, which is a fair tradeoff, I think, for not being able to get aged meats or to find certain cuts.
Lamb is hard, but not impossible to find. Look for it at Auto Mercado, sometimes Pricesmart, or at butcher shops or farms at higher altitudes where lambs most often are raised. You could also get resourceful and find a farmer selling lambs. We partnered with another couple and bought the lamb on the hoof, had it slaughtered and butchered by our local butcher, and then our partner "re-butchered" and re-wrapped. The result was half of a fresh, tender, and delicious lamb at a cost to both couples of $37 each plus a bit of running around.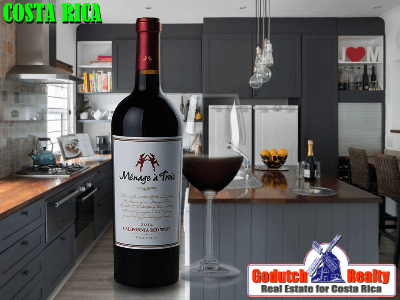 California Wines
Can I buy California wines in Costa Rica? We love California wines. Above all, we love California wines so much, in fact, that we planted a four-acre vineyard in California and raised red wine grapes and even made our own red wine for over a decade. Initially, we very disappointed to find the selection of affordable California wines available in Costa Rica to be very slim. (We still have not found a bottle of either of our favorite varietals, Cabernet Franc or Petite Syrah, here in a year of searching.)
The solution is to learn to drink the other varietals of red wines available or pay the elevated prices at Pricesmart, Auto Mercado, Walmart, and others for a limited hit or miss selection of West Coast wines. The tariff on U.S.-produced wines is extremely high, making U.S. wines uncompetitive and largely not stocked in abundance here. Most wines available in Costa Rica are from Argentina, Chile, Spain, and Australia. We have discovered one very drinkable varietal not commonly seen in the States, Carmenere.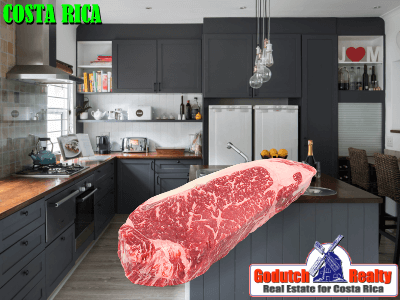 What kind of hard liquor is available in Costa Rica?
Hard liquors and fortified wines are available here from all over the world. But be prepared to pay a hefty price for most. I think the tariff on spirits imported to Costa Rica from the U.S. applies as well. My wife loves port and fortified wines after dinner. We have been unsuccessful in finding any ports under $80 a fifth here. Usually, we bring a bottle or two back with us from the States. You are allowed to bring five liters of wine and/or liquor per person into Costa Rica upon each entry.
Also, local and affordable Café Rica (similar to Kahlua), Cacique, a distilled clear local spirit, and the local and quite good vodka, Nikolai are great alternatives. Rum is also inexpensive and in abundant supply.
The Author
The author of this blog, Ticonuevo, is a US expat who moved to Costa Rica. Ticonuevo used the services of GoDutch Realty to purchase a property in Costa Rica. In his blogs, Ticonuevo describes his own experiences of taking the step of moving to Costa Rica and getting a new life started.
---
If you like this blog, connect with me on Google+ or subscribe to my newsletter by clicking the banner below.

I DO want to remind our readers that we appreciate any referrals you can send us. Also, when talking about your home in Costa Rica, please remember the GoDutch Realty agents. We appreciate it.