Estimated Reading Time: 5 Minutes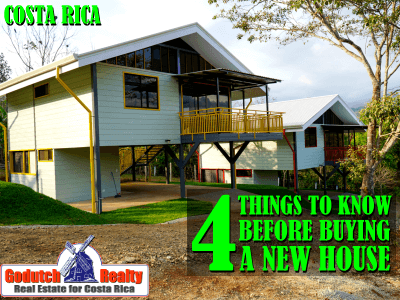 Are you buying a new house? From a real estate developer?
Buying or selling a new house in Costa Rica is no easy task for a common man. It's an everyday routine for a real estate agent, but it takes the savings of a lifetime for a buyer.
One little mistake in this transaction could cost an arm and a leg. That's why buyers have to be extra careful and ensure that they don't regret their decision later. Because in Costa Rica, homes are sold as is.
If you are about to buy a new house, you should do thorough research and make sure you know everything there is to know about buying or selling a house. This article will help you with the basic knowledge that everyone should know before buying a new house.
1. Location of the Property
It goes without saying that the location of a house is of utmost importance. Buying in the wrong place can make you want to hang yourself later. Besides, the price of a property is not the same in every area. The price could be fewer hundreds or thousands of dollars higher or lower. That's why you should get to the area, do your homework, and make sure the location is worth the price.
Finding a property with great privacy for example is much easier to find in Atenas or Grecia, than in Escazu that has more of a city environment. Of course, that depends on your budget!
You can anticipate the price of an area by the conveniences and opportunities it offers to its residents. For example, there are more opportunities in cities, so urban areas are way more expensive compared to rural areas. Although it's possible that rural property buys you much more land for the same price.
Furthermore, you should see if the services you need are easily accessible or not. For example, there should be hospitals and a good school, or maybe a golf course is more important to you. Last but not least, how people perceive the value of that area. This one factor has the most impact on the value of the location of a property.
2. The Mortgage Cost
You might be able to buy a new house, but you might not be able to afford it or even obtain a mortgage. Mortgages in Costa Rica are only available to residents. AND, mortgage rates run from 8 – 9% annually.
When paying a high mortgage, you might not be able to pay the monthly HOA fee. Or even the high cost of private schools for your kids.
Therefore, it might be difficult to keep a house unless you secure your earnings or have a business that's making money. So, one of the most important things you should consider is the mortgage cost. You can use a payment calculator to figure the monthly payments of a home mortgage loan before you sign an option agreement for a new home. If you think the final numbers are easily affordable, only then should you take the next step.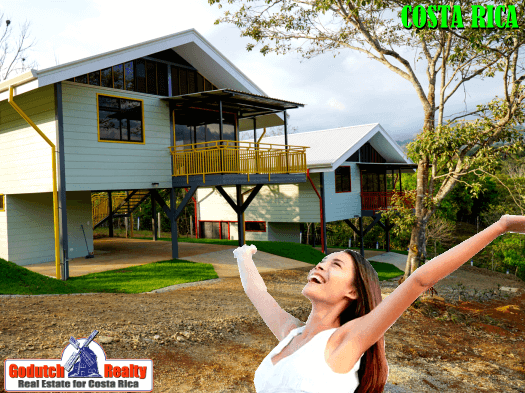 3. Resale Value
Even if you plan to keep the house all to yourself for the rest of your life, you should still consider the resale value of the house.  When you buy a new house in Costa Rica, it doesn't necessarily appreciate in the future. There are many reasons your house will not sell for much more than you paid for it in 10 or 20 years. If a house doesn't have a good enough resell than the price you are buying at, then it's not worth the cost. It would be like buying a cheap thing at a high price for no reason.
4. Styling and Condition of the House
Other than the land, the building has almost half the value of the property. You should visit the house with a professional and inspect everything carefully before closing. Especially when you're buying a new house from a real estate developer. In addition to the structural issues, your home inspector should look at plumbing, electrical, roof, septic, and retainer walls.  Make sure to include the home inspection in the purchase agreement and make it subject to the house being in perfect condition.
A great guide for you to follow about buying property in Costa Rica will show you the ups and downs of this great investment. Contact us now to see a property with one of our agents.
---
If you like this blog, subscribe to my newsletter by clicking the banner below.

I DO want to remind our readers that we appreciate any referrals you can send us. Also, please remember the GoDutch Realty agents when you talk about your home in Costa Rica, we appreciate it.