Estimated Reading Time: 6 Minutes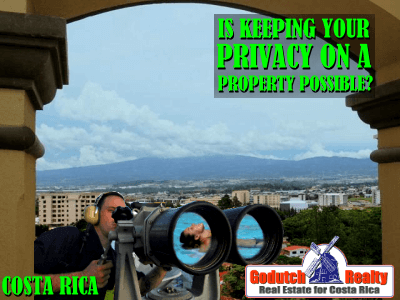 My neighbors are looking at me all the time, I want privacy! I also want security because I travel a lot. This is typically a request we get a lot.
Last week I showed prospective buyers a half-acre property in Santa Ana with a small house on it. The buyers are looking for privacy. A ½ acre property is quite a bit of property in Santa Ana, especially when it is totally flat.
They loved the property; nonetheless, the neighbors are too close to their feelings, so they need to find a more rural property.
Their budget doesn't allow them to purchase a larger property. But they also want the house to have a nice floor plan, quality finishes, and a gourmet kitchen. They want to live in Santa Ana because of the schools for the kids. Therefore, a more hillside topography like Atenas offers won't work for them.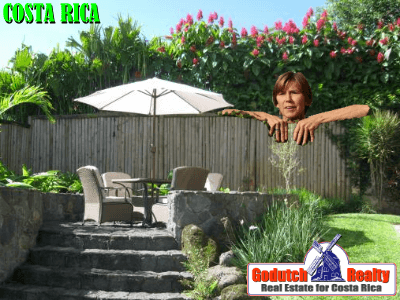 A large property in Santa Ana, depending a bit on the zoning and topography, might be interesting for a real estate developer, so prices tend to be pretty high. Between real estate agents, in this case, we would say that her eyes are much bigger than his wallet.
Some buyers love their privacy and others love it when people look at them all the time.  So let's see what we can do about that without getting involved in psychiatry.
Residential developments
There is not much rural property in Santa Ana left, except for some mountain property in locations like Salitral, Barrio España, Montaña del Sol and Piedades. Most real estate developers have bought up the larger land parcels with more or less flat topography and built a lot of residential developments. You'll find condominiums and gated communities like Hacienda del Sol, Oro sol, La Hacienda, Hacienda Lindora, Parque Valle del Sol, Verdi Condo Residences, and 50 or more communities with the name Sol in them.  I know, very original…..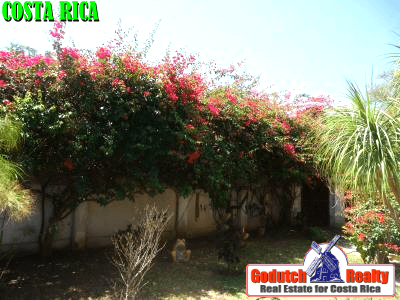 Rural property
So, we're back to a rural property in Santa Ana. In a rural area, anywhere in Costa Rica, you'll find a lot of poor people who live in a shack. Many were squatters many years ago but they now have the title. Their kids stay at home after they marry and they have kids too, so they live on the 2nd story they built-in steel frame a few years ago. And they have windows looking into the neighbor's property…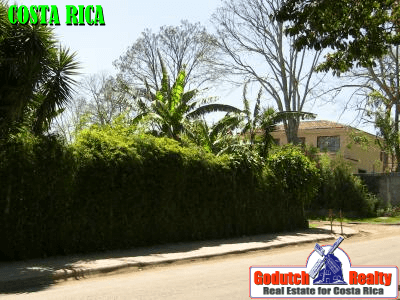 Privacy gone
Now you have decided on an even much smaller property in Santa Ana and keep a nicely landscaped garden with a green fence all around you. The whole property is fenced and none of the neighbors can look in.
Suddenly, one day, you wake up and all those neighbors look at you, all the time from 6:00 am to 12:00 pm. At least you think you do, of your wife does.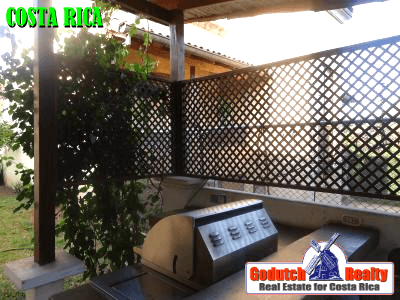 How to handle them
Without getting involved in building huge walls around the property, which would not only cost a fortune but would look horrible too, I can come up with some cheap solutions.
Costa Rica is the land of volcanoes as most of you know. You can grow anything in volcanic soil, you stick it in the ground and it grows. There are many different plants, bushes, and trees that would function well. I'm not a gardener, I'm a real estate agent, but I suggest Caña India, Guachipelin, Veranera (or Bougainvillea), Amapola, or Bambú. You can ask your gardener or go to one of the larger garden centers in La Garita – Alajuela, they will give you all the necessary options. The Tico Times published a great article in 2008 that can give you some ideas too. Some of those bushes have spines, like Bougainvillea, which is great for security too.
I had our carpenter install a wood frame that I bought in EPA behind my barbecue. For a while, the bougainvillea was growing right through it, so it was tearing apart the wood frame (called petatillo), so I got rid of the bougainvillea again. The petatillo gives me more than enough privacy from my neighbors.
If you have a chain-link fence, you can also purchase straw mats at EPA, but after a couple of rainy seasons, you can throw that out. It functions very well for an emergency while you give your plants some time to grow.
I hope you enjoyed this article on how to keep the privacy on your property in Costa Rica, no matter if it is in Santa Ana, or elsewhere in the Central Valley, and that you will contact us when you're in the market to purchase property in Santa Ana.
---
If you like this blog, subscribe to my newsletter by clicking the banner below.

I DO want to remind our readers that we appreciate any referrals you can send us. Also, please remember the GoDutch Realty agents when you talk about your home in Costa Rica, we appreciate it.