Estimated Reading Time: 6 minutes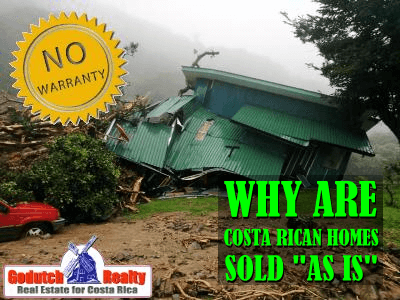 Did you know that in Costa Rica homes are sold "As-Is"?
In every country real estate laws are different and Costa Rica is no exception. The purchase of property is handled differently in Florida than it is in France, or in Thailand.
I have seen hundreds of different purchase sale agreements (and with many different names) and they're all different.
And none of them is perfect.
I have never seen any purchase sale agreement stipulate what happens if there is something wrong with the house. When one of the parties doesn't fulfill their part of the agreement and sues the other, they might be in court for many years.
Local buyers don't use home inspectors. And we don't have title companies to take care of the whole due diligence process used in some other countries.
It is normal in Costa Rica that a house is sold as-is but nobody makes a statement about it. Not in the offer, or anywhere. People just don't talk about it. That's why, at GoDutch Realty, we play it safe, homes are sold as-is in Costa Rica and we make a statement about it in the offers that we make.
Read on to see why you shouldn't get involved in a finger-pointing match and what to do after making an offer on a property.
Disclosure
In Costa Rica, there is a law that obliges sellers to disclose hidden defects of their property or any other issues that have a direct or indirect influence on the sale of a property.
Taking someone to court on that in Costa Rica and accusing a seller of not disclosing a defect is a whole different matter. If a problem arises after closing, suing a seller is possible, but do you need to go there?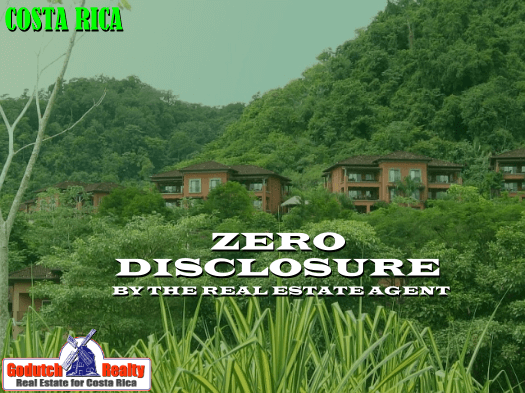 Sellers of California real estate have to give the buyers of their property a disclosure form listing a broad range of defects, such as
a leaky roof,
deaths that occurred within three years on their property,
neighborhood nuisances such as a dog that barks every night,
and other particulars.
All California sellers also have to disclose potential hazards from environmental hazards, floods, earthquakes, fires, and other problems in a Natural Hazard Disclosure Statement. They even have to alert buyers to the availability of a database by law enforcement authorities on the location of registered sex offenders.
Not in Costa Rica, we are probably 100 years away from such disclosure laws.
Home inspections
Costa Rica does not have certified home inspectors with certifications from NAHI, FABI, NACHI, ESA, ICC and who knows how many other home inspection associations. In Costa Rica, we don't have home inspectors who do thermal scanning, or
Mold and moisture inspection,
Radon testing,
Air quality testing,
Bacti Swab testing or
Sinkhole screening inspection.
We do have several pretty good home inspectors, with all with building experience in different countries. A home inspector does a visual inspection of the home, as well as checking electrical, plumbing, and other important issues.
BUT they usually don't have any of the U.S. certifications and are not able to do all the above.
A To-Do List
The smartest way, in my opinion, is to make an offer, subject to home inspection. In the offer, make a statement such as "BUYER is allowed a home inspection, paid for by the BUYER within two weeks of the offer. Only structural damages, septic, drainage, or roof problems will give the BUYER the option to default. Minor damages will be accepted by BUYER."
Do NOT sign a purchase-sale agreement or put any earnest money down until you receive the home inspection report. Renegotiate if there are serious damages, or walk away from the offer. So the home inspection report will deliver a to-do list of damages that you can fix immediately after closing and before you move in.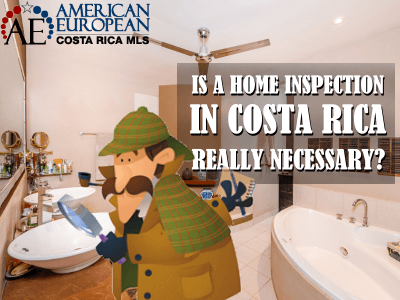 Your real estate agent
It doesn't matter if your Costa Rica real estate agent is licensed or not. Even if your agent knows about the damage or problems on the property, there is no obligation of disclosure.
Though there are a couple of boards of realtors in Costa Rica, they cannot stop taxi drivers and pole dancers from selling real estate. Due to the informal real estate market in our country, Real Estate Agents Errors & Omissions (E&O) Insurance does not exist either.
You're on your own, unless
Unless you find a real estate agent who is not only knowledgeable about
the local real estate market,
local construction,
real estate laws
and has the right negotiation abilities,
you're on your own when buying Costa Rica real estate.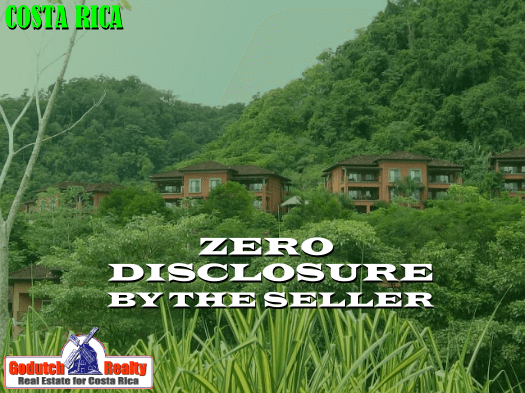 How to Manage
Costa Rica, compared to many 1st world countries, is still The Wild Wild West. That's one of the reasons we call everything Pura Vida here in paradise.
The best way to protect yourself against buying the wrong property is by hiring your own buyer's agent. Unfortunately, in Costa Rica, dual agency is perfectly legal, so have to understand the facts before you do so:
1.    You purchase a property in Costa Rica "as-is".
2.    There is no mandatory formal licensing in Costa Rica real estate.
3.    A real estate license doesn't make you honest.
4.    There is an obligation to disclosure in Costa Rica, but it is hard to make it stick.
5.    Home inspectors are not licensed.
Protect yourself when you buy a home that's sold As-Is, hire a GoDutch Realty agent, we are the experts. Contact us now.