Estimated Reading Time: 5 Minutes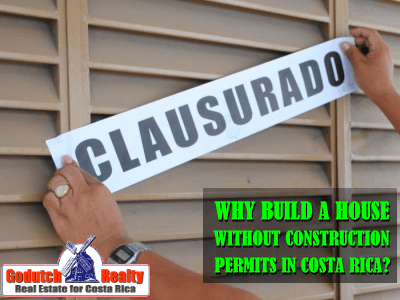 It's amazing how many people get away with building a house in Costa Rica without getting construction permits.
I've been in the Costa Rica real estate business way for over 25 years. And I have seen lots of constructions shut down by the local engineering department for lack of a construction permit. Unfortunately, many more are getting away without it.
I have done some remodeling myself without even applying for a permit. But not because I don't want to pay for it. The red tape to do a remodel job or the construction of a house in Costa Rica is a burden and a difficult task in most municipalities. The main reason, in my opinion, is that people just don't want to bother even applying for a construction permit.
The other reason is that everyone knows that most municipalities have a shortage of manpower. The chance of getting caught when you build a house in Costa Rica without construction permits is small.
A third important reason is not being able to get a water letter from the water company. On another day, I will explain all the requirements needed to get a building permit.
Is it correct?
I know, it is not the correct thing to do to build a house in Costa Rica without construction permits. And I'm not telling you that you should. I know some people who love to pay taxes, but I'm one who doesn't. But I'll leave that discussion for another day.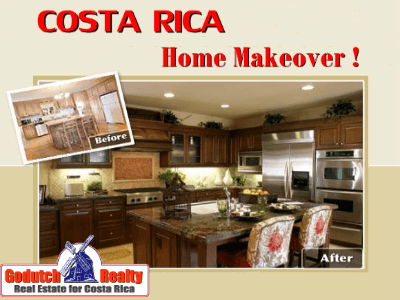 Ticos, as well as expats, try hard to stay away from the construction permitting process. I saw a conversation I saw the other day on one of the online forums:  "Some time ago I asked opinions on this forum about building a cabin without construction permits.  I got a lot of no's. Well, the cabin is almost finished and I have not been dragged off by the authorities, thrown in jail, been deported, or having the cabin torn down. I did have a close call when the municipal authorities did come by. But my cabin is very secluded and they didn't see it."
Is there a way around the permits?
The only legal way to build without construction permits in Costa Rica is to use either a factory-built container home or a portable building.
What most people do when they want to build a house in Costa Rica without construction permits is request a permit to build a small project such as a perimeter wall around their property or to add a garage, or to do a small make-over project, which is very easy to get.  Once that small job is finished, they just keep going.
Many people purchase the construction materials in the next town over. That way the municipal supervisors who stake out the building material stores, don't have any idea there is new construction going on somewhere.
Will you be the only one to do so?
If you look at the figures published by the College of Engineers and Architects of Costa Rica in 2014 in Spanish, it's amazing how many build a house in Costa Rica without construction permits. The countrywide average of constructions in Costa Rica without a building permit is 23%.
The North Pacific that including the beach areas like Playas del Coco, Flamingo, Tamarindo, and other well-known beaches is the big winner with 56% of construction without a building permit.
The Atlantic zone (Caribbean) is a big number two with 34%, the Northern Zone (San Carlos and toward the Nicaraguan border) follows with 33%, the Central Pacific with 32%, The Southern Zone with 27%, and the Central Valley with 16%.
The college of engineers does not give any reason for this behavior and only states that the fine if you get caught for not getting the construction permit, is 50% of the cost of the permit.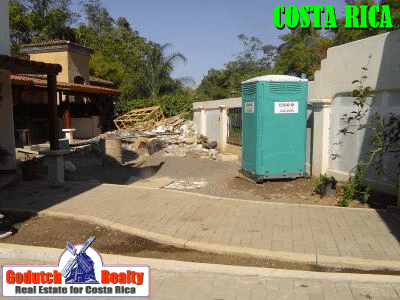 My recommendation
I DO recommend using a knowledgeable construction crew and good quality construction materials. That's because the earthquakes we have in Costa Rica can cause serious damage to you and your family if the house is not built by the necessary construction standards and code. Be careful who you hire as a contractor and learn how to make your payments to this contractor. Do NOT build a house in Costa Rica without construction permits
Contact us now to purchase property in the Central Valley.
Feel free to leave your comments on this blog.
---
If you like this blog, subscribe to my newsletter by clicking the banner below.

I DO want to remind our readers that we appreciate any referrals you can send us. Also, remember GoDutch Realty when talking about your home in Costa Rica to friends and family. We appreciate it.