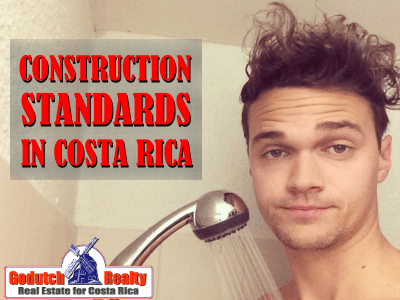 "What are the Local Construction Standards?" is an often asked question by expats who are considering buying a house in Costa Rica.
Are the construction standards for building materials and installation methods that Ticos are accustomed to the same as yours?
If you have not spent much time in Costa Rica, you may not initially notice the lack of amenities that you have taken for granted your whole life. Many times it isn't until after a foreigner has purchased a house here, and has lived in it for a while, that they realize how different the local construction standards are.
Local contractors in Costa Rica, pay much less attention to details. The average Costa Rican feels that many of the home amenities that foreigners take for granted are extravagant and unnecessary, such as:
Home Amenities
Hot water from all outlets
Plumbing drains that are vented
Installation of plumbing tubes so shower sprays are above your head
Sufficient electrical outlets in kitchens so all appliances can be plugged in
Countertops that are large enough to work on
Kitchen and bath cabinets finished inside with cleanable surfaces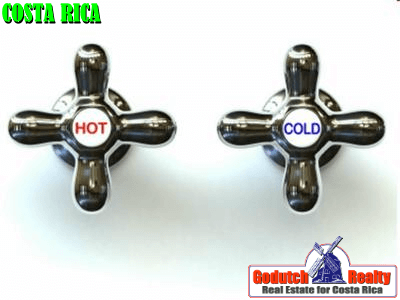 Garbage disposals and dishwashers
Wide electrical conduits in floors, walls, and ceilings with three electrical wires (grounded) from the breaker panel to the outlets.
Screens on windows that open
Windows that are high enough for adults to enjoy the views while standing
Ample closets with sufficient storage
Insulation in walls, ceilings, and also attics
Ceiling fans that provide air movement to prevent mildew and mold
No air conditioning
Contiguous roofing, fascias & soffits that prevent moisture infiltration that allows for mold growth and pest infestation
Ample gutters and downspouts to provide proper drainage of rainwater off the roofs
8′ minimum ceiling height
Most homes built before the year 2000, lack many of the above details. Therefore some expats are unpleasantly surprised when they move into an older home here.
Different construction standards
The local architects and engineers who designed and supervised the construction of older homes grew up without most of the above amenities and have different construction standards than you. Therefore, they did not consider including these installations in the construction plans. And do not discuss these details with the contractor when building the home.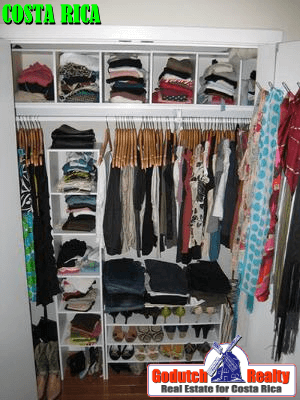 Thinking of renovation?
The charm of the traditional construction is desirable to many foreigners. Nonetheless, the aura of that old-world charm sometimes clouds a buyer's decision-making process. Some folks feel that remodeling to upgrade older construction will be easy. Most of the older construction in Costa Rica is concrete with steel rebar reinforcement inside the walls and floors. Remodeling this type of sturdy construction is very labor-intensive. The local laborers are more expensive than they used to be.
There are some serious facts about construction standards that buyers must consider and discuss with their contractor before buying an older home with the idea of upgrading, such as:
Hot Water
If the house has no hot water plumbing tubes inside the walls to the faucets, installation of hot water outlets is complicated and expensive.
Vented Plumbing
If there are no plumbing ventilation tubes in the walls from the toilet and sink drains to the exterior, installation of new ventilation is complicated.
Shower Spray
To extend the existing plumbing tubes in the walls to raise the height of the showerhead is complicated.
Electrical Plugs
If there are too few electrical outlets above the kitchen countertops, there are probably too few electrical conduits and wires in the walls. Adding additional plugs involves installing a third grounding wire all the way to the breaker box and with the small conduit, there is not enough space inside to pull the third wire. The only option is to chop all the walls to install a sufficiently new conduit and re-plaster and re-paint all the walls that need repair.
Countertops
When there are few countertop work surfaces in a kitchen, remodeling involves removing walls and adding additional cabinetry. Along with the new countertops, you will need more electrical outlets and lighting fixtures as well as new flooring.
Cabinetry
Many older wood cabinets can be charming, but adding additional cabinets and drawers becomes difficult when you cannot find the same wood to match the existing ones.
Windows
Older windows usually have wood jambs and aluminum, jalousie-type glass vents that open out, which makes the installation of screens complicated. Additionally, if windows are too small, removal of the old wood jambs, cutting off the walls, and solid concrete headers above must be done to expand the window openings.
Closets
If the homeowner desires larger closets, wall removal is recommended to create additional space that will need to be taken from other rooms.
Insulation
Attic insulation can usually be installed without a lot of hassle, but in older concrete construction, sound travels through the walls and floors and moisture accumulates inside from the excessive humidity in Costa Rica.
Ceiling Fans & A/C
Without consistent air movement, mildew and mold growth becomes a concern. Folks with allergies have a difficult time with mildew and mold in older homes without fans and central air conditioning to dehumidify the rooms.
Roofing
The majority of the homes in Costa Rica do not have sheathing or underlayment installed and corrugated metal roof laminates are the finished roof material. Also, under the upper corrugations, there are many gaps where moisture, dirt, and rodents can enter. Without a flat sheathing product such as OSB board or cementitious laminates with a waterproof underlayment on top, there is nothing to stop the infiltration of moisture, dirt, and rodents from entering between the roof laminates and the interior ceilings. The method to change the inferior roof structures is removal and replacement. Or you can apply a commercial-type roofing membrane on top of the existing roof laminates. Neither of these options is inexpensive.
Gutters & Downspouts
Small gutters and too few downspouts are common in Costa Rica. They allow water to accumulate in the gutters and flow under the gaps of the roof laminates, inside the overhanging soffits. Water stains on the exterior of the soffits and fascias are very common in older homes. This moisture causes deterioration of the structure and exterior finished surfaces. However, if you clean them often enough, you should have any problems.
Ceiling Height
If the ceilings in homes are low, removal of the existing ceilings and the addition of higher walls to support new ceilings are expensive.

In conclusion
The decision to purchase older construction is a big one. The local construction standards require significant upgrading if the buyer can't live without the amenities accustomed to.
Therefore, it is wise to seek an experienced architect, a civil engineer, and a contractor for any project in Costa Rica. A smart investor looks for someone they can communicate with within their native language. This is preferably a person who has years of construction experience. A professional with these skills will understand the construction standards you expect to find when buying a home in Costa Rica.
Therefore, I do recommend you work with an experienced realtor when buying a property. Contact a Godutch agent now.
The Author
Tom Rosenberger had more than 25 years of homebuilding experience, 15 of which have been in Costa Rica. A construction consultant, Tom Rosenberger was an expert in building and remodeling a home in Costa Rica. Tom passed away in 2020, may he rest in peace. 
---
If you like this blog, subscribe to my newsletter by clicking the banner below.

I DO want to remind our readers that we appreciate any referrals you can send us. Also, please remember the GoDutch Realty agents when you talk about your home in Costa Rica, we appreciate it.