Estimated Reading Time: 11 Minutes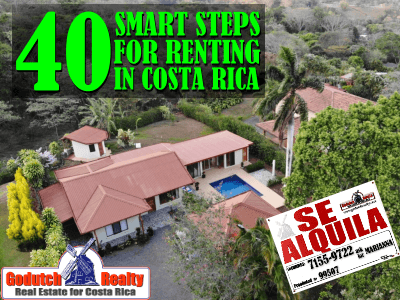 Now you probably say "40 smart steps to take before renting a home"? Why so many?
You would think that renting a home in Costa Rica is easy. It is when you already live in the country, and if you speak Spanish, it's a piece of cake. But when you're just moving to Costa Rica, you might want to check these 40 smart steps to take when renting a home in Costa Rica.
It's amazing how many details that you just don't think about, are important. And, before you know it, you arrive at the airport and you realize it's too late now. You will want to follow these 40 steps before renting a home in Costa Rica before you hop on that flight to Costa Rica!
First, you should try learning enough about the country, you want to learn where you'd prefer to live.  So the very first step, and the most logical one, is to find out where to rent, first. This first one is not even included in the 40 steps, because it speaks for itself.
Here are 40 smart steps that will make that part a lot easier for you.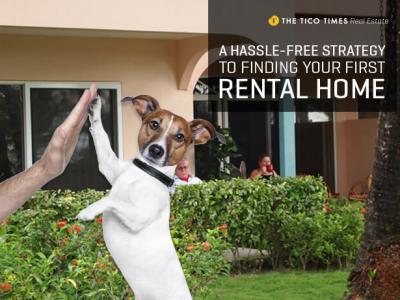 Looking at homes online seems easy, but if you have never been here, you won't know. I receive hundreds of emails from future renters saying "I want to rent a home in Costa Rica" Usually, we need 5 or 6 emails back and forth to find out their requirements and budget. Most of the time, it's like pulling teeth.
Therefore, I decided to write this 40 smart-step guide for renting a home the easy way:
1. Too Early
Don't start looking to rent a home when you're not ready. For sure, the home you really love won't be available when you're ready… in 3 years. But there will be others, don't worry. Here is a hassle-free strategy to do it right.
2. Budget
First, figure out your budget. Take into account that utilities are usually not included. HOA fees, in case of a condo or gated community, always are included.
3. Long or Short Term?
Decide, before renting a home, if you need it short term (by the month) or long term (1-year minimum). Learn more about the difference now.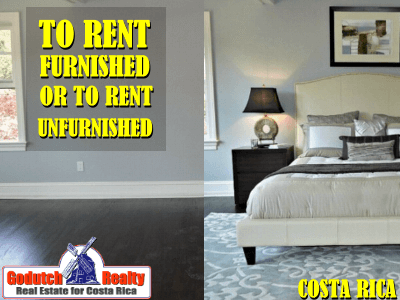 4. Dollars or Colones?
Ask if the rent is paid in Colones or in U.S. dollars. It might be important, depending on how you receive your income. Unless you plan to go native, count on paying your rent in U.S. dollars. Changing money is easy in Costa Rica anyway.
5. Home or condo?
Decide if you want, before renting a home, if you want to live in a single-family, a condo or a home in a gated community.
6. Furnished or Unfurnished?
Will you need to rent furnished or unfurnished? Learn more now about renting furnished or unfurnished, what's included and what's not.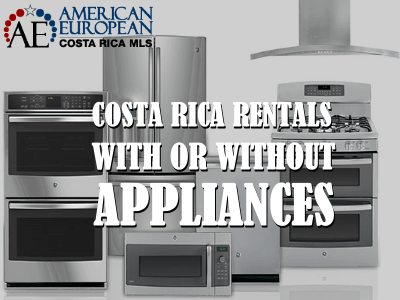 7. Appliances or not?
Unfurnished rentals often do not include appliances. Learn more about the inclusion or not of appliances.
8. Choose an Agent
Do your due diligence on finding an agent (or agency) with good recommendations.  Try to decide, before renting a home, on one agent and do not go all over the place. A good agency will give you much better post-rental services than you can imagine. And you'll need it, believe me!
9. A website
You want to hire an agent or agency with a website. Then you can start looking at your options before you arrive physically. Try working with the experts, try renting a home with GoDutch Realty.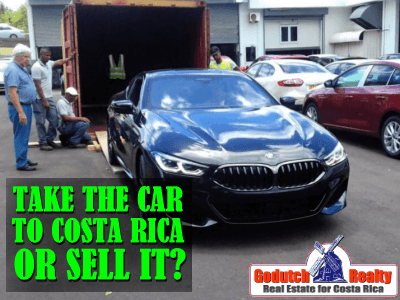 10. VRBO
There are several VRBO – for rent by owner websites. BUT, renting a home through the owner has its risks that you should take into account. Learn more now about renting VRBO,
11. Important Details
Give the agent as much information as you can, before renting a home, about what you'll be looking for. Don't start with "I want to rent a house in Costa Rica". Give the agent as much detailed information about you, your family, and your needs as you can. Remember, the minimum term of a lease agreement in Costa Rica is very different than in the UK or in North America as it is three years.
12. Ship Furniture
Shipping your own furniture? Or just bringing personal belongings? Learn more about shipping or not BEFORE you get on a flight to Costa Rica.
13. Bank Account in Costa Rica
You have to know that in Costa Rica it is not so easy to open a bank account. Before you become a resident, you'll only have access to a simplified bank account.
14. Set up Wire Transfers
Tell your bank that you will need to make wire transfers to your bank account in Costa Rica. Ask how to do this when you are going to be in Costa Rica. You want to, before renting a home, have your monthly payments in place.
15. Credit Card charges
Also, tell your bank that you will be in Costa Rica soon and please not to put a stop on credit card charges from Costa Rica. If you don't, they will!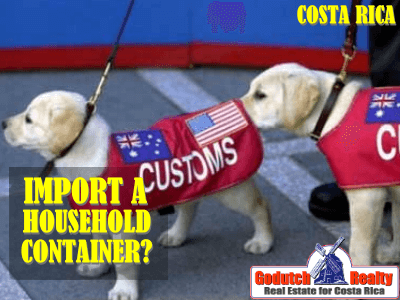 16. Cash Withdrawals
Find out if your bank charges you for cash withdrawal from an ATM machine in Costa Rica. Find out what the daily max is and what the cheapest way for a cash withdraw is.
17. Lease Payments
Landlords and utility companies do NOT receive credit or debit cards for lease payments. Writing a check probably won't work, as Costa Rican banks won't cash a check from the U.S. or another country. Depositing a foreign check into a Costa Rican bank account often takes weeks to clear.
18. Bring Cash
Bring enough cash for your first two months' rent, a security deposit and two months' of utility payments.
19. Utility bills
Is the cost of utilities included in the rent? It is not possible to have power, phone (landline) and water in your name unless you're a resident or citizen. They will be in the landlord's name.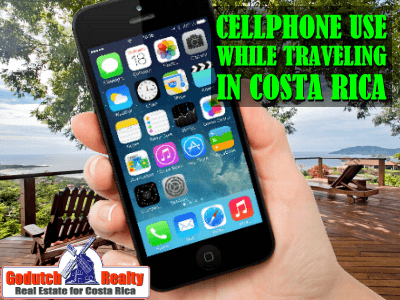 20. Internet
An Internet connection and Cable TV is personal. Packages depend on the speed and number of channels you need. The service is almost always in the name of the tenant.
21. What's Included?
Sometimes the rent includes utilities. In some condominiums, the water is included in the HOA fees. Learn more about it now.
22. Cellphone Info
You will not be able to have a cell phone line in your name. Therefore, you should make sure you bring a compatible cellphone and buy a local prepaid sim card. Or buy a new cellphone when you get here. Here is all you need to know about cell phones.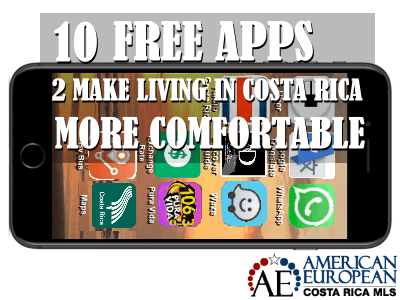 23. Cellphone Apps
Make your life comfortable by using cell phone apps, learn more.
24. Home Security
Don't let the bars, walls, gates, and fences scare you away. Unfortunately, they are necessary, believe me. Learn more now how important home security is in Costa Rica.
25. Car
Decide if you want to bring your vehicle to Costa Rica. Or maybe buy one here. Learn what someone who had to make the decision or bringing a car or not has to say about it.
26. Import Tax
If you plan to bring your car, you will need to pay import tax. How much tax will you pay? Learn more about the legal requirements of importing a car.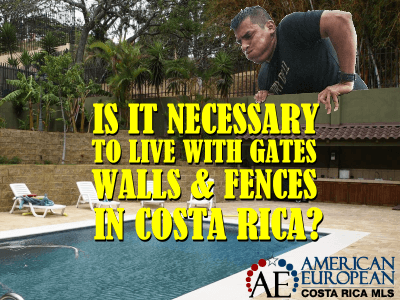 27. Money to Buy a Car
Did you decide to buy a car here? Then how are you going to bring the money here? Just writing a check won't work.
28. Public Transport
Not planning to buy a car? Then make sure you rent where there is a good bus service. Public transport in Costa Rica is cheap and really good. Learn as much as you can about bus schedules because San Jose functions as a hub.
29. Border Run
If you're planning to become a resident or not, you will have to do a border run every once in a while. The Costa Rican government has now started to charge a $100 fine when you overstay your visa. Learn more about border runs now.
30. Hospital
Before you decide to rent a home, look at the whole neighborhood, and access to grocery shopping, the farmer's market, and medical services.
31. Neighborhood
Also, check the home at night. Walk the neighborhood and see if you feel safe and comfortable.
32. A lawyer
Check the lease agreement with a lawyer before you sign. Use a real estate lawyer. If you don't want to pay a lawyer, don't. But don't complain when you have problems with the landlord or landlady. Here are the lawyers we recommend.
33. Inventory
Insist on an inventory list and check all items. Claim that something isn't there or is broken. Insist on replacement before signing the lease agreement. As a good Tico, you can say "esa vaina no sirve para nada".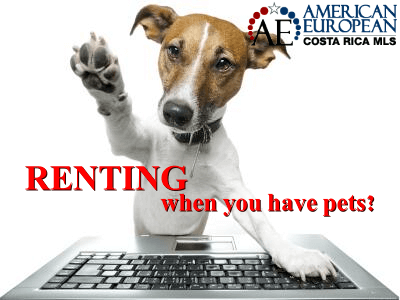 34. Damages
Check for damages before signing the lease. Check paint, drains, lights and everything that possibly doesn't function correctly.
35. Security deposit
Everything that is not in perfect condition or missing will be deducted from the security deposit when you leave.
36. Pets
Do you have a pet? Tell your agent before renting a home. Ask for the rules and check for pet restrictions and if there is a pet deposit.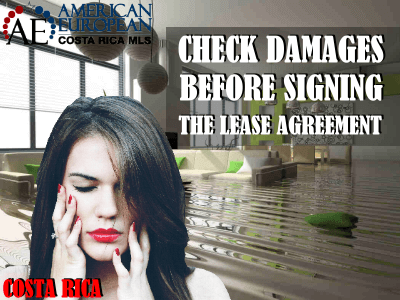 37. Condo or Gated Community?
Renting a condo or a house in a gated community just for the vacation? Then ask, before renting a home, for a copy of the bylaws, and check if there are any vacation rental or other restrictions that don't allow for it.
38. Sub-letting
Sub-letting without the approval of the landlord is illegal in Costa Rica. This is stipulated in the General Law of Urban and Suburban Leases, No. 7527. Make sure you rent from the legal owner.
39. A business
When renting a home, do not start a business there if you rented it as a residential property. Especially in a condominium, you'll find restrictions to run a business. Unless the landlord/lady agrees in the lease agreement. When you run an online business, you should not have to worry.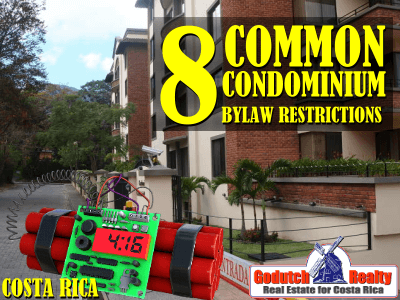 40. Communications
Try to have good and clear communications with your landlord. And try to be tolerant. You're a guest in this country.
Now you know everything that's needed before renting a home in Costa Rica and stay out of trouble.
Of course, you want to deal with the experts! Check out listings now for renting a home in Costa Rica. Or, you can also contact us now.
---
If you like this blog, subscribe to my newsletter by clicking the banner below.

I DO want to remind our readers that we appreciate any referrals you can send us. Also, please remember the GoDutch Realty agents when you talk about your home in Costa Rica, we appreciate it.