Estimated Reading Time: 3 Minutes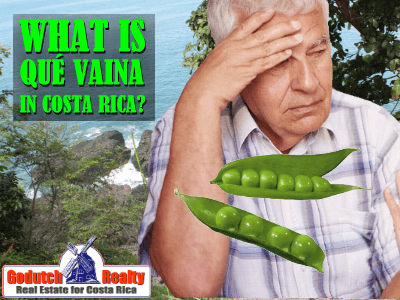 Qué vaina is one of those expressions your landlord might use when you complain about a leak in the roof.
Or when your coffee maker stopped working and you're asking for another.
In this case, the translation is "what a problem". But. instead of qué vaina, it is also possible to say qué torta. It is used when a person is annoyed because something has happened.
Vaina is one of those words that has many different meanings, depending on how it's used.
The word vaina or vainica means a pea.
More
Other uses are:
Qué es esa vaina? – what is that thing? Also esa cosa – ese chunche means the same thing)
Cuál es la vaina? – what's the matter?
Voy a tener que aguantarme las vainas de mi inquilino – I will have to support my tenant's crap
No me venga con vainas – stop having excuses
Qué vaina con vos – You're always a problem, I'm disappointed with you
Ni de vaina – Not a chance
Juan Vainas – a person who is not too intelligent
Es una vaina –  It´s a pity, a dilemma
Es una vaina ser un limpio – What a pity to be penniless!
Engañar con la vaina vacía – to preach qualities you don´t have
Machete, estáte en tu vaina – watch out! think what you are doing
As usual, my sincere thanks to my dear friends Alf Giebler (A lo Tico), Christopher Howard (Costa Rica Spanish) and Wagner Freer (Spanish School For residents and Expats).
If you'd like to learn more about the Costa Rican culture and how to prevent culture shock, read more blogs about this topic. Contact us for any real estate requirements you have.
The grammar of this blog was checked and corrected by Wagner Freer of Spanish School for Residents and Expats. We strongly recommend this language school as your best choice to learn Spanish, click here to contact them. 

---
If you like this blog, subscribe to my newsletter by clicking the banner below.

I DO want to remind our readers that we appreciate any referrals you can send us. Also, remember GoDutch Realty when talking about your home in Costa Rica to friends and family. We appreciate it.