Estimated Reading Time: 7 Minutes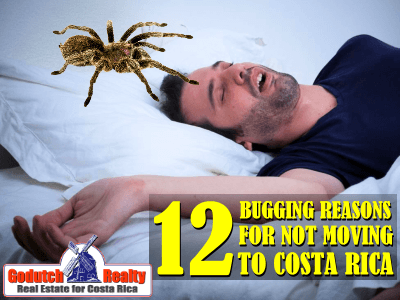 Let's do something different today; let's talk about reasons for NOT moving to Costa Rica. Thanks to Marian, our real estate agent in Atenas, and her almost-famous tenant, I'm able to write another blog.
This story is about the tenant who has done us a favor by writing a 7-page letter to his landlord. Their letter made it clear why they should have never moved to Costa Rica in the first place. The tenants had a severe problem with bugs (among many other things) in the house they rented in Atenas.
Their first complaints were about mangoes, then about the noise, and now about the bugs. In another blog two years ago, I explained that Costa Rica is not for you if you are scared of bugs. Unfortunately, Marian's tenant did not read my recommendations in that last blog.
Therefore, today, I recommend not moving to Costa Rica if you cannot live in peace with the insects unless you follow the instructions at the end of this article.
This story is about a client who rented a recently renovated house from Marian. I am not making anything up in this blog, and I have taken over the text literally, except for quite a few grammatical errors, and only changed the names of the tenants.
These are the complaints from tenants, who had plenty of reasons for not moving to Costa Rica and did it anyway, to their landlord. I certainly hope they now live a happy life elsewhere.
12 Bugging reasons for not moving to Costa Rica
1. Uninhabitable house
Insect problems; the house is infested and therefore should be inhabitable.
2. Eye injury
Charlie was bitten in the eye while sleeping in bed, not outside, and has had a puffy-red eye for a week now; he is in extreme pain and discomfort. It was either a spider bite or a scorpion bite. Either way, neither of them should have been inside the house.
3. Ant attack
We had a severe bout of ants which we cleaned up because we purchased a spray to control them.
4. Worm attack
Fat worms constantly come into the house under the back door. So, we a towel down or get infested at night, although they still somehow make their way into the kitchen.
5. Spider attack
A pile of giant furry spiders made their way in one day. But luckily, we saw them crawling around as they were heading to the closets; another reason for the towel.
6. Other vermin
Not sure what vermin caused it. But Charlie had several brand new shirts covered with white powdery residue in the closet, not laundry detergent as he had not even worn them yet.
7. Termites
We had termite droppings everywhere for two weeks before the owner finally addressed it. Then we found out this was not the first time, and a bandage fix was just lightly spraying the ceiling above the dining room.
The termite droppings covered our computers and landed in our food.
The lease indicated that the owner did not cover loss of personal property against fire etc., but what about termites? The entire house needs to be fogged against those termites, but the property manager would approve a couple of sprays on the ceiling in one area only.
8. Critters
Constant bugs and termite droppings are falling from the ceiling cracks. Especially every time we turn on the lights, which is often, since the house is so dark, even during the day. The trees and roof block the natural light from getting in.
And we keep the fans on. Because it is otherwise really stuffy here as no breeze gets in either, just noise and insects make their way inside. We cannot use the attic ceiling fan either because it disturbs the resident iguana and shakes up all the insects that have taken habitation up there. And all the bugs and droppings come down from the ceiling. So we sweep up critters several times a day.
And we have to use covered glasses as well otherwise we have insects and droppings in our drinks.
9. Cutter Ants
Cutter ants have infected the empty neighbor's property and invaded the driveway on your property as well. The gardener is all over it when he comes on Tuesdays, though.
10. Maggots
The worst yet was one morning when we found the kitchen floor covered with maggots. We are immaculate people, so this was a complete and disgusting surprise. (See why you have maggots and how to get rid of them here).
11. Alfredo
The ongoing scenario with the iguana that lives in the ceiling. The iguana runs around and scratches all evening and night while pouncing on the stirred-up insects and are illuminated when the lights are on. It has become our job to monitor its' habits, but it is more of a joke than anything.
Charlotte has named him Alfredo and feeds him Bologna at the end of the drainpipe, which we discovered him running into one day. We think that the iguana and whatever food he has taken there is the reason for the maggots and insects in the attic. But everyone we tell just laughs about it. The gardener said to call him when we see it, and he will shoot it. The iguana is a permanent resident and set camp up there years ago.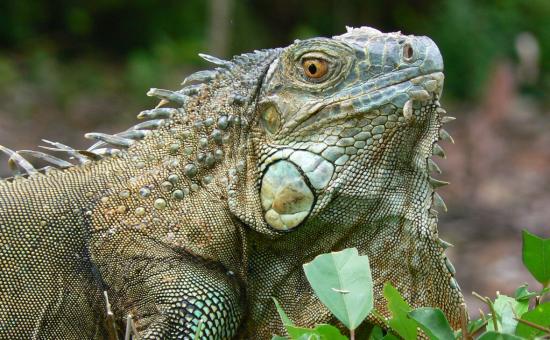 12. A carcass and the cat
Not sure if it was the cat that roams this property or some other animal. But an animal or reptile carcass was left as a present for us on one of the chairs outside. We often find the cat sitting on these chairs. Charlie is deathly allergic.
Today's lesson
If you plan to move to Costa Rica, no matter if you rent or purchase a house in Atenas or anywhere in the country, please understand that Costa Rica is in the tropics. We only get complaints from new expats about insects, bugs, and other scary animals when they are not willing to adapt to their new environment. Or they don't want to spend the money in fumigating the house.
If any of the above is one of the reasons for not moving to Costa Rica, DO NOT MOVE from where you are. If you cannot live in peace with the insects, do not come or call an exterminator before you move in.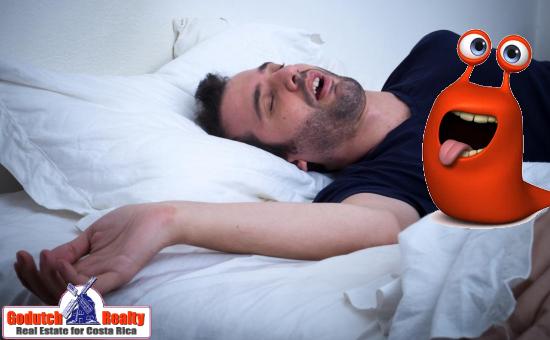 Do you know other reasons for not moving to Costa Rica? Then I invite you to use the comment section at the end of this blog.
---
If you like this blog, subscribe to my newsletter by clicking the banner below.

I DO want to remind our readers that we appreciate any referrals you can send us. Also, remember GoDutch Realty when talking about your home in Costa Rica to friends and family. We appreciate it.