Estimated Reading Time: 6 Minutes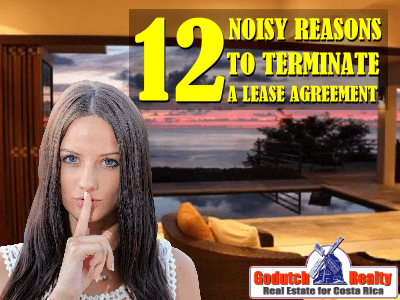 Is it easy to terminate a lease agreement in Costa Rica?
At GoDutch Realty we don't do many lease agreements. The main reason for this is that many tenants feel that the agents are responsible for every detail until the tenants pass out or pass away.
There is not much money to be made in rentals; especially the low budget rentals. Often, tenants terminate the lease agreement before they complete the term. This sometimes happens because the landlord doesn't deliver what was promised, so the tenant terminates. Or the tenant cannot adjust to the new country. When that happens, the tenant terminates early because there are too many complaints, like the 12 noise complaints in this blog.
On the other hand, an agent can only hope the tenant will be sufficiently satisfied with living in Costa Rica so they will purchase a property from them one day.
In Atenas, one of the most beautiful communities west of San Jose, there are a lot of beautiful homes that are rented, mostly short-term to snowbirds from up north trying to get away from the cold, so our company does get involved in quite a few rentals in that particular location. A lot of snowbirds move to Atenas for just 6 months and love it so much, they end up buying a property in Atenas to retire there.
I have always enjoyed the retirement market because the clients are usually very easygoing. Only once in a while, we hit on a bad apple, or maybe I should say mango. They sometimes terminate earl. I wrote another blog about this person a few weeks ago, someone who complained about the mangoes keeping them awake.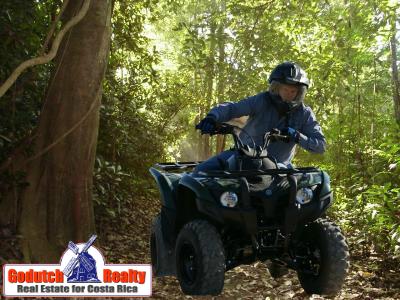 Other than mangoes, noise can be an important factor to terminate a lease agreement as will show in the 12 noisy reasons the clients supplied us with:
1. Traffic
Constant road traffic especially water trucks, dump trucks, tractors, etc.
2. ATV
Neighbor has a friend that shows up on his ATV quite often and sits out front of his house revving his ATV while chatting at a high level to hear each other above the noise of this ATV.
3. Bread
Neighbor receives fresh bread daily at 6:45 am and even though she is standing to wait for the driver he insists on honking his extremely loud alarm clock-like horn for a full three honks.
4. Motorbike
Neighbor has an ear-piercing loud baffle-less motorbike which he revs about twenty times a day on top of the twenty-plus trips sprinting down the road at full speed in first gear making it much louder than necessary.
5. The bus stop
Bus stops a minimum of three times daily right at end of the driveway. Everyone on the bus looks to see what we are doing and what you have on your property. (here I'm not sure if it's the noise of the bus or the people on it who want to know what they're doing – editor).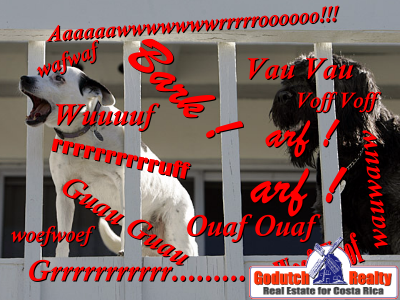 6. Dogs
The neighbor also has three small dogs that bark constantly; we often wonder when they get a chance to take a breath; we have asked several times to quiet them down but their response is because they bark all of the time. (I'd like you to check this interesting bark site!)
7. Fruit trucks
A fruit truck parks outside your gate, the vendor is yelling at everyone in the vicinity if they want anything.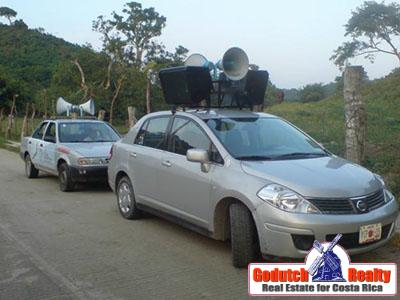 8. Perifoneo
Cars with speakers on their roofs go up and down the street a lot, even early in the mornings and late at night, especially on weekends. Megaphone advertising is quite customary, especially in smaller towns and rural areas.
9. Screaming locals
Plus the regular noise from the locals traveling back and forth and partying with loud music and screaming (which is to be expected in most parts of this country)
10. Can't talk on the phone
Near impossible to talk on the phone, at any time, without yelling at the person on the other end and repeating yourself several times; we are in the middle of an expressway you know
11. Fruit falling on the roof
Fruit is constantly bouncing off the rancho roof which is particularly startling to the heart (oh sorry, we already had that one in the other blog)
12. Water pump
Pump in laundry room runs very loud and often, which makes it difficult to sleep as well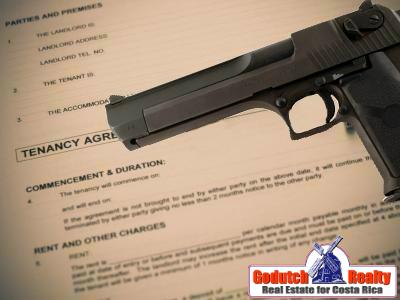 Noises that you cannot control are usually very annoying. Can you live with them or do you need to move elsewhere? Do you want to go native and live surrounded by the locals? Will your budget afford not having to live with annoying loud neighbors? If you're not absolutely sure you'll be able to adapt to all the above, do not sign a lease agreement.
Today's lesson: befriend your neighbors; invite them over for coffee and cake or a cold beer. Then discuss the issues, most will understand and you will find you'll get along with them really well, even if the language is a barrier.
Be aware, these are ONLY the noise complaints a tenant in Atenas might have. I'll keep the other complaints about some other blogs.
Would you like to rent a house in Atenas? Short term or long term? Then I hope you are aware you have to adjust to a lot of details (or bring earplugs) you might not be used to, and you won't terminate the agreement early. Contact us now.
---
If you like this blog, subscribe to my newsletter by clicking the banner below.

I DO want to remind our readers that we appreciate any referrals you can send us. Also, remember GoDutch Realty when talking about your home in Costa Rica to friends and family. We appreciate it.