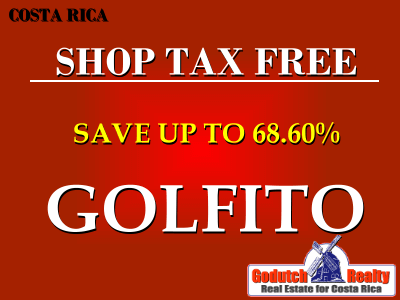 Want to save on your appliance purchase? Then follow the instructions.
When buying appliances in Costa Rica, you can expect to pay a lot more than what you pay in another country. Fortunately, there is a way you can save a lot on your appliance purchase in Costa Rica: Deposito Libre Comercial Golfito or the Golfito Duty-Free Zone.
When you buy a house from GoDutch Realty, it is very well possible the house doesn't come with the appliances. Also, if you rent unfurnished and long term, you might be interested in saving on your appliance purchase.
The importation of goods into Costa Rica is regulated by the tax authorities and classified by product type. For example, refrigerators not only carry a 42.83% import tax but also a 13% sales tax. It is possible, for a resident or citizen, to make an appliance purchase totally tax free.
To take advantage of a duty-free option, you have to go to the Golfito Tax-Free Zone. When you move to Costa Rica and you bring appliances in your container with household goods, you will always pay that same tax. So don't think you can get away from paying the tax by bringing your own.
Doesn't that sound incredible? Yes, it is what it is. As usual, GoDutch Realty holds your hand way past your real estate closing and we tell you all about the options you have.  You can save a lot of money on your appliance purchase in Costa Rica if you go to the Golfito Tax-Free Zone to buy. Golfito is quite a long drive from San Jose, 4 – 5 hours. You can take turn it into a sightseeing trip and save money on your appliance purchase.
The history
The Golfito Tax-Free Zone was built by the Costa Rican government in 1990. United Fruit Company, tired of the labor strikes, shut down their banana plantations in the Southern Zone of Costa Rica. The Costa Rican government then decided to build the Free Zone as economic support for the local population. Judesur is the administrator of the Tax-Free Zone.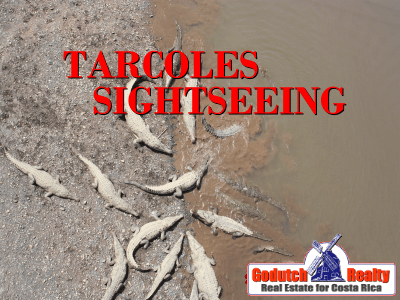 Getting to Golfito
It is quite easy to get to the Deposito Libre Comercial Golfito. You can either go by highway 27 and then on to the coastal highway, or you can take highway one all the way down to Golfito. They're very different routes, so it is a nice idea to take one way down and the other way back up. Golfito is only 55 kilometers from Paso Canoas on the Panamanian border.
You can also fly from Juan Santa Maria airport to Golfito airport 3 times a day with SANSA or Nature Air. If you like to go by bus:  you can take the TRACOPA bus 3 times a day from San Jose or any of the organized private excursions by using "Excursion al Deposito Libre Golfito" on Google.
Sightseeing
There are many places you can stop on the way and get to know Costa Rica a bit better. You can take the Pan-American highway (highway 1) and do an overnight stop in the Valle de Los Santos. There, you can visit the Parque Nacional Los Quetzales or visit a trout farm and enjoy the rainforest. Don't forget to stop at Los Chespiritos for a "tipico" lunch on the Cerro de la Muerte. Bring a sweater because it can get quite cold up there.
You can also take highway 27 to the coastal highway – Route 34 –  and stop on the way for a good time in Manuel Antonio, Dominical, or Ojochal.  In case you feel like looking at property in Dominical, let us know.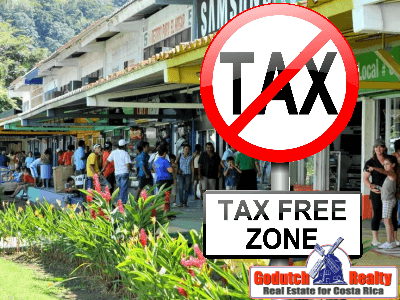 How to purchase
It is pretty easy to make your appliance purchase in Costa Rica when you go to the Golfito Tax-Free Zone.
1.    You need to be a citizen or a resident. If you're a perpetual tourist, they will not allow you to purchase.
2.    You need to bring your passport AND your cedula or Cedula de Residencia.
3.    You have to purchase, ONE DAY BEFORE, well before 3:00 pm, a TAC – Tarjeta de Autorización de Compras – in the Free Zone office close to the entrance. The TAC is free of any cost. Purchase hours of TAC Tuesday – Saturday 8:00 am – 8:00 pm and Monday 1:00 pm – 8:00, but check here before you make the drive, in case you hit some Tico holiday.
4.    You can ONLY purchase $1,000 per person twice a year. Only first-degree relations — parents, children, siblings, and spouses — may combine their shopping authorization cards.
5.    There are porters who offer their services to take the merchandise to your car (or transport company). Check their rates here, they are regulated.
30 stores
There are some 30 stores in the Golfito Free Zone with a pretty impressive inventory, check them out. Banco de Costa Rica and Banco Nacional also have an agency there. When you plan to visit the Free Zone, bring a book. Long lines can be pretty normal, depending on the day you go.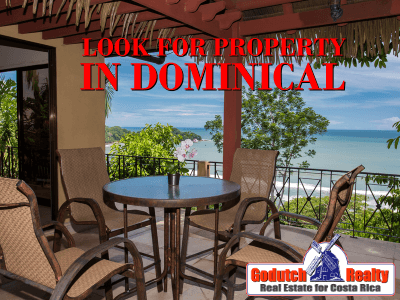 Import tax
Not only will you save the 13% sales tax on your appliance purchase in Costa Rica, but you will also save the import duty on other products and goods that you can purchase at the Golfito TTax-FreeZone.
Check out the import duty on some articles:
Bicycle with a value over $1,000 – 29.95%
Blender – 49.28%
Brakes and parts – 42.78%
Car audio system – 49.27%
Car battery – 42.38%
Coffee maker – 49.28%
Cologne – Perfume – 29.95%
Computer – 13%
Computer cartridge – 13%
Diamonds – 19.78%
DVD – disc player – 49.27%
Electric shaver – 42.78%
Electronic tablet – 13%
Faucets – 29.95%
Fryer – 29.27%
Gas grill (no gas container) – 24.30%
Gas range – 29.95%
Golf balls – 24.30%
Golf clubs – 24.30%
Guns – 30%
Hair dryer – 49.27%
Hair styling products – 68.60%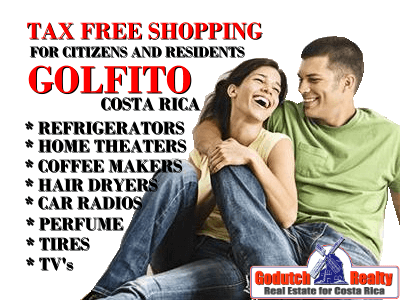 Home appliances – 49.27%
Home Theater – 49.27%
iPhone – 13%
iPod – 42.97%
Kindle – 49.27%
Kitchen stove electric – 42.83%
Laptop computer – 13%
Mattress – 29.95%
Mixer – 49.97%
Refrigerator – 42.83%
Tires – 19.78%
T.V. – 49.27%
Vacuum cleaner – 42.97%
Liquor
If you'd like to learn how much you can save on buying liquor in the IMAS tax-free store, read my blog on How to save on booze in Costa Rica. The Holterman store in the Deposito Libre Comercial Golfito sells liquor. But take it easy on drinking liquor when you drive back to San Jose.
Home delivery
If what you purchase fits in your own car, you can bring the merchandise you buy back with you right away. Not all of us have a car large enough to fit a double-door refrigerator and barbecue.
There are many transport companies and truck drivers that offer their services to transport the merchandise for you. Do your homework on this. You don't want to spend a couple of thousand on an appliance purchase in Costa Rica and have it transported by the wrong guy.
Judesur, the Free Zone administrator recommends several authorized transport companies. They charge a fee (percentage) on the invoice if you want o to pick up the merchandise in their warehouse in San Jose or Alajuela. They charge another fee for home delivery.
More than $1,000
By law, you're allowed only $1,000 per person, twice a year. I have seen many locals who don't have any money to purchase anything and sell their right to use the $1,000 by selling their TAC. Honestly, I don't know how it works, because I haven't tried it. It's illegal, so be careful if you do so.
Contact us for all your Costa Rica real estate purchases, with or without appliances.
---
If you like this blog, connect with me on Google+ or subscribe to my newsletter by clicking the banner below.

I DO want to remind our readers that we appreciate any referrals you can send us. Also, please remember the GoDutch Realty agents when you talk about your home in Costa Rica, we appreciate it.