Estimated Reading Time: 5 Minutes
Did you know that you can save a lot of money buying liquor in Costa Rica in the right place?  If you don't drink before you move to Costa Rica, there might several reasons to start doing so pretty soon.
It can be pretty warm some days and for many, there is nothing nicer than a piña colada when you're sitting next to your pool. Socializing with fellow expats at your newly acquired home, telling each other about your adventures, is also a great reason.
Others, like me, prefer a rum 'n coke when I have good company.
Depending on your ability to adjust to your new life in Costa Rica, or on your personality type, you might be needing a stiff drink, when you can't put up with it anymore.
Of course, there are other reasons to start drinking if you're not already an alcoholic when you move here, but then I suggest a visit to a bilingual shrink.
Alcohol, or liquor in Costa Rica, can be quite expensive, depending a lot on what you drink and how much.
Very important to know is the fact that there is a lot of contraband around, most of it is bad quality liquor. If you're not careful, you're going to save on liquor in Costa Rica but you'll be spending a lot more on your hospital bills. If a liquor bottle does not carry the interior dispenser cap, it's probably adulterated liquor.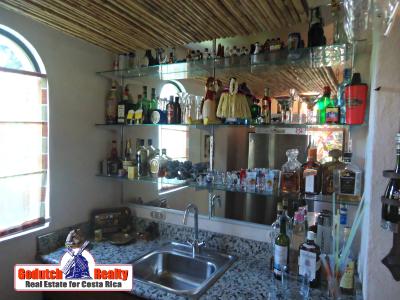 Duty-Free stores
We all know that liquor pays a lot of tax in most countries. If you travel to any country in the world, you will have a certain amount of duty-free allowances.
In U.S. airports, you have a duty-free allowance of 1 liter of alcoholic beverages.
European countries allow 1 liter of liquor and 2 liters of wine + 50 Ml of perfume.
Buy leaving or arriving
It is normal that you purchase your perfume and liquor at the airport of the country you are leaving and not in the country you're arriving. The store attendant will ask you to show your airline ticket, put your purchases in a bag and seal it. In some airports, they will give you the bag and in others, they will deliver to the aircraft.
Nonetheless, when arriving in Costa Rica, you have to go through the IMAS store right after customs. Feel free to buy your liquor then.
IMAS duty-free stores
The duty-free stores in Costa Rica are run by IMAS, which means Instituto Mixto de Ayuda Social or Mixed Institute for Social Aid. IMAS was created to finance social aid but was handed over to Aeris, the airport administrator, for 5 years.  In exchange, IMAS will be receiving $7M annually, all of it will come from the shopping travelers do at the tax-free stores at the airports.
The IMAS stores are full-fledged duty-free stores and have a monopoly in the Juan Santa Maria airport in San Jose as well as in the Oduber international airport in Liberia. The IMAS stores offer liquor and perfume.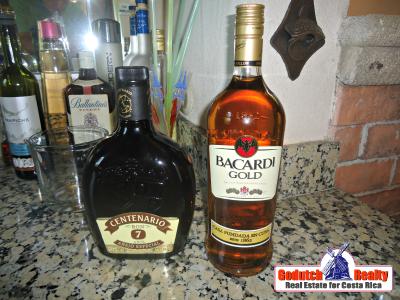 How to save money on liquor
Having said all the above, it is now time for you to learn that in Costa Rica, we do EVERYTHING different than elsewhere.
You might not know this, but you are allowed to shop for your liquor in the duty-free store when you arrive in Costa Rica.
Once you go through passport control at arrivals, you will be obliged to walk through the store. You'll have quite a good selection of liquor and perfume in this IMAS store. There is another one just before customs, on the right. They have a really good selection of liquor but their wine inventory is terrible.
In those stores, each person of 21 years or older can purchase:
Liquor: 5 Liters
Fragrance: Reasonable Quantity For Personal Use
I usually purchase a lot more than the 5 liters per person and I've never been stopped at customs. The customs agent couldn't care less and will probably worry more about any additional luggage that you might carry than the number of bottles you bought.
You can take your time to shop there before you pick up your luggage. Because it usually takes 20 – 30 minutes for your luggage to arrive on the belt anyway.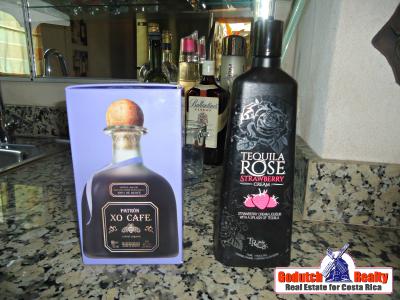 The cost of liquor
I wanted to give you some idea of prices without posting a long list of articles. This blog will be online for a long time to come and prices change. Therefore, I will post the prices in the IMAS store + prices in the Más X Menos supermarket on September 12, 2016. I used the exchange rate of 546.37 Colones for US$1. Prices in other supermarkets and stores are similar to the Más x Menos prices. It's amazing how much tax you pay on liquor in Costa Rica and how much you can save.
                                                        Más x Menos                IMAS
Absolut Vodka 1 Liter                         $ 32,99                   $ 19.00
Bacardi  Gold Rum 1 Liter                  $ 16.35                   $  8,50
Centenario 7 year Rum 1 Liter          $ 23,23                   $  7.00
Patron tequila XO Café 750 ML        $ 51.86                   $ 24.00
Tequila Rose 750 ML                          $ 29.61                   $ 18.00
Amazing, right! So keep traveling and do your shopping at the duty-free stores at the airport!
Prohibition
You probably didn't know, but we still have a prohibition on liquor sales during Easter and elections.
If you'd like to thank me for all this great formation on how to save money on liquor in Costa Rica, you're always welcome to drop off a bottle of Centenario Rum, or other (7 years or better) or purchase Costa Rica real estate through our GoDutch Realty agency. Contact us now.