Estimated Reading Time: 7 Minutes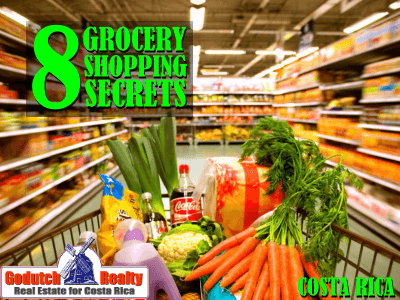 I'd like to show you 8 Grocery shopping secrets. That's because shopping in another country like Costa Rica is a science.
In today's blog, I'd like to give you a hand with your grocery shopping in Costa Rica, you know how to get started and what to look for.
Costa Rica offers a wide range of grocery stores or supermarkets.  Buying from a large chain doesn't necessarily mean you get the best prices.
Most supermarkets in Costa Rica play around with the prices even on a daily basis. This is the reason I want to give you these grocery shopping secrets.
What is cheaper in the store XYZ today, might be a lot more expensive than elsewhere the next day. Check prices every time you go grocery shopping. You'll get the hang of which grocery store is more consistent in its pricing and which changes prices on you all the time.
Grocery shopping is a really interesting topic.  It's not only about saving money. It's also more about knowing how and what to shop for. What to look for and what to be aware of. That's why I want to give you these grocery shopping secrets as a bonus today. Ticonuevo has also written a blog about grocery shopping and department stores that you need to read.
1. Adjust to the local food culture
Now that you moved to Costa Rica will you keep eating the same food as you did back home?
Try shopping for local food, go native. You'll save yourself a lot of money and you might be in for a great adventure. It's easy to find recipes online, try it. If you don't like it, you move on to the next weird product. I don't like rice and beans, but I love lots of other local dishes my wife makes.
2. Shopping Imported products
Imported products from outside Central America pay high import taxes.
A can of Planters mixed nuts costs twice as much as a local peanut brand like Mani Pro. Most products made in Central America pay very little import tax, so they are a lot cheaper. Products made in Costa Rica are even cheaper, but check to make sure. Lately, Dos Pinos Milk Products are sold cheaper in Panama and Nicaragua than in Costa Rica. Dos Pinos is the largest local milk factory but also the most expensive.
Most foreigners just grab the products that they used to buy back home. That habit will double or triple your shopping bill.
You should only purchase those imported products that are not available locally. Turkey filling for example, or your favorite cornflakes. Costa-Rican-grown black pepper costs a lot less than imported black pepper.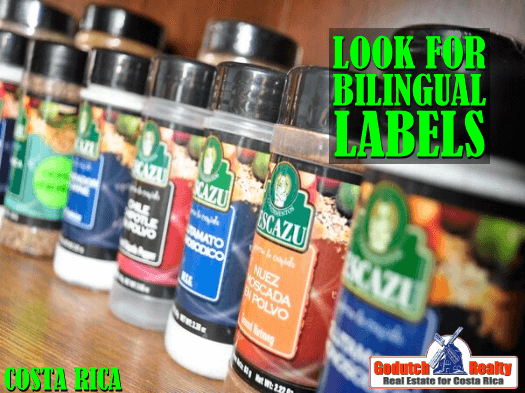 3. Labels in English and Spanish
Besides being a great way of learning Spanish, you should only purchase products that carry labels in the Spanish Language. Due to many foreigners living in Costa Rica, you'll find a lot of products now carry labels in the two languages, and you will find on the back of the label the information about its origin.
4. Taste and quality of the products
Many products are made differently for each country. A Costa Rican-made peanut butter tastes totally different than a U.S.-made peanut butter. Try the locally made product first. Then, if you don't like it, switch brands.
Most of the larger grocery chains present their fruits and vegetables well. But you can generally purchase your fruits and vegetable much fresher and cheaper at the local farmer's market. Except for some imported products like avocado or apples.
5. Size and packaging
In your mind, 1 pound of coffee should be cheaper than half a pound, right?
Sorry, you're wrong. In Costa Rican stores, most of the time, you'll pay less for 2 bags of half a pound each. And that's the case with most products like detergents,  pickles, and many others. Always check the different sizes before you purchase.
Do NEVER assume that the larger size is cheaper.
6. Membership shopping
As for membership shopping, PriceSmart has several stores in Costa Rica. You can compare PriceSmart with Costco or Sam's Club in the U.S.
Now and then PriceSmart renews its merchandise so you won't always find the same products. They carry an inventory that compares to a U.S. based membership grocery store. They have several locations.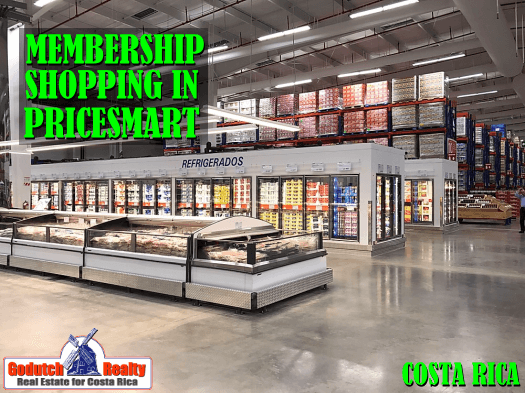 7. Different supermarkets
Costa Rica offers a wide range of supermarkets for your grocery shopping.
Auto Mercado carries a large inventory of US and European products so you will have a better chance to find specialty products like certain spices, turkey filling, and other typical US and European products.
Other similar-sized grocery stores are Perimercados Supermarkets who also have Jumbo with locations like Alajuela, Moravia, Desamparados, Guadalupe, Liberia, Heredia y Cartago. Mega Super is another large Supermarket chain with many locations and if you live in Escazu, you might like Saretto.
In coffee towns like Atenas, Grecia, Naranjo, and San Ramon, you will find decent shopping options at the local supermarkets' Coop. CoopeAtenas in Atenas, CoopeGrecia and many others do not only offer a nice inventory of local products, but they also have articles for your garden, a hardware department, and others.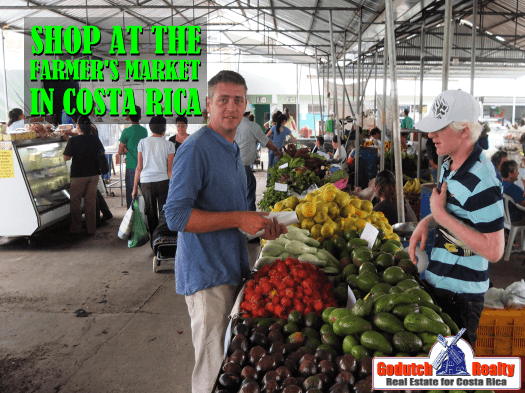 8. Farmer's Market
If you don't have any mango trees in your own backyard, the farmer's market is your solution. Most towns and cities have a farmer's market. Usually, they are on Saturday or Sunday but check with the locals first. You'll be able to save lots of money on your fruits and vegetables. The differences in prices between the grocery stores and the farmer's market are huge. Although sometimes, it's worth paying more as often the quality of the merchandise in the supermarket is better.
When your GoDutch Realty agent shows you Costa Rica real estate, ask him/her to point out where to do your grocery shopping. Now you have a few grocery shopping secrets under your belt. So now you might be able to do it on your own.  If you really want to save some money when shopping, check the labels and try the locally made merchandise. This will also help you to learn some Spanish.
To purchase Costa Rica real estate in the Central Valley, contact us, we appreciate your business.
Feel free to leave your comments on this blog and share this article on your social media.
---
If you like this blog, subscribe to my newsletter by clicking the banner below.

I DO want to remind our readers that we appreciate any referrals you can send us. Also, remember GoDutch Realty when talking about your home in Costa Rica to friends and family. We appreciate it.