Estimated Reading Time: 8 Minutes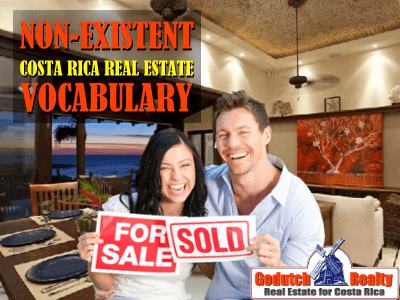 Quite a large real estate vocabulary does not exist in Costa Rica. Ask a real estate agent in Costa Rica about A HUD loan, a Fannie Mae, a dual agency, or a spring cleaning and they won't know what you're talking about.
As you probably know, real estate is not licensed in Costa Rica. AND, on top of that, real estate is so different than it is in other countries. First, we speak Spanish here, not English. That's why you should hire a bilingual real estate agent if you plan on hiring one.
BUT, even if you hire a bilingual agent, you might need to learn some real estate vocabulary because you don't know what people are talking about. For that reason, I did an article for the Tico Times in 2016 that might be helpful: The Tico Times English – Spanish real estate dictionary.
Would you like to know which real estate vocabulary is not used in Costa Rica and the reason? Then, read on.
1. Market analysis
A comparative market analysis (CMA) is an examination of the prices at which similar properties in the same area are recently sold. Real estate agents perform a comparative market analysis for their clients to help them determine a price to list when selling a home or a price to offer when buying a home.
Reason
The data of sold homes from the National Register is not publicly accessible to be used for statistics. Besides, many properties are transferred within the corporation that owns them, without divulging a sales price.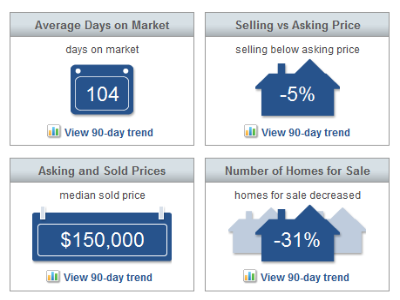 2. Market Absorption Rate
The number of months it would take to sell the homes that are currently listed for sale if no other homes were listed for sale in the interim.
Reason
For the same reason that reliable data is not available to do a professional market analysis, it is impossible to calculate the market absorption rate of a property. Unless you have a crystal ball.
3. Comps
Comps or Comparables is a real estate appraisal term referring to properties with characteristics that are similar to a subject property who's value is being sought.
Reason
This Real estate vocabulary is particularly important when you want to know what your house should list for if you want to sell it. To be able to find comps, you either walk the neighborhood to check for "For Sale" signs, or you surf the internet to try to find listings in the same area.
4. Dual agency
A situation when a real estate agent works with both the buyer and the seller. Most people familiar with the housing market know that a buyer's agent works for the buyer, a listing agent for the seller, but there's a third category that's much more mysterious: the dual agent.
Reason
The dual agency is an unknown real estate vocabulary in Costa Rica because there is no formal MLS that obliges to separate a buyer's agent from a listing agent. Metrowest Massachusetts top real estate broker Bill Gassett is a firm believer that dual agency shouldn't be allowed.   Unfortunately, Costa Rica real estate is light-years away from the U.S. licensing system.
5. Home equity loan
A type of loan in which the borrower uses the equity of his or her home as collateral. Home equity loans are often used to finance major expenses such as home repairs, medical bills, or college education.
Reason
Banks only know regular mortgages, car loans, and personal loans.
6. Spring cleaning
Spring cleaning is the practice of thoroughly cleaning a house in the springtime. This practice is especially prevalent in climates with a cold winter. In many cultures, annual cleaning occurs at the end of the year, which may be in spring or winter, depending on the calendar. Realtors in the U.S. love to write blogs about spring cleaning.
Reason
In Costa Rica, we don't have spring. Some consider Costa Rica as the land of eternal spring. We only have a dry season and a green season. AND homeowners are supposed to clean all the time. It is necessary for the tropics; you will have bugs very quickly if you don't clean all the time.
7. Fannie Mae
The Federal National Mortgage Association (FNMA), commonly known as Fannie Mae, is a government-sponsored enterprise that buys loans from mortgage lenders, packages them together, and sells them as a mortgage-backed security to investors on the open market.
Reason
Fannie Mae is an unknown real estate vocabulary because there is no federal mortgage organization in Costa Rica. INVU is similar to Fannie Mae, where you can get a mortgage at only 7% (special requirements apply, see here) or purchase a mature contract that is ready to be used.
8. FHA or HUD loan
Is a type of government-backed mortgage insured by the Federal Housing Administration, a branch of the U.S. Department of Housing and Urban Development, or HUD. FHA loans allow you to buy with as little as 3.5 percent down, and they are easier to qualify for.
Reason
For social housing loans, Costa Rica only has Banco Hipotecario de la Vivienda (Banhvi) where the government hands out subsidies to the poorest population.
9. Short sale
A sale of real estate in which the net proceeds from selling the property will fall short of the debts secured by liens against the property. In this case, if all lien holders agree to accept less than the amount owed on the debt, a sale of the property can be accomplished.
Reason
Until now, lenders in Costa Rica only use foreclosures, which is why we don't have the short sale in our real estate vocabulary. If the new construction in the Central Valley keeps going at this speed, and the cost of maintaining a condo in Costa Rica keeps going up, we might see short sales as a good solution soon.
10. Escalation Clause
A tool used by buyers to outbid competitors for a property. In the contract offer submitted by the buyer to the seller, the buyer states he will increase his offer by a certain amount if the seller receives offers higher than his.
Reason
Rarely, due to the structure of the real estate market, there are several parties bidding on the same property at the same time.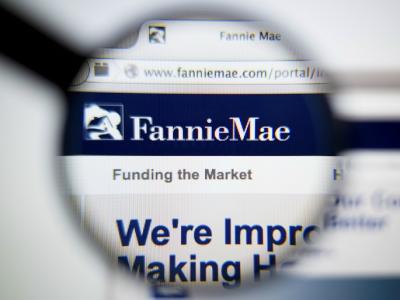 11. Fixed-rate mortgage
A mortgage loan with an interest rate that won't change during the length of the loan.
Reason
Lenders in Costa Rica only apply an adjustable mortgage rate for the first 2 years and will then fix the rate for the rest of the term. Fixed rates during the whole term do not exist, even if the mortgage loan is in U.S. dollars.
More real estate vocabulary
Do you know any other real estate vocabulary that you know is not used in Costa Rica? Then feel free to post it in the comment section. We would love your input.
Buying or selling Costa Rica real estate? Then contact us now.
---
If you like this blog, subscribe to my newsletter by clicking the banner below.

I DO want to remind our readers that we appreciate any referrals you can send us. Also, remember GoDutch Realty when talking about your home in Costa Rica to friends and family. We appreciate it.