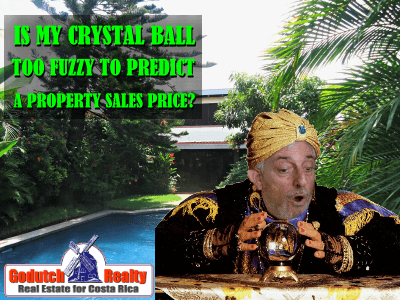 Sellers sometimes think I own a crystal ball. When listing a home for sale, sellers always ask me to predict a sales price. When I give them a number, they don't like it. Why do you think I get that reaction?
If I'd own a crystal ball, I would be filthy rich and we would only assist nice sellers and buyers. I'd send everybody else to my competitors, the ones that don't know anything about selling real estate.
Of course, my agents would love that! They'd be filthy rich too and might not even work in real estate anymore. They would probably be sitting on the beach sipping piñas coladas for the rest of their lives.
I certainly would keep working in real estate. I love it, but I'd use my crystal ball to keep everyone happy. But, if John Lennon would have only had a crystal ball. He would have changed the title and the lyrics of his song "Imagine" quite a bit.
Would they listen?
Even if I had a crystal ball, and I'd predict a sales price, most sellers wouldn't even listen anyway. They'd still list the property at the sales price they want. It doesn't matter if the price is right or wrong,  like this client who planned to flip a property last year and didn't listen.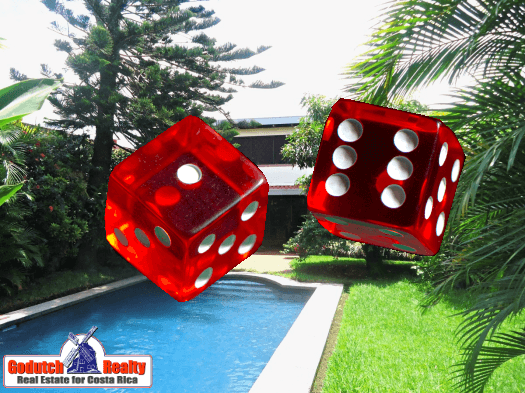 MLS
Most real estate agents ask the seller what he/she wants for the property. We have an open listing system in Costa Rica. So there might be another 12,896 real estate agents that will also list the property. And most will list at the price suggested by the seller, even if they could predict a sales price.
Small market
We have an incredibly small market, with as many inhabitants in the whole country as Barcelona, Spain has, all by itself. Our agents only work a small area, the city/town where they live. So our agents are very knowledgeable about what is going on in their particular market. But even in a small market, it would be quite a feat to predict a sales price.
Crystal ball
I'm glad I'm not the only real estate broker who would like to have a crystal ball. Here are some comments from Active Rain, an online community of realtors in the U.S.:
JL Boney, III – Columbia, SC Realtor
Well, I would like to announce that you now have another option for this type of service here in Columbia, SC. I just bought myself a new crystal ball so that I too can accurately predict the future.
Pat Starnes, Brandon, MS Realtor
We may not have a crystal ball, but we have the skills to position the home to make it salable.
Kathleen Daniels, San Jose Homes CA
You shined your crystal ball nicely.  Knowing our local markets will help us in making predictions.
Jeffrey DiMuria, Florida Space Coast Homes – Waves Realty, Melbourne, FL
How many times have clients asked you if the property value on a specific listing is going to go up? I always tell them I will pull out my crystal ball and find out…
Wendy Brown – The Brown Group Realty, Westerly, RI
Despite generously acknowledging that my crystal ball is cracked, I cannot help but try to look forward and come up with a few predictions.
Mirela Monte, Buyers' Choice Realty – North Myrtle Beach, SC
Clients ask me all the time to speculate, to render an opinion.  I don't.  I won't!  I don't have a crystal ball.  I will, however, give them the current statistics, which I diligently cull on an ongoing basis. I can recite the percentages of sold vs. active, the pending, leaving them to read whatever they want to read from the numbers I quote.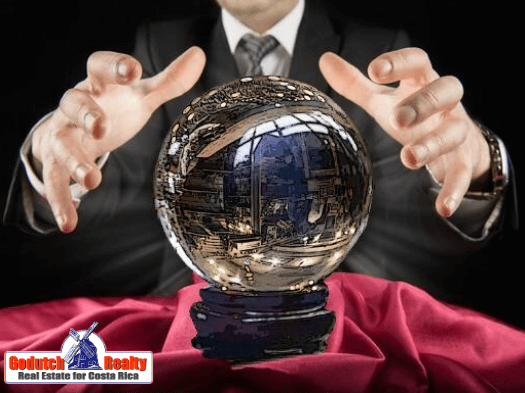 Buyers' market
Only in certain parts of the Central Valley, we are in a buyer's market. In Escazú and Santa Ana, sellers ask me to predict a sales price all the time. And of course, they don't like the sales price I give them.
On a local website, used by sellers and real estate agents, I find 1,264 houses and 548 condos for sale, in Escazú only. In Santa Ana, there are 1,189 houses and 522 condos for sale. To be honest, it scares the hell out of me.
These numbers, do not include the homes and condos offered by real estate developers. And someone wants me to predict a sales price?
Atenas market
A few years ago, it happened in Atenas. For the first time in history, the Atenas market was stuck. There were too many houses in inventory and very few buyers. Those few buyers had very little money to spend.
Sellers who had paid high prices during the 2006 – 2008 real estate boom and expected to recover their investment. That wasn't going to happen. So I recommended them to lower their prices. But nobody liked this stupid idea. After years of sitting on their properties, they woke up. Those who lowered their prices are selling and a handful few are sitting on it, complaining.  Homes in Atenas are selling again.
Not a psychic
Nothing is more difficult than predicting what will happen with the real estate market in the future. Why? Because I am not a psychic. Also, we have no statistics in Costa Rica.
In a normal market, properties should be listed at market value. But what is the market value? Every property in Costa Rica different. You will find comparable property only in a condominium.
Properties sell and the notary public will write up a deed and present it to the National Register. In most real estate transactions, there is no title transfer. There is a transfer of the shares in the company that owns the title.
In that case, the National Register doesn't even see at what price a property sold. That's why we can't have any statistics. And for that reason, we can't have market value and you need a crystal ball to predict a sales price.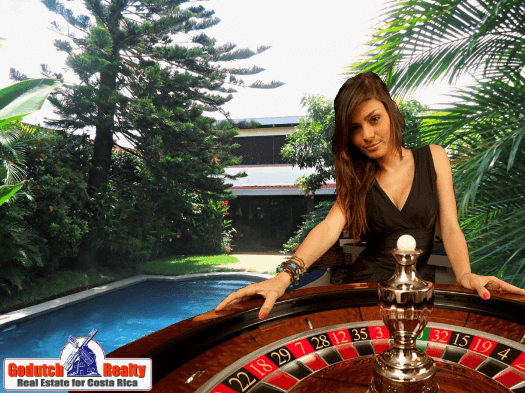 Property Data
It's all about property data. In other countries, real estate agents have access to a huge amount of data:
Number of homes sold in a city, district, and neighborhood
Pending sales data
Number of active home listings
These data give the real estate agent, the buyer AND the seller insight into local trends and what is selling. BUT, we don't have those data in Costa Rica, unfortunately. Without these data, an experienced real estate agent can give you an idea what a property should list for but cannot predict a sales price. Unless the agent has a crystal ball that is not too fuzzy.
What to do?
So what should you do? Just listen to what your real estate agent suggests. It's a good start, I promise!
Looking for honest, experienced real estate agents who will tell you the truth about the market? Then contact a GoDutch Realty agent now.
The grammar of the Spanish version of this blog was checked and corrected by Wagner Freer of Spanish School for Residents and Expats. We strongly recommend this language school as your best choice to learn Spanish, click here to contact them.

---
If you like this blog, connect with me on Google+ or subscribe to my newsletter by clicking the banner below.

I DO want to remind our readers that we appreciate any referrals you can send us. Also, please remember the GoDutch Realty agents when you talk about your home in Costa Rica, we appreciate it.