Estimated Reading Time: 4 Minutes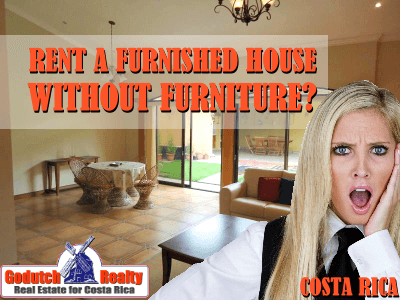 Why not just rent a house without furniture? That was my first reaction to Claire asking if she could rent a furnished house without furniture. Claire couldn't make up her mind when renting, although she really wanted a furnished home.
Then I got intrigued. I was intrigued because we often get email requests, so I decided to search for the answer.
Once I figured it out, I felt that I needed to write a blog about it. So next time, I can send the link as an answer without having to explain much.
That's how many of my blogs are born.
In brief
Claire's question: Can I rent this furnished house without furniture?
Ivo's answer: No, you can't.
Claire's question: Why not?
Ivo's answer: read this blog.
Why?
Why would anyone look at furnished houses for rent on our website and then ask if they could rent a particular place without furniture?
It took me some pretty deep thought, but I think I've figured it out.
Those who ask if they can rent a specific furnished house without furniture are usually not actively looking for a home to rent yet. Instead, they plan to rent one day when they are ready to move. When is that? Maybe in a year… or two… or three. Claire is not much different.
Empty
Claire is surfing the World Wide Web, looking for a house without furniture for rent. But empty houses look so ugly. They look so… empty. Houses with furniture look so much nicer; they're homey. Plus, I cannot see if my furniture would fit in those rooms. How large are they?
If I look at houses for rent with furniture, I can find nice ones with the same size furniture.
Of course, it's also possible that for some reason, Claire likes the houses that have furniture better than the ones that don't. The solution, in this case, is that Claire sells her furniture and rents the house with the furniture she doesn't like.
Why not?
Why won't a landlord rent a furnished house without furniture? There are four logical answers to that:
A furnished house rents for a much higher price than one without furniture. Besides, it can rent short-term too, and that would catch an even better price.
If they rent without furniture in it, they wouldn't have it furnished.
The landlord would need to find storage for the furniture, and guess who would pay for that extra storage? So the tenant would have to pay for the furnished rental + storage.
Furniture in storage always gets more damaged than when it's in use.
The options
Claire has only two options:
Rent furnished furnished
Rent unfurnished
Renting a furnished house without furniture is not a good option unless Claire wants to pay a lot more rent than necessary.
A tough decision
I know it's not easy to figure out how a house in Costa Rica looks like from a distance. Real estate agents do not list the sizes of the rooms or even supply a floor plan. Maybe one day, we will start doing that; who knows.
Meanwhile, the only way for a future tenant to figure this out is to make an appointment with the agent. But do this when you're ready to rent, with the first month and security deposit in hand. That way, when you see the right house without furniture to rent, you can take it off the market right away.
Contact us now to rent a house without furniture
Feel free to leave your comments on this blog.
---
If you like this blog, subscribe to my newsletter by clicking the banner below.

I DO want to remind our readers that we appreciate any referrals you can send us. Also, remember GoDutch Realty when talking about your home in Costa Rica to friends and family. We appreciate it.