Estimated Reading Time: 7 minutes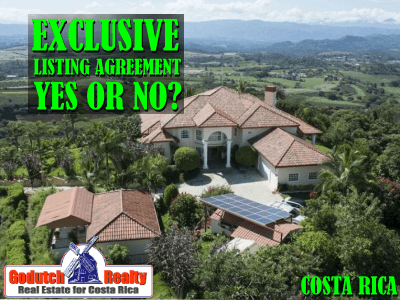 Unless you love to suffer, do not sign an exclusive listing agreement for your property in Costa Rica with any real estate agency, no matter how sexy, famous, smooth, handsome, or successful the agent who promises to sell your property next week is.
Why would you put all your eggs in one basket and sign up with only one agency? Will your property sell faster if you sign an exclusive listing agreement with one agency? What are your options?
As you probably already know, anybody can be a real estate agent in Costa Rica, some are trained and others are not. Real estate in Costa Rica is not regulated and there is no formally functioning Multiple Real Estate Service (MLS) that covers all the property listings in Costa Rica by real estate professionals, as is customary in other countries like the USA.
Exclusive listings
Several real estate companies in the Central Valley are trying to persuade sellers to sign an exclusive property listing agreement. That would make a lot of sense in a market with a functioning MLS. Just in the last week, we deleted several properties we had listed on our websites because the sellers were persuaded to sign an exclusive agreement with another agency.
Obligations
Most agents in Costa Rica who sign an exclusive listing agreement with a seller, do not include the obligations the exclusive agent or agency should commit to such as:
Deliver a sound marketing plan
A professional photoshoot, with or without a drone, funded by the listing agent.
A professional description write-up.
Listing the property on every website available, nationally and internationally.
Advertising in all the magazines available.
Organizing open houses so other real estate agents and potential clients can see the property as soon as it is listed.
Marketing your property to every realtor in Costa Rica continuously, inviting them to bring their clients or refer them.
Promoting your property on all the social media available continuously.
Sending out newsletters to a large client database.
Giving feedback to the seller after every showing appointment.
Informing the seller of any changes in the market and price changes of comparable property in the area.
Irresponsible
In other areas of the Central Valley, there are a few other companies signing exclusive property listing agreements with sellers. Why doesn't GoDutch Realty try to do the same thing?
Because I think an agency is irresponsible to list exclusively when you don't have the tools to make your promises hard. The agent is, by giving the seller incomplete and untrue information, stopping the seller from having many options to sell the property as fast and as best as possible, which is through the open listing system. Sellers sign for lack of correct information: there is no MLS in Costa Rica and no IDX on the real estate websites.
Self-interest
The promises of the exclusive agent to make a fast sale made the seller waste several more months waiting to sell the property, more out of self-interest than trying to help the seller. The only reason for an exclusive listing agreement is to give the agent an opportunity to ALWAYS earn a commission on your property sale, no matter how much work the agent does to accomplish this.
Open property listing system
We have an open listing system in Costa Rica. That means that you list your property for sale with as many real estate agents as you can. In such a way, Many agents market your property and not only one.
What is an IDX?
IDX means Internet Data Exchange. The IDX is a database built on real estate broker reciprocity. In countries with an MLS, each member has an IDX on his/her website, where the listing search includes ALL the properties listed by every member of the MLS.
That gives every buyer to find every property listing on every real estate company's website.  And they will have the buyer's agent of their choice. This buyer's agent can work with the different listing agents.
That way, One agent presents the seller and another agent represents the buyer, which is a perfect situation to negotiate.
Tierramax MLS
In 2010, Mitch Chandler tried to start the first MLS in Costa Rica with the name Tierramax. This MLS had over 1,000 property listings in Spanish and English, a Contact Management system, and an IDX for everyone's website. For instance, Tierramax had started real estate education and MLS training so agents could learn how to work the systems.
Unfortunately, the local real estate organizations did not back him up for selfish reasons.
In beach areas
In some beach areas of Costa Rica, the agencies in the same beach location have agreed to market their property listings on each other's websites, which is a pretty decent solution for an MLS.
20 Agents is better than one, right!
Therefore, I'm a fervent supporter of an MLS that is run exclusively real estate board. Then the board can take care of education, obliging the members to promote the properties with the correct information. Agents will advertise properties with nice photos, a realistic description, and show the location on a map. Unfortunately, we don't have such an MLS with an IDX in Costa Rica.
Isn't it much smarter, as a seller, to have your property listed on 20 different websites than on only one? Especially if the exclusive listing agent doesn't commit to all the necessary obligations customary for an exclusive listing agreement.
The agency will just list your property on their own website, which is one of 346,000 results in Google.
At GoDutch Realty, we only work with open listings. But we also work together with
---
If you like this blog, subscribe to my newsletter by clicking the banner below.

I DO want to remind our readers that we appreciate any referrals you can send us. Also, please remember the GoDutch Realty agents when you talk about your home in Costa Rica, we appreciate it.