Estimated Reading Time: 5 Minutes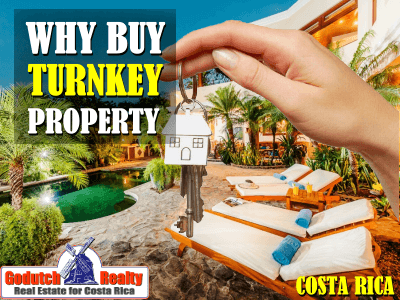 Did you know that buying turnkey real estate can be an incredible deal? Sad enough, there are lots of sellers in Costa Rica who want to move back home. Each one will have their story to tell, but that's for another day.
Many sellers don't want to take their furniture with them, which is why they sell turnkey. But, they usually try to recuperate the cost of that furniture, the car, the boat, and everything that's included in the turnkey real estate.
On the other hand, there are always items that are probably not included in a turnkey property sale.
So why is it smart to buy turnkey real estate in Costa Rica? Let me tell you why.
A few months ago, a condo owner invited me to list his turnkey real estate in Escazú for sale. He bought a very nice condo in Escazú in 2006 and used it for a few weeks every year.
When he bought the condo, he hired an interior decorator. I must say, she did a pretty nice job, the condo looked awesome. At least, that's what I thought until the seller told me the furniture and decoration had cost him $100K and he wanted to sell the condo for what it had cost him.
Is that realistic? In my opinion, 12-year-old furniture is not worth $100K. Oh, mind you, it still looked beautiful. He used that furniture probably only for 12 months total. But that's his loss.
Why buy turnkey real estate
Buying turnkey is a huge advantage when you move from another country. You won't have to bring your own furniture and you don't have to start buying right away. Once you have moved in, you can start replacing the furniture that you don't like.
Are you buying the property to list it as a vacation rental on VRBO and Airbnb? Even better, you can get some incredible deals buying turnkey real estate. Learn more about vacation rentals now.
Offer
When you buy turnkey real estate that you like, make a lowball offer on the property first. Tell your real estate agent that you are not interested in the furniture. You're not shopping for furniture but for a house or a condo. Of course, you can suggest they can throw the furniture in, you have plenty of friends and family to give what you don't want.
You won't be taking advantage of someone else's misfortune. Owners want to sell a property, that's their first task at hand. Anything else should be second. Selling the furniture, the car, the parrot, and the wine collection are less important.
In Costa Rica, there is very little or no value to used furniture. AND, often, the furniture is not your taste anyway. The seller has the choice to walk away from your offer without hard feelings. Of course, there is always a chance the seller gets greedy and decides not to sell to you.
Why do they sell turnkey real estate
Homeowners sell turnkey because they leave the country. They don't want the hassle of taking old furniture with them. That's what they probably did when they moved to Costa Rica too.
The cost of shipping and maybe the cost of paying import taxes stop them from taking it. Selling the house and having a garage sale before moving out is also a hassle.  Imagine having to pay to stay in a hotel for the last week or so because the house is empty?
Besides, most have too many chunches anyway.
Listing a turnkey property
When sellers ask me to list turnkey real estate in Costa Rica, I recommend they should leave the furniture out of the real estate sale. Do you know why?
There are several reasons
1.       We sell real estate, not furniture.
2.       Depending on how long the owners have used the furniture, there is probably hardly any or no value on the furniture anymore.
3.       Including the furniture pushes the price up to a value that is too high. That's because sellers want too much for their used furniture.
4.       Local buyers don't want their furniture anyway; they have their own. So local buyers don't buy turnkey real estate.
Furniture available
In my opinion, it is much smarter for a seller to offer a house without furniture. Then the seller can do the following:
1.       Sell the furniture in a garage sale and ask the buyers to pick up the furniture the day before closing.
2.       A buyer who is interested in the furniture and appliances can make an offer for the furniture without involving the real estate agent. This should not affect the sales price of the property.
3.       This saves the seller from having to pay real estate commission on used furniture.
4.       The real estate agent doesn't have to be involved in making an inventory list of furniture.
Are you a smart buyer? Look on our website for turnkey real estate. Then get yourself a good deal by contacting us.
The grammar of the Spanish version of this blog was checked and corrected by Wagner Freer of Spanish School for Residents and Expats. We strongly recommend this language school as your best choice to learn Spanish, click here to contact them.
---
If you like this blog, subscribe to my newsletter by clicking the banner below.

I DO want to remind our readers that we appreciate any referrals you can send us. Also, remember GoDutch Realty when talking about your home in Costa Rica to friends and family. We appreciate it.