Estimated Reading Time: 7 Minutes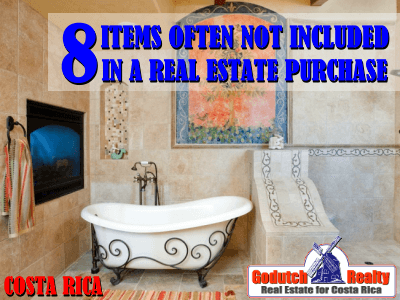 Sometimes, buyers want strange things included in their Costa Rica property purchase. Other times, sellers want to include even stranger things in their turnkey property sales. What is included and what is not? Check on that before you pay.
On your first tour of a house for sale, you might have noticed certain details. Maybe they are the reason you like the property so much. But are those details included in your property purchase?
Good photographers usually show their best work throughout their house. Did you fall in love with those images? Maybe you want them included in the Costa Rica property purchase. Will the seller include some?
We all know that built-in furniture should stay, but is that bookcase what you think it is? Does it stay with the house?
Before you make a decision on the Costa Rica property purchase, ask first and do not assume they are included. Then, when you make the offer, make an inventory of those items, so you can confirm they are.
Family jewels
I know, you are now thinking about grandma's diamond necklace or the owner's testicles. Often, there are other family jewels involved that we are not aware of. This can be anything. From the owner's daughter's paintings all over the house to the soda can collection.
I once sold a home that had a weird collection of body parts everywhere. They were like the owners' family jewels. Thankfully they were not included in the sale, so I didn't have to make an inventory.
It is possible you will find a house that has the fridge included in the sale. But the magnets are usually part of the family jewels. Those are proof of the family travels.
Furniture
Especially Europeans tend to have antique furniture, which is usually not included in the Costa Rica property purchase. Others love their Sarchi-made furniture so much they'll want to take it with them.
When antiques are used throughout the house to set the style of the house architecturally, they are probably included. A good example is the antique clawfoot bathtub in the first image.
Nonetheless, be on the safe side and mention it in the offer. Just like any other particular furniture items you would like to be included in the property purchase.
Bedding
I know, it's crazy to think of taking over bedding, but it happens. Good quality bedding is hard to find in Costa Rica. Property sellers with 1,000 thread count 100% cotton sheet sets might be able to sell their house easily, just because of the sheets. Especially if they're the type you cannot buy in Costa Rica.
Pets
Now and then, we have owners who cannot take their pets with them to their next location. They might move to a condo where a pet is not allowed. If you enjoy pets, you might be lucky to become the proud owner of an iguana. Although to my opinion, iguanas belong in the jungle.
Car
Sometimes we have a turnkey offer that includes a car. Our agents never get involved in negotiating a car between property buyers and sellers. Some buyers want a car included, while the seller is not interested. Or, after the seller has left the country, the buyer claims repairs on the car and makes the real estate agent responsible. We've also had a couple of car wrecks left behind.
This is bad for business. We do not get involved unless the Costa Rica property purchase is turnkey, period.
Family portraits
Family portraits are never included in the property purchase, no matter how lovely the photos are.
Shower curtains
I've seen my share of shower curtains. Usually, when the house sells, the shower curtains need replacement anyway. Maybe you want that strange shower curtain to stay. But don't despair, you can order your own weird shower curtain online.
Books
The books are an item of special attention. Some sellers have antique books or leather-bound book collections. Others keep the novels they have read throughout their life.
I am a fervent reader myself when I can find the time. Many years ago, I sold a house to a book editor from the U.S. Years later, when they moved back to the States, I inherited all her books. Remember, your real estate agent always has the first choice of stuff left behind.
Remember, your real estate agent always has the first choice of stuff left behind.
Other items
Seriously, there are other items that are often not included in a Costa Rica property purchase. When you make a formal offer, include the items that you think are included or want to be included. You want to have an inventory list attached to the option to purchase agreement. Before you close, during the walk-through, check on each one of the agreed-on items.
Here are a few other items that you could be included in your offer:
Curtains and drapes
Air conditioning
Shower bench
Appliances
Gym equipment
Garden tools
Hand tools and power tools
Make your Costa Rica property purchase with the assistance of a GoDutch real estate agent and we'll have your back. Our agents will hold your hand all the way through closing and past that.
Feel free to leave your comments on this blog.
---
If you like this blog, subscribe to my newsletter by clicking the banner below.

I DO want to remind our readers that we appreciate any referrals you can send us. Also, remember GoDutch Realty when talking about your home in Costa Rica to friends and family. We appreciate it.