Do you know how to receive the proceeds of your property sale in Costa Rica yet? Well, you should be informed before you close. Because it's not as simple as it was before.
Whatever you do with the proceeds, you need to show the origin of the funds. Just like the buyer has to.
Before you sell your property in Costa Rica, you should come up with a good plan for the proceeds. I mean, what will you do with the check you receive at closing? What will you do with it and how will you get the money to where you are moving to?
I know, it sounds kind of weird. But with today's money laundering laws and before you get accused of being a drug dealer, you need to make sure you take the right steps.
Until now, in 2019, you don't have to pay any capital gain tax in Costa Rica. BUT, after July 2019, you will have to, if the property you're selling is not your primary residence. You don't want to send a lot of money back home and have the tax department asking you where all that money came from.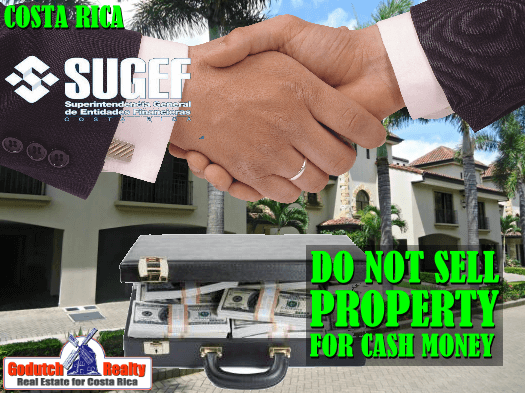 Money Laundering
When you wire the proceeds to your account in the US, most banks won't even ask what the source of the money is. I guess the US government is just happy to receive more money into their economy. The United States IRS apparently doesn't oblige US banks to ask what the source of the money is.
Well, banks in Costa Rica DO ask you what the source of the money is, as soon as you show them your check. We now have money laundering laws, law 8204, obliged to by the US government, go figure that one. And if they don't, they get fined by the SUGEF. SUGEF is the government institution in charge of the control of the financial sector of Costa Rica.
Step by step
So when you are ready to sell your property in Costa Rica, you should take into account several issues.
Let me show you in 13 steps how it should work:
Create a paper trail
1. When you receive an acceptable offer on your property, have the buyer's attorney write up a purchase-sale agreement between you and the buyer.
2. Make sure the agreed sales price is mentioned in full and any cost that will be deducted from the final amount, like real estate commission and closing cost is in the document.
3. Make sure the buyer deposits earnest money of 10% of the sales price into your attorney's escrow account, with a title company or any other option that both parties agree on until closing.
4. Make sure the buyer's agent doesn't make a mistake of including things in the inventory list that should NOT be included.
At closing
5. At closing, you should receive a cashier's check in your name, either pulled on a Costarican bank if you want to deposit into your Costa Rican bank account or pulled on a US bank if you want to take the check with you to be deposited into your US account. Don't forget the earnest money in escrow. You can deduct the real estate commission, closing cost and eventual other costs from this deposit and receive the difference also in a cashier's check in your name.
6. NEVER receive cash money when you sell your property. You will NOT be able to get it into any bank account and for sure you will be arrested for money laundering.
7. At closing, you should receive a document, authenticated by the closing Notary Public, that either the transfers the shares or the corporation that owns your property in Costa Rica, or transfers the title into the buyer's name or his/her company, ALWAYS mentioning the full sales price.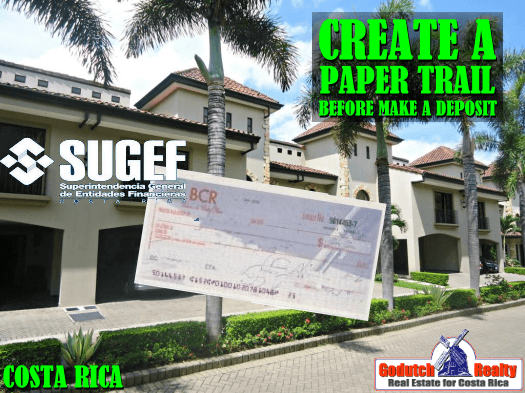 8. It is customary in Costa Rica to save on the closing cost by registering a much lower sales price than the real value. If you deposit the check into your Costa Rican bank account for a higher amount than the sales price you'll have a problem. Starting July 2019, with the new capital gain tax, this will all change.
Authenticate
9. Request your authenticated copy of ALL closing documents from the closing Notary Public. Ask him or the secretary to make an extra copy of the deed. So you can give that to your bank when you deposit your check(s). The whole issue is about creating a paper trail.
10. Ask your real estate agent to accompany you to your bank immediately after closing. That way, the money will be in your account safe and sound immediately after closing.
Deposit or wire
11. Deposit the check into your account at the bank's agency where you opened the account. Keep a copy of the check on file in case the bank emails or calls you to ask for more proof of the source.
12. Do you want to wire the proceeds of the property you have sold wired elsewhere? Then give the closing attorney or escrow company the wire instructions before closing.  o
13. If you didn't read this blog and you become an angry seller, don't say it was my fault, please.
Trying to sell your property in Costa Rica? Then you should list with a real estate company who does know how to handle the proceeds of your sale. Contact us now.
---
If you like this blog, subscribe to my newsletter by clicking the banner below.

I DO want to remind our readers that we appreciate any referrals you can send us. Also, when talking about your home in Costa Rica, please remember the GoDutch Realty agents. We appreciate it.