Estimated Reading Time: 4 Minutes
Did you know that Law 8204 can freeze your property sale proceeds if you cannot show the origin of the funds? The sale proceeds are the funds received by a recipient from the sale.
You might think, "What do I care where the buyer got the money." But, unfortunately, you have to care. If you don't, the authorities might freeze your money before you can spend it. So I hope it doesn't occur to you to accept a "cash offer" and then receive a suitcase full of money. Because those days are long gone. Let me explain.
The purpose of Law 8204 is to establish the minimum requirements to prevent operations of concealment and mobilization of money of dubious origin and other transactions aimed at legitimizing capital or financing terrorist activities or organizations. That means that the Costa Rican government wants to know the source of the funds you are receiving. Also, once your property sale proceeds are deposited into your bank account, your bank will ask where you got that money.
Count on it that your Costa Rican bank will ask you where the money came from as soon as it arrives. If those proceeds are wired to a bank in the U.S. or elsewhere, they might ask the same question. Therefore, it is essential to ask your realtor and lawyer how to handle this best. Let's walk you through this.

In the Past
When I started selling real estate in the 1980s, I did quite a few cash deals. Cash meant a bag or a sack full of cash money. I've seen some unusual ways of negotiations in my time.
In those days, buyers usually paid for a property with a cashier's check from their bank. Or the closing took place in the bank, and the wire transfer occurred when the deed was signed.
When the buyer, or both parties, were foreigners, they would use a notary public. This notary public often had his own escrow account. I remember even a few realtors who asked the buyer to send the money to their account, telling them this was an escrow account.
In 2010, law 8204 was created to prevent money laundering operations. However, not until a few years later SUGEF (Superintendencia General de Entidades Financieras) or Financial Institution Superintendency starts controlling escrow accounts.
Escrow
Now real estate lawyers started having control over their escrow accounts and found the hassle was more than the income this was generating. This opened the market for new escrow companies that could now concentrate on services only.
The same law obliges escrow companies and other intermediaries in a real estate transaction to
a) request the origin of the funds
b) a KYC form from the buyer,
c) declare the transaction to SUGEF,
d) and keep a copy of the requested documents.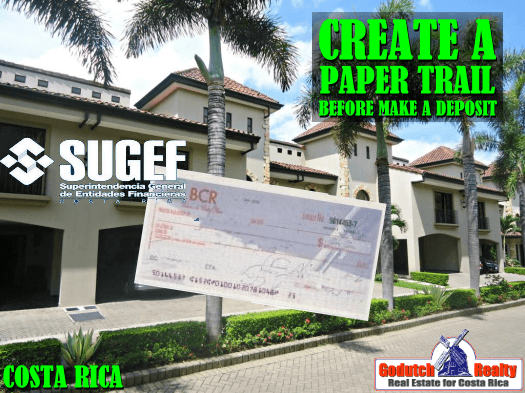 Your Property Sale Proceeds
Now you know how important it is to create a paper trail of the sale of your property. Because what just happened to your buyer will happen to you too. As soon as the wire of the property sale proceeds hits your account: you'll have to prove the origin of the funds.
That doesn't mean (not yet) where you got the money you used to buy the property you just sold.
The bank – they have an obligation as an intermediary – will ask you for the origin of the funds you are receiving in your account. The origin of these funds is the sale of your property. At closing, ask the buyer's notary public (lawyer) to give you a copy of the deed (title transfer). Ask to authenticate this copy for you, just in case there is any doubt later that this document is for real. Keep this authenticated copy yourself and hand a copy to your bank. Explain to them that this deed shows the origin of the funds deposited into your bank account.
So get your ducks in a row before shopping for a new home with us; understanding all you have to do will make it much easier on us!.