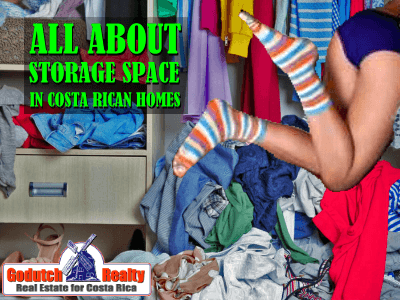 Do you think there are Costa Rican homes for sale with too much storage space. After 30 years of selling real estate, I still have to see the first one.
I'm sure you have all this "stuff", we call them "chunches" in Costa Rica. El "cuarto de chunches" is the room where you stick all the stuff that you don't need: a storage room. I'm sure you have one of those too.
When looking to purchase a home in Costa Rica, you need to look at the storage space available. Unless you plan to live in a hammock.
In Europe, houses have cellars. In the US,  homeowners use their attic and garage for storage. They leave the car in the driveway.
Starter homes
In Costa Rica, you will find the biggest storage problem with smaller homes or starter homes. These are townhouses in gated communities and apartment buildings.  Most homes here have a carport and not a garage. That's because the weather conditions allow for it. You can walk through any gated community and you will see which owners have children, just by looking into their carport. You'll see bikes, toys, skateboards, dollhouses, and anything else that doesn't fit in a closet.
If the homeowner doesn't have a live-in housekeeper, the maid's room is a perfect storage area. Most homes in a condominium only have the closets in the bedrooms for storage.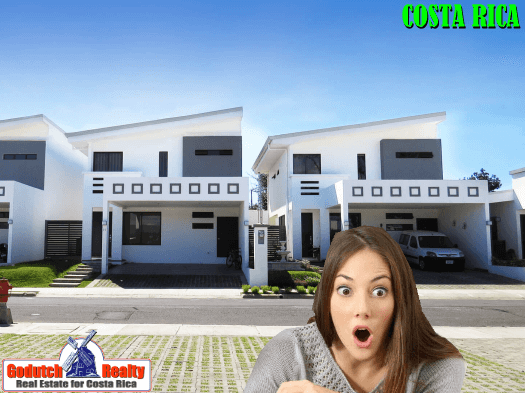 Storage Solutions
I found some really good storage solutions on Pinterest. You can make use of many unused spaces, check it out.
Some builders were smart enough to use the space under the stairwell for storage. Nonetheless, you'll find some homes that have the guest bathroom in that space. Very few apartment buildings in Costa Rica offer storage areas, especially the smaller units. Some condo owners decide to build a storage room in the 2nd parking spot that belongs to the condo (if the parking is titled).
Closet types
Usually, you will find a wall closet in each bedroom. Only the master bedroom will have a walk-in closet. That's because Costa Rica doesn't have 4 seasons and temperatures are the same year-round. Costa Ricans use fewer clothes than other cultures. Therefore, walk-in closets are generally smaller. Unless you are buying a luxury home or a mansion.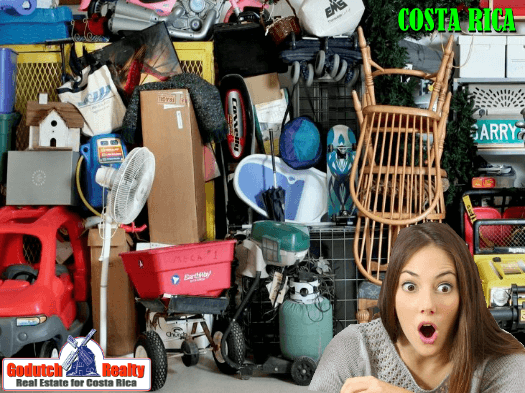 A Shed
Larger homes on larger properties normally have a lot more storage. But those who live in a larger house also have more "chunches" or stuff that they need to put away.
If the house you are planning to purchase has a large yard, you have lots of other options. You can easily have a shed built; we call it a "bodega" in Costa Rica. Right on Highway 27, between Santa Ana and Multiplaza, I have seen a company that sells sheds. I don't get a commission, I don't even know who owns it. But if you feel you are going to be short of storage at your new home and you have space to put a storage shed, check out Suncrest Sheds.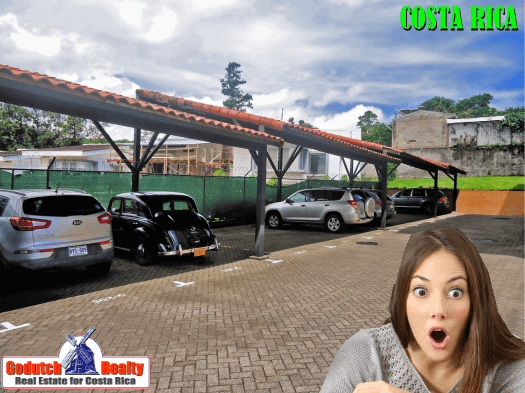 If you think you're going to run into a closet space problem and the suggested ideas won't function, decide what to get rid of before you make the move to your new home.
Are you planning to become a homeowner of a condo, a townhouse, or a single-family home? Would you like to enjoy the services of a real estate professional? Then contact us now.
---
If you like this blog, subscribe to my newsletter by clicking the banner below.

I DO want to remind our readers that we appreciate any referrals you can send us. Also, when talking about your home in Costa Rica, please remember the GoDutch Realty agents. We appreciate it.