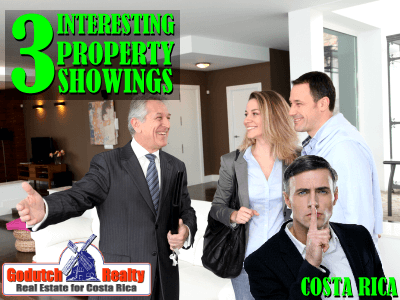 Homeowners should not be present at any property showings out of respect for the buyers and the real estate agent. Allow me to give you a few reasons.
When I get a new property to list, I always set a few rules first.
The most important one is I ask the sellers is to disappear when I show their property to potential buyers. A couple of weeks ago, I showed clients properties with four different listing agents.
Each real estate agent has her/his own style of showing a property. I really do not know which style is the right one and which is the wrong one. I have not been through showing school, like those realtors on the HGTV House Hunters International sometimes seem to have been.
Property sellers all have their own styles. Some get too much involved, and others don't bother at all. Some have the house spic 'n span and others feel the need of buying a new doormat when they don't need it.
During my Costa Rica real estate career, I have learned that it is best to keep the sellers away from the buyers. From the start until closing! I wish we had lockboxes in Costa Rica!
Let me tell you about some of the property showings I go through and you will understand.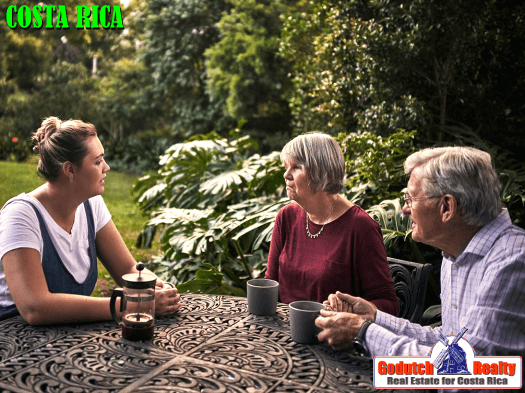 1.Bonnie and Clyde
Hello, good morning, allow me to introduce Mike and Suzie. Mike, Suzie, these are Bonnie and Clyde, the owners of this beautiful home. Can we come in, please?
While we walk through to the living room, I hear Clyde ask Mike behind me "where are you guys from?" At the same time, Bonnie asks Suzie "why don't you folks come right through, would you like to have some coffee? I just have some delicious apple pie in the oven".
Ten minutes later we are all sitting on the terrace with a cup of coffee and some pie.  And before I know it buyers and sellers are exchanging phone numbers like they are dealing with an FSBO.
Mike and Suzie told me, after we left, that they didn't like the house. They didn't want to see any other houses and disappeared from my map. Three months later, Bonnie told me they sold the house. I never found out who the buyer was.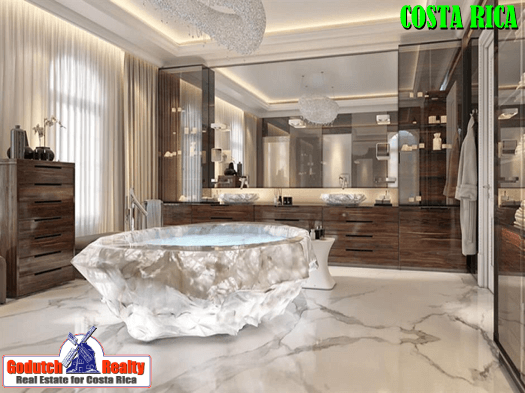 2. The Woodrows
"Hello, welcome to the Woodrow home, please come right in. Ivo, please do not forget to tell them about the water back-up tank and pump, the new roof on the house, and that we remodeled the master bathroom last month. We installed a Jacuzzi tub with 12 jets".
"Oh, and about the built-in safe, we'll tell them where it is at closing. Do not listen to that dog barking next door, he is just visiting. And we will also paint the fence as soon as it stops raining, that is included in the price".
At that moment Mrs. Woodrow walks in saying "oh I thought I heard someone ringing the bell. How are you all? Ivo honey, please tell them about the new Jacuzzi tub with 12 jets when you go to our brand new master bathroom.
As soon as the Woodrows walked out of the room, the buyer says: "God, Ivo, how do you put up with all that". The buyer did purchase another home, not remodeled, in the same neighborhood.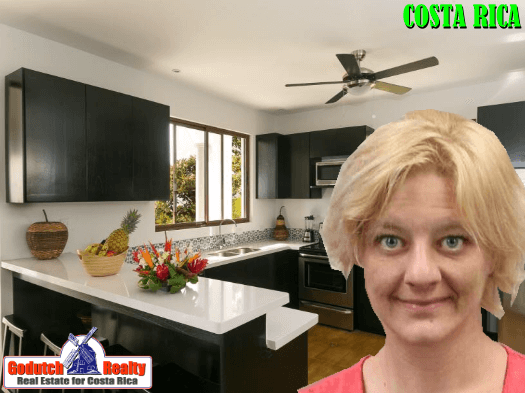 3. Beth must be on meth
"Good afternoon, come on in. My name is Beth, let me show you our beautiful house. We're really in no hurry to sell…
We built the house in 1987 when mom and dad got divorced. We first built the left wing and when we had our 15th anniversary, on the 16th of March 2002, we added the other wing.
This is the sitting area; you see how cozy it is? You should come back tonight, after dark. This area is so much nicer after dark".
"And there is the kitchen. My husband insisted I should have a comfortable kitchen. See that stain on the countertop, this is where my youngest cut her hand chopping parsley on the 12th of June 2007 at 3 pm. She is married now and has 3 lovely children herself. Her marriage is not going very well. He is a carpenter and re-did our deck in the winter of 1989 and it still looks great".
"See, there is plenty of space for a party of 40 out here on this deck my son in law built. Isn't it beautiful?
Oh, you don't have any family? You'd be surprised how fast you make friends in this neighborhood. Anyway, where's that listing agent now, he is not doing his job. Don't know why we even pay him".
The buyer bought and sold several properties through us over the years. Thanks again Arnold, for your business.
Lose your sale
Some homeowners are a bit hardheaded and insist on staying. But… The above showings might seem funny but the seller can lose that one and the only buyer they will receive in 6 months. They can cost a buyer's agent easily a $20,000 commission too. In both cases, the properties shown will not sell to these particular buyers. In many cases, I will cut a seller short by keeping them busy while the listing agent shows the property.
If you are trying to sell your property in Costa Rica and I am involved in some way, I hope you understand the message.
Are you a buyer? Then you can always feel free to walk away from a situation like this. There is no obligation on your part to put up with it unless you enjoy a good show and you love to waste my time.
---
If you like this blog, subscribe to my newsletter by clicking the banner below.

I DO want to remind our readers that we appreciate any referrals you can send us. Also, please remember the GoDutch Realty agents when you talk about your home in Costa Rica, we appreciate it.