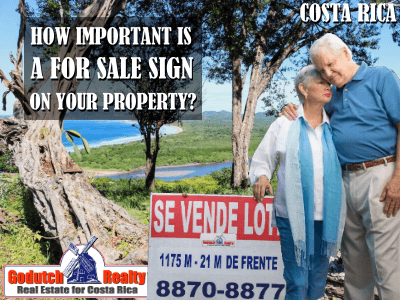 Should you place a real estate for sale sign on your property when selling, or not? When selling your property, you want people to know it's for sale, right!
In most countries, you'd list your property with only one agent. Then, that agent will place a real estate for sale sign in your yard or on the fence. But not in Costa Rica! How does that work?
Is it a good idea or not to place a real estate for sale sign on the property? Should it be a for sale by owner sign or a real estate agencies' sign? How many signs should you allow for? Should you put the price of the house on the sign or not?
There are quite a few reasons why you would want to put a for sale sign on your fence. There are also quite a few why you shouldn't. But, the most important reason is that you want the whole world to know that you are selling your house.
Important
Most sellers list their property as an open listing anyway, so they'd have 50 realtors fighting over the space to place a real estate for sale sign on the fence.
Ticos are used to drive around the neighborhoods where they would like to live. Unless you live on a street with no traffic at all, it does make sense to put a for sale sign on your property.
Flyer box
A real estate for sale sign usually carries no more than the words "For Sale", the realtor's logo and name, plus the phone number. Seldom, there any property info on the sign and interested parties need to call to find out more.
That's why in the U.S., agents attach a flyer box to the real estate for sale sign. In Costa Rica, few real estate offices use a nice for sale sign. And even less a flyer box. Yeah right! I'm sure that if the agent leaves a bunch of flyers in the box, they'd all disappear in no time. Or the kids in the neighborhood will burn them or throw dog shit in the box…
It just won't work, even if we'd try. Those who have lived in Costa Rica for a while will understand why not.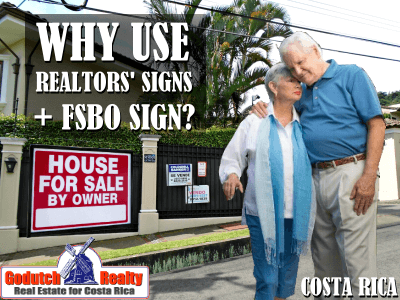 Calls
There is nothing that I hate more than having people call me at all times of the day to ask what the sales price of a property is. Agents have several hundred properties listed and they won't know the details on every listing on the top of their head. For sure I don't!
Therefore, the agent will have to look up which property they're asking about. Usually, the caller doesn't know which property they're asking for. That's because they wrote down the phone numbers they found on signs that day, but not the address.
Sales price
In my personal opinion, I prefer to put the sales price on the sign. Reason: when a for sale sign is newly placed, all neighbors will call to find out the asking price.
When you place an ad to sell anything online or in a newspaper, you list the sales price don't you? As a salesperson, I am interested in generating calls of people who want to buy, not people who ask for the price.
Sellers usually don't like that, but honestly, I don't see the difference between posting it publicly and giving it over the phone to everyone who calls. It's like adults playing hide and seek!
Placing a for sale sign?
Do you really want a real estate for sale sign on your fence? I'm sure the following details will allow you to take an educated decision on it.
FSBO sign
If you place a for sale by owner sign on the fence, there are several cons:
Your phone will ring at all hours to ask for the sales price.
Most callers will be curious neighbors. But, those neighbors might have friends or family that want to buy your house.
Your neighbors can be bad ones and make you miserable trying to stop you from selling. Learn more here.
Give more info than just the normal "For Sale" and phone number. But, the sun and rain will erase phone numbers and other data quite quickly.
Callers will say they want to see the property NOW, they're right up front. That could be on a Sunday morning at 8:00 am.
You have no idea who they lookers are and you have no chance for any screening them at all.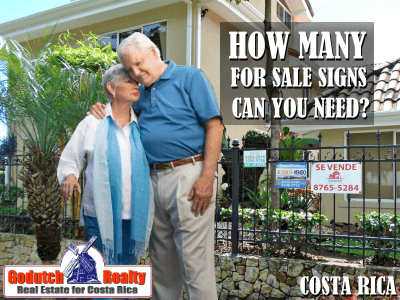 Agency sign
Interested parties will call the agent at all hours.
They will want to see the house right away.
There is no way the agent can pre-qualify the buyers.
Most lookers are not buyers, they're just lookers.
If the house doesn't sell quickly, everyone can see that real estate for sale sign has been up for years.
Especially when there are several for sale signs, they are an eyesore.
I hope these facts will assist you in taking the right decision of placing a for sale sign or not.
If your property is in a condominium, the guard can stop lookers from knocking on your door on a Sunday.
I recommend
I strongly recommend placing only one sign on your fence, your own or the agents'. Often agents show the property to a client and on the way out the buyer takes the seller's phone number off the FSBO sign, and then deal directly with the owner. In fact, I won't list any property that has an FSBO sign on the gate.
Don't mess up your wonderful curb appeal by filling up the fence or gate with signs. For other recommendations to sell your house in Costa Rica, hire a professional real estate company. Contact us, we'd love to assist.
The grammar of the Spanish version of this blog was checked and corrected by Wagner Freer of Spanish School for Residents and Expats. We strongly recommend this language school as your best choice to learn Spanish, click here to contact them. Now also in Green Project Language School, Ojochal.

---
If you like this blog, subscribe to my newsletter by clicking the banner below.

I DO want to remind our readers that we appreciate any referrals you can send us. Also, please remember the GoDutch Realty agents when you talk about your home in Costa Rica, we appreciate it.