Estimated Reading Time: 4 Minutes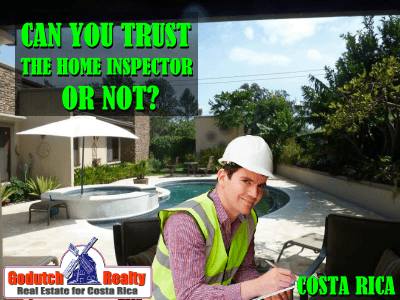 Can you trust the home inspector to do a good job when you buy a home in Costa Rica? Will he be on your side?
A client asked me that question some time ago, which left me speechless.
I know that she is reading this blog. And I want her to know this was a great question because it allows me to write about it.
Here we go: can you trust the home inspector you hire?
When I started selling real estate in Costa Rica, every time I sold a home, I was kind of praying nothing would happen to the house after I sold it. At least for a while. Anything can go wrong, right? The roof can blow off. You can have termites in the rafters, or the septic system clogs up. And other hundred-odd things can happen after closing. Landslides and many other things can happen to the land because of inadequate drainage.
The Costa Rican legal system does not have protective laws for buyers as some other countries do. In Costa Rica, you buy a property "as is." Therefore, the home inspection really only gives you a list of things to fix before moving in. Unless you write up the offer differently, it's customary that only significant damage will allow you to walk away from buying any property.
Your investment is significant, so you don't want to get stuck with a damaged house.
For that reason, it's best to get the home inspection out of the way before you sign the formal purchase-sale agreement and put earnest money in escrow. But can you trust that the home inspection reports shows what's wrong with the property?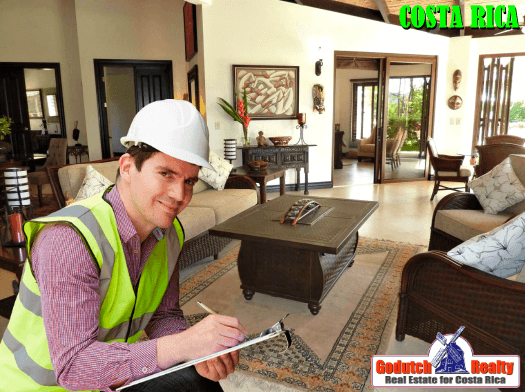 No home inspectors
30+ Years ago, nobody had ever heard of home inspectors in Costa Rica. I started hiring architects and engineers to do a home inspection. But they were more interested in finding everything wrong with the house, hoping for a job to remodel or even build a new one.
I've also had some ask for construction plans. Then, they'd look at the walls, knock on tiles with a hammer and then say, "this house is a teardown." I've had some of them mess up a good deal for a buyer.
One of the biggest problems was that construction in the United States and Europe is so different from Costa Rican construction.
Other Materials
For example, we use concrete block with rebar and tin roofs. Builders didn't use Duroc and drywall until a few years ago. We have no city sewer unless the house is in a condominium. Often, whole areas have water pressure issues, and water drainage and septic can be an issue. Very few homes have grounded electrical systems throughout the house. Often, foreign buyers are uncomfortable with the standard construction materials in Costa Rica. So it takes a home inspector familiar with construction in other countries, primarily in the United States and Canada.
Jerry and Tom
 
In 1999, I found Jerry McKinney; may he rest in peace. Jerry had built and remodeled homes in the United States. He also did lots of maintenance to buildings and homes in Costa Rica. He was the best solution at the time. Yes, Jerry made mistakes and sometimes forgot to look at certain things. But he was 5,000% better than all those Costa Rican engineers that I have had clients send me.
After Jerry passed away, I was back to square one. I went through a few U.S. licensed home inspectors, but they only knew about U.S. standard construction. They had no experience with Costa Rican-type construction, which created lots of problems with the reports.
Then, in 2006, I did find the man I had been looking for: Tom Rosenberger. Tom was originally a builder in Florida who also built Flamingo and Portero beach homes. Bi-lingual and able to do home inspections with enough experience in the U.S. and Costa Rica.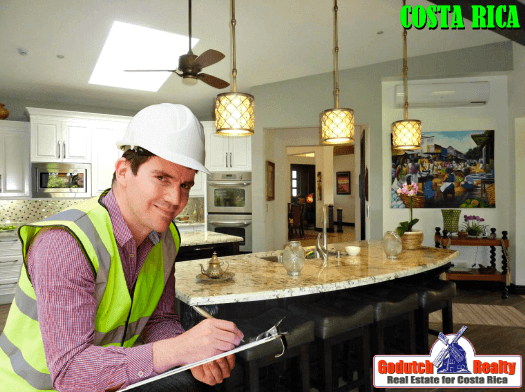 Tom Rosenberger, AKA Big Tom, did hundreds of home inspections for our clients for many years but unfortunately passed away when COVID started. May Tom rest in peace.
Fortunately, in 2022, there are several home inspectors in different parts of the country, and they know what they're doing.
Trust the Home Inspector?
Back to the question, can I trust the home inspector?
Home inspections are pretty standard in Costa Rica now, but only foreign buyers use their services. Costa Ricans don't use them. However, other agents and agencies have started to protect their buyers by offering home inspections. These reports are pretty standard, depending on if you're looking for a simple or a more detailed report. Most home inspectors provide detailed reports with photos of the damages.
Licensed Home Inspectors
We don't have a Society of Home Inspectors here, so they are not licensed or certified. Some don't even speak Spanish. But that doesn't mean that they're not experts or trustworthy. Real estate licensing is not mandatory here, but that doesn't mean that only the licensed agents are experts or reliable. In other words, check out who the home inspector is and if he has constructed homes in Costa Rica and in other countries first. For sure, you want to hire one who is an expert in construction in Costa Rica too.
Ask your Agent
If you work with a bilingual real estate agent who covers the ex-pat market, the agent can recommend one or several home inspectors.
Trust is difficult to gain and easy to lose again. But, if you trust the realtor you hired to represent you in your property purchase in Costa Rica, you should also trust the people they recommend.