Estimated Reading Time: 6 Minutes
I call myself a 24-7 real estate agent. But am I really?
It's 9:30 pm and my phone rings. The phone number is from Miami, Fl., so I answer. The caller asks if it's too late to call. Pretty nice of him. Almost nobody who calls after business hours asks if it's too late to call. I'm supposed to be a 24-7 real estate agent, that's why I picked up my phone at 9:30 at night.
Since he asked if it was too late, I respond "no, don't worry, it's not too late if you're buying a condo from me today".
It turned out that he was looking to move from a 2-bedroom rental to a 3-bedroom rental and needed an agent to contact him. This, of course, could have been done by email or a call during business hours. Most people just assume that a real estate agent should be available at all times.
This reminds me of a Century 21 real estate office here in Escazu, many years ago. One day, they put up a huge sign that said "now open on Saturday, from 9 – 12". That impressed the hell out of me.
If you look for GoDutch Realty on Google, you will find our opening hours. We're open Mo – Fri from 8 am – 8 pm and Saturday and Sunday from 8 am – 2 pm. Good enough? Some clients seem not to agree with that because they always call after office hours. Google shows we're not open 24/7. BUT, my cell phone number is on our website, so you can always call me whenever it suits you best.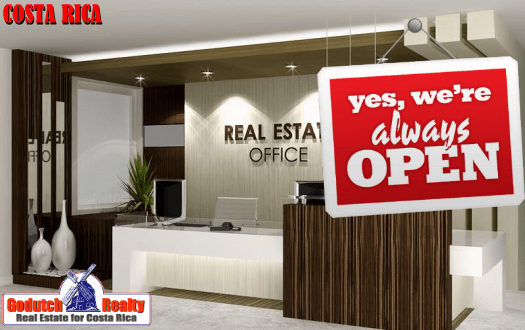 Insistent Sellers
It's pretty natural that sellers think that they hired a 24-7 real estate agent. During the wedding of a good friend on a Saturday, my cell phone kept ringing and ringing. Over and over, again and again, 18 calls in less than an hour. I usually store the names of all my contact in my phone, so I could see this was a seller.
As soon as mass was over, I returned her call. The lady was desperate to sell her property. It seemed I'd been too nice to her. For some reason, she thought I should jump when she said jump.
I told her that she didn't need a 24-7 real estate agent but a husband. She hung up on me and called back 10 minutes later to tell me I was fired. Good grief, it screwed up my mood for the rest of the wedding.
Free Advice
The disadvantage of writing so many articles is that everyone thinks they can call after business hours for free advice. There is one gentleman who moved to Panama but still owns property in Costa Rica. He calls at any time after business hours on WhatsApp (because it's free) and asks for my opinion on the price of his land. He keeps the price of his property so high that nobody will be interested in buying it in the next 20 years or so. No matter what I tell him, he'll keep talking and talking and I'm too educated to just hang up my phone on him. That's my mom's fault, the education that is.
I have told him often what I think about his dream of becoming a millionaire but to leave me alone now. But he keeps coming back, for free advice.
More promotion
Another seller kept calling me at night, every week. She was actually a seller of one of our agents. She kept insisting we should promote her property more often. I kept insisting her property was way overpriced and if she wanted to discuss, to please call me during business hours. After a few weeks, I just deleted her listing from our websites. The agent was euphoric I did that. At least I made someone happy.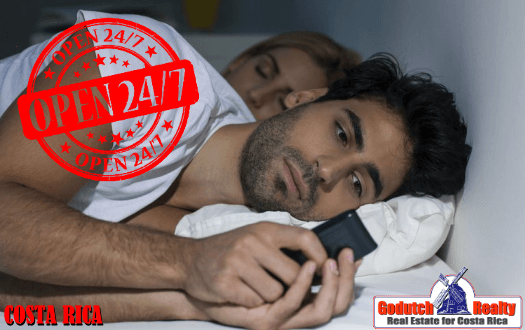 Should we be 24-7?
In my opinion, being a 24-7 real estate agent is like being an agent 007. Agent 007 goes from assignment to assignment and only has time for some romance in between. The difference is that I have only one Bond girl.
Sometimes I am in doubt, should a GoDutch agent be a 24-7 real estate agent or not? On one hand, I love to give a special treatment to everyone we do business with. On the other hand, I would like some private time for myself and my wife. I also want our agents to have a life and not live, eat & sleep real estate.
Am I doing the right thing? What do you think?
Buyers
I decided many years ago that I don't mind a buyer calling me after business hours. If we were in an exclusive market, I'd do the same for sellers. But since we have an open listing system, I prefer sellers call me during business hours. Or just email me.
I really love real estate and I seriously enjoy what I do. Hey, if I can write at least 2 real estate articles every week, 52 weeks a year, I just love it, don't you agree?
I could just stop answering my phone after business hours… But what if somebody needs to buy a condo urgently, that same day?
The extra mile
Are you looking for a 24-7 real estate agent? Then I apologize, you will need to call RE/MAX, Century 21, Coldwell Banker, or maybe a Keller William agent. Don't worry, this is a joke…
But if you're looking for a human being, someone who will assist you expertly, and goes the extra mile (without being a 24-7 real estate agent), then contact us.
The grammar of the Spanish version of this blog was checked and corrected by Wagner Freer of Spanish School for Residents and Expats. We strongly recommend this language school as your best choice to learn Spanish, click here to contact them.

---
If you like this blog, subscribe to my newsletter by clicking the banner below.

I DO want to remind our readers that we appreciate any referrals you can send us. Also, remember GoDutch Realty when talking about your home in Costa Rica to friends and family. We appreciate it.