Estimated Reading Time: 6 Minutes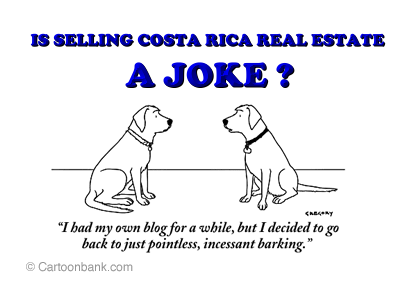 Is selling Costa Rica real estate a joke?
I have met a lot of really nice people in my real estate career, probably 90% of the buyers and sellers we deal with are nice, easy-going people who appreciate the hard work we do.
They recommend us whenever they can. Thank you for that! Selling Costa Rica real estate is no joke, but if your real estate agent doesn't enjoy selling real estate, it becomes a joke. At least it does for me.
Once in a while, we get people who complain, just because that's what they do. An obnoxious or interfering seller, we will just delete the listing because I've arrived at a point in my life that I don't want to deal with it anymore and I think my agents shouldn't either.
I know, they'll stop reading my blogs, but so be it.
When we get an obnoxious buyer, not to give it a different word, I get rid of that buyer; I've told you that before. I ask that type of buyer to go shop at RE/MAX or Coldwell Banker. The worst ones are people who write negative comments in the comment box at the end of the article and I dedicate this weeks' blog to those assholes.
(I apologize for the French; I had to get that one out ….)
I wanted to keep the good spirits going, so I decided to do something different today. It's not easy to come up with two or three topics every week and keep it interesting so you will all read my blogs and keep coming back.
Therefore, I'd like to thank all those who follow my ranting every week and still talk to me.
So I decided to do something different today: jokes, but real estate jokes.
A few short real estate jokes:
The seller tells GoDutch Realty agent "You've done such a great job describing my house in your real estate listing that I've decided to keep it!"
Time flies. By the time you pay for your home in the suburbs, it isn't.
If you think no one cares you're alive, stop making your kids' credit cards payments for a while.
Costa Rica real estate agent tells retiring homebuyer "first you folks tell me what you can afford, and then we'll have a good laugh and go on from there."
Found in a real estate agents' flyer: "This house has only one problem. The oven is self-cleaning, but the neighbors aren't."
A few longer real estate jokes
A very successful Costa Rica real estate broker had a meeting with his new son-in-law. "Welcome into the family," said the man. "To show you how much we care for you, I'm making you a 50-50 partner in my real estate office. All you have to do is go to the office every day and learn the business".
The son-in-law interrupted, "I hate the office. I can't stand agents". "I see," replied the father-in-law. "Well, then you'll work in the office and take charge of some of the paperwork".
"I hate paperwork," said the son-in-law. "I can't stand being stuck behind a desk all day". "Wait a minute," said the father-in-law. "I just made you half-owner of my real estate office, but you don't like office and won't work in an office. What am I going to do with you?"
"Easy," said the young man. "Buy me out".
A small real estate broker in Costa Rica was dismayed when a brand new corporate chain much like his own opened up next door and erected a huge sign which read BEST AGENTS.
He was horrified when another competitor opened up on his right, and announced its arrival with an even larger sign, reading LOWEST COMMISSIONS.
The small real estate broker panicked until he got an idea. He put the biggest sign of all over his own brokerage-it read MAIN ENTRANCE.
A client bought a new home in Costa Rica and the broker wanted to send flowers for the occasion.  They arrived at the home and the owner read the card; it said "Rest in Peace".  The owner was angry and called the florist to complain.
After he had told the florist of the obvious mistake and how angry he was, the florist said. "Sir, I'm really sorry for the mistake, but rather than getting angry you should imagine this: somewhere there is a funeral taking place today, and they have flowers with a note saying, "Congratulations on your new home".
I've been having a tough time deciding where the market is getting too frothy and I asked my Costa Rica real estate agent whether he thought the market was too hot. The agent answers "if the market is down, BUY! If the market is hot, BUY NOW! Contact us now!
---
If you like this blog, subscribe to my newsletter by clicking the banner below.

I DO want to remind our readers that we appreciate any referrals you can send us. Also, remember GoDutch Realty when talking about your home in Costa Rica to friends and family. We appreciate it.