Estimated Reading Time: 6 Minutes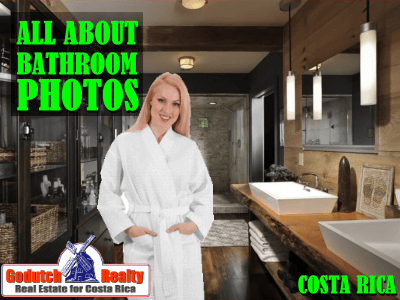 I'm a Costa Rica listing agent myself but I am always surprised about the bathroom listing photos some listing agents post on their websites.
Is the listing agent really interested in selling the property advertised or is it a joke?  And what is the reason for some of my colleagues to neglect real estate photo editing services?
When you hire a Costa Rica listing agent, you want to make sure you hire one who cares about you and looks out for your interest. You want an agent who will come up for you when wheeling and dealing with another agent or a seller. It is important not only getting the best deal. You are looking for an agent who will pay attention to the details.
A listing agent who pays attention to the listing photos usually pays attention to all the details of the transaction too.
I have seen bathrooms that are open and pleasant to be in. I have also seen bathrooms that are claustrophobic. Some are elegant with chandeliers and marble. While others have enough toilet paper rolls stacked on the toilet to last the rest of the century.
Some have shower curtains that are barely hanging onto the rod. Others have an inviting Jacuzzi with an ocean view.
Some have their bathroom cluttered with bottles, wet towels hanging over the shower door and the toilet lid up. Other sellers take the time before the agent takes photos to get rid of the mess that makes a bathroom look terrible.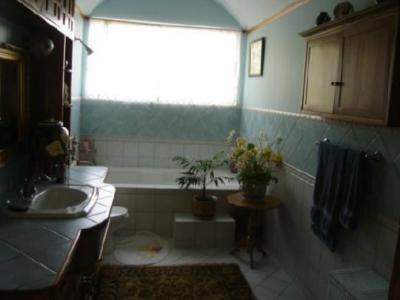 How NOT to show a bathroom
Kitchens and bathrooms sell
Bathrooms are like kitchens, they are important to a buyer. I know quite a few agents who don't even bother to post a bathroom listing photo. I also know that a lot of bathrooms are not really beautiful, they're just a bathroom. If I were a Costa Rica house buyer, I'd want to see bathroom listing photos before I'd even go and see the house in person. In fact, a lot of clients buy a house BECAUSE the bathroom or the kitchen is so great. There are also some bathrooms that do not help to sell a house.
Pictures sell
A picture is worth a thousand words – and an article on Trulia reported that 84% of buyers and sellers said they would not consider buying a photo-less listing. Stellar photos can hook a buyer and may make for a lucrative close for your clients.
A lot of website photo slide systems will take an x amount of photos. So it's logical the listing agent will first upload
Front and the back of the house,
Social areas,
Master bedroom
and then all the nice social spaces and extras that the house has to offer.
These might include photos of
a state of the art home theatre,
a pool,
the views,
a wine cellar,
a top-notch barbecue area
Then, they leave the bathrooms for last IF the bathrooms are not really worth looking at.
You can safely assume that if the listing agent didn't post any bathroom listing photos, they're NOT worth looking at. Find some even more baffling bathroom photos here.
A teaser?
Many bathrooms in a home in Costa Rica are not very large and it is necessary to take a vertical shot of a bathroom to see from floor to ceiling. Unfortunately most slideshow systems, just like ours, cuts the vertical photo in two and turn it into a horizontal photo. I manage the system, so I know and make sure I take only horizontal photos when taking a new listing.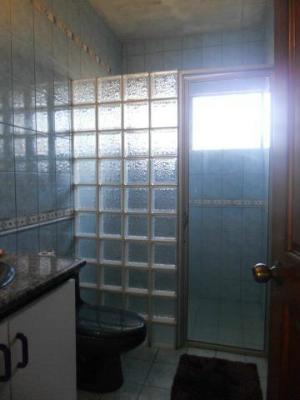 This is the vertical bathroom listing photo that the agent took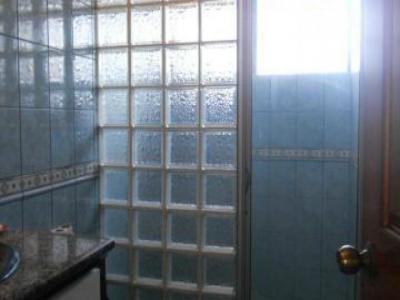 This is how the same photo shows on the website
Many listing agents post just enough photos on a listing as a teaser, so you will call for a showing appointment. Some might not realize that by leaving out certain photos, the buyer will NOT call for a listing appointment assuming the missing spaces look so bad, that they are not worth showing.
The standard answer from listing agents, when asked why they don't post bathroom listing photos is that the bathrooms are tiny. The listing agents do not realize that most buyers want to know if the tiles are outdated, and what the sink and the countertops look like, so they can budget the cost of a remodel, which is why they are looking online so they might or might not include those houses in the tour with their agent.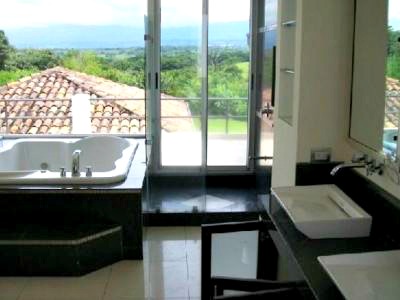 This bathroom photo invites the buyer to have a good look at the property
My opinion
Personally, I love buyers who take the time to look at the listings online, so I don't have to show them a couple of hundred homes before they make an offer. THAT is the reason that I like to post as many photos on my listings as possible, so my buyers can pick what they want to see and I am saving myself a lot of time on the showings.
Are you ready to list your property and you are looking for a serious listing agent? Contact us now.
Are you ready to purchase a home in Costa Rica? Check out our inventory of homes for sale with bathroom listing photos on our website. Then let us know which ones you'd like to see in person.
---
If you like this blog, subscribe to my newsletter by clicking the banner below.

I DO want to remind our readers that we appreciate any referrals you can send us. Also, when talking about your home in Costa Rica, please remember the GoDutch Realty agents. We appreciate it.