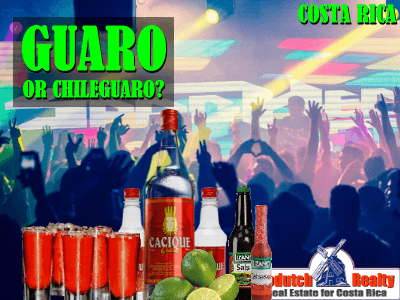 You'll ask "what's Guaro? And what's Chiliguaro?". Well, it all started with simple guaro.
Guaro is a sugar cane – made clear liquor, similar to aguardiente. It was once the moonshine of Costa Rica. Now, it's fabricated by the state-owned FANAL or Fabrica Nacional de Licores, in Grecia. It is marketed with the name Cacique with a red label.
A cacique is the Spanish word for the chief of an Indian tribe. Therefore, the label carries the design of the Indian chief with a headdress with four feathers. That's the reason that Costa Ricans call this famous drink four feathers or "cuatro plumas". If you order a cuatro plumas in any bar, the bartender will understand what you mean.
For many years, Guaro Cacique was the national drink, but FANAL has lost a large market share to other drinks. The local population still drinks it mainly as a shot, with a slice of lime, much like the Mexican tequila. Some drink it with the lime and a little salt. Those who like an extra kick, sink a shot of guaro inside a glass of beer, which is called a "submarino" or "prensado".
Mixes
The advantage of this famous drink is that it mixes very well with orange juice, pineapple juice, fruit juice, coca-cola, Evervess or Fresca, ginger ale, and many others. Some even drink it with horchata, a drink made of rice and cocoa, cas or agua de pipa.  I have been drinking Cacique-coke for many, many years myself. But then I switched to rum 'n coke. One that I see a lot of people recommend is guaro with Halls cherry flavor (mentholated cough drop), but honestly… I'll stick with the Cacique & regular coke, lots of ice. That was my favorite drink for 20 years until I switched back to Rum 'n Coke.
Guaro is what the Ticos call a noble drink because it doesn't give you a headache the next morning. For those you like their drinks to be just a little higher quality, there is Cacique Superior, which is the black label.
Chiliguaro
The Chiliguaro is a bit like a Bloody Mary but served as a shot. It's made with guaro, tomato juice, lime, tabasco or other hot sauce and, most importantly, a touch of Lizano sauce and rimmed with salt.
FANAL and Cerveceria de Costa Rica (Imperial, Bavaria, etc) are now competing with a bottled Chiliguaro mix, but a real Chiliguaro-lover will make her/his own.
You combine all the ingredients, then shake with ice before pouring them into a shot glass. This delicious and light and spicy shot is divinely delicious!
Oh, and I'm sorry to tell you that you missed out on the 1st Papagayo Chiliguaro Fest. You can contact our Playas del Coco affiliate Blu Stewart to learn more about the next Fest during May 2020 and have a good look at real estate there.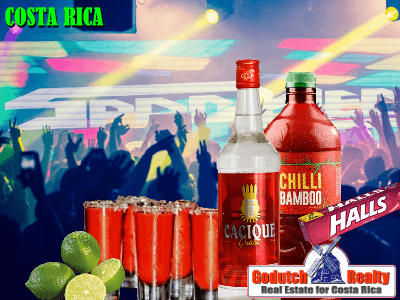 Fancy Chileguaro
Ingredients
2- can of spicy tomato juice
2- can of tomato juice
1- Bottle SMALL CACIQUE
1-Tomato sauce
1-Tablespoon Worcestershire sauce (or Lizano)
1/2 tablespoon of Salt
2 Tablespoons of Sugar
10 Lemons
1 Tablespoon of Black Pepper
1/2 Purple Onion
1/2 Sweet Chile
A bunch of fresh cilantro (for me without please)
4 mint leaves
Other Guaro cocktails
Also, here are some other cocktails that you might want to try
Guaro Collins
Ingredients:
11/2 oz of Guaro Cacique
2 ounces of lemon juice
2 ounces of grapefruit soda (Fresca, Squirt or Evervess)
Ice
Nieve de Cacique (snow)
Ingredients:
1 ½ ounce of Guaro Cacique
½ ounce of Mint Cream
1½ oz of Grenadine
½ ounce of sugar syrup
1½ ounces of Coconut Cream
1 ½ ounce of evaporated milk
3 strawberries
Mojitico
Ingredients:
1 oz sugar syrup
1½ oz Guaro Cacique
1 oz lemon juice
Mint leaves
5 oz club soda
Ice
Guaro Sour
Ingredients:
½ Lime
1tsp Sugar
Club Soda to taste
3oz Guaro
Enjoy your drinks, whichever you pick. If you're interested in other liquor than a cuatro plumas, check this blog about buying liquor in Costa Rica.
In conclusion, would you like to learn more about the Costa Rican culture and how to prevent culture shock? Then, read more blogs about this topic. Contact us for any real estate requirements you have.
---
If you like this blog, subscribe to my newsletter by clicking the banner below.

I DO want to remind our readers that we appreciate any referrals you can send us. Also, when talking about your home in Costa Rica, please remember the GoDutch Realty agents. We appreciate it.