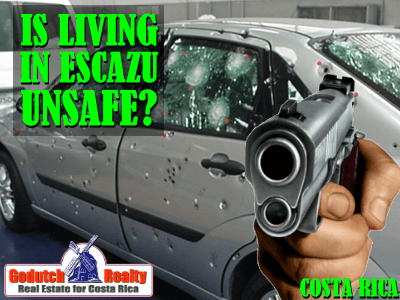 I was surprised to read a US Embassy security message from the U.S. Embassy in San José, forwarded to me by one of our real estate agents, who is an American citizen. You can read the US Embassy Security message at the end of this blog in case you haven't received it yourself.
In this message, the US Embassy warns U.S. citizens traveling to and living in Escazu, that their safety can be affected due to recent security incidents.
In the month of March, the US Embassy security message explains, there have been three separate drive-by shootings in Escazu. These shootings resulted in the death of two Costa Rican citizens and a serious injury to a U.S. citizen.
I am a resident of Escazu since 1980. I have NEVER been shot at. Maybe I am not worth being shot at?
Or maybe it's because I am not a U.S. citizen, so nobody cares? Maybe I behave like a normal citizen and I am not involved in the sportsbook business. One of the victims is involved in the sportsbook business, which I know for a fact.
I am also not involved in drugs dealing even though I am your Marihuana friendly real estate broker in Costa Rica!
I have never seen a security message from the Costa Rican government to warn those who travel to Boston. I'm sure you all remember the bombing during the 2013 Boston Marathon.
Schools
Have we ever had any school shootings? In Costa Rica we have never seen school shooting like the 2014 shootings in Jackson – Tennessee, New Haven – Connecticut, Roswell – New Mexico, Philadelphia – Pennsylvania, Chester – Pennsylvania, West Lafayette – Indiana, Orangeburg – South Carolina, Los Angeles – California, Carbondale – Illinois, Honolulu – Hawaii, Nashville – Tennessee, Palm Bay – Florida, Des Moines – Iowa, Bend – Oregon, Lyndhurst – Ohio, Salisbury – North Carolina, San Jose – California, Augusta – Georgia, Miami – Florida, College Park – Georgia, Greenville – North Carolina, Detroit – Michigan.
You want to be really surprised and see some data on school shootings in the US?
Homicide Rates
A study done on homicide rates in 2014 by the United Nations shows that the United States of America shows a much higher percentage of homicides than Central America as you can see in the map below. Maybe 2015 has other plans for Costa Rica and the United States embassy in San José, Costa Rica knows something we don't?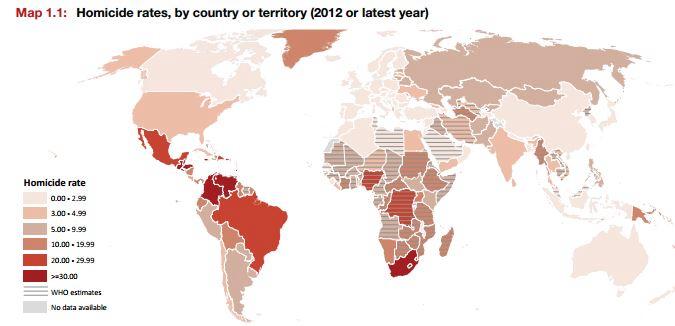 There is nothing you should worry about unless you are involved in something illegal. In my opinion, that rule works where ever in the world you live in. Of course, you can be the innocent victim of a crime that happens right in front of you and you might not be able to get away in time. But do you need to live in Escazu to have that happen to you?
Unsafe?
Shame on the United States Embassy to scare future expats with such a  who don't know anything about living in Costa Rica with such a US Embassy security message. Non-informed readers of such a security message might misunderstand the message. They possibly decide not to move to Escazu or Costa Rica because they'd think bullets fly through the air in Escazu every day.
Therefore, I'd like to assure you that I feel perfectly safe to travel anywhere in the United States. I also feel safe to live in Escazu and walk the streets at any time.
Also, I would like to thank Rico of Ticobull.com for his follow-up article on this security issue.
The Message
See the US embassy security message distributed through Costa Rica Living Forum below:
FYI: ____________________________________
From: ACSSanJose@state.gov
To: xxxxxxxxxx@xxxxx.com
Sent: 3/20/2015 11:59:28 A.M. Central America Standard
Subj: Security Message for U.S. Citizens

We provide the following information as an overview of recent security incidents that, because of their location or nature, could affect the safety of U.S. citizens traveling and living in Escazú. During March, three separate drive-by shootings occurred in Escazú, resulting in the death of two Costa Rican citizens and serious injury to a U.S. citizen.

One shooting took place by the Los Anonos Bridge, another near CIMA Hospital and the third in front of the Chez Christophe restaurant located on the west side of Paco Plaza in Escazu. We remind U.S. citizens that crime and violence can occur anywhere, so always be aware of your surroundings and take appropriate steps to enhance your personal security and follow the instructions of local authorities.

We strongly recommend that U.S. citizens traveling to or residing in Costa Rica enroll in the Department of State's Smart Traveler Enrollment Program (STEP) at website. STEP enrollment gives you the latest security updates and makes it easier for the U.S. embassy or nearest U.S. consulate to contact you in an emergency.

If you don't have Internet access, enroll directly with the nearest U.S. embassy or consulate. Regularly monitor the State Department's website, where you can find current Travel Warnings, Travel Alerts, and the Worldwide Caution.

On Costa Rica

Read the Country Specific Information for Costa Rica. For additional information, refer to "A Safe Trip Abroad" on the State Department's website. Contact the U.S. embassy or consulate for up-to-date information on travel restrictions.

You can also call 1-888-407-4747 toll-free in the United States and Canada or 1-202-501-4444 from other countries. These numbers are available from 8:00 a.m. to 5:00 p.m. Eastern Time, Monday through Friday (except U.S. federal holidays).

The U.S. Embassy/Consulate in San Jose is located at Av. O Calle 120, Rohrmoser. If you are a U.S. citizen in need of urgent assistance, the emergency number for the U.S. Embassy is 2519-2000.
Video
Do you still agree that the U.S. Embassy should not have to worry more about the problems at home, feel free to watch this video
Buying or selling a property in Escazu? Then contact the experts now.
---
If you like this blog, connect with me on Google+ or subscribe to my newsletter by clicking the banner below.

I DO want to remind our readers that we appreciate any referrals you can send us. Also, when talking about your home in Costa Rica, please remember the GoDutch Realty agents. We appreciate it.