Yes, there is a marijuana friendly real estate broker in Costa Rica: me. I saw this article about Denver residential real estate agent Bob Costello. He launched a Marijuana friendly real estate broker advertising campaign in January 2014. That's when the state of Colorado legalized marijuana for recreational use by adults 21 and over. Great idea! Unfortunately, he seems to have stopped working in real estate. He must be selling pot now.
BUT, before you go any further. If you're looking to buy pot, you've arrived at the wrong place. We will sell you a house with a large garden in Costa Rica, so you can grow your own pot. So please don't call me to buy pot or to ask where you can buy it.
I have never smoked pot in my life myself. I come from a family of fervent cigarette smokers. When my school friends back in Holland would get stoned on pot, I would have a cigarette and a beer. I never felt the need to get stoned on anything.
Anybody reading this blog might think that all GoDutch Realty agents agree with what I will say now. Well, I don't know, they have their own opinions and they can write their own blogs about it. This blog is called Ivo's blog because this is my way of seeing things. It's my opinion and some say I'm opinionated.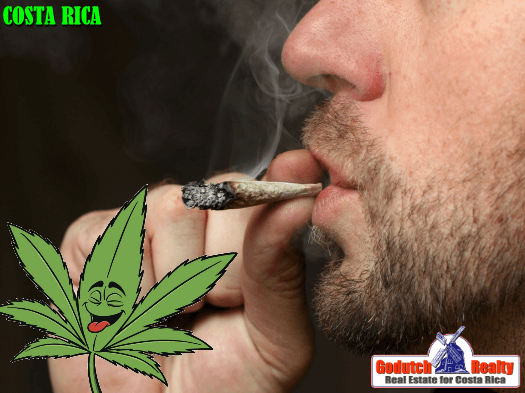 But I hope that's what you want if you want a real good Costa Rica real estate agent to represent you, in my opinion. Again, if you're looking to buy pot when visiting Costa Rica don't call or email me. I'm a marijuana friendly real estate broker but not a drug dealer. Ask a taxi driver to connect you with a drug dealer.
Should I be against the use of Marijuana and other drugs? I'm not religious. I think everyone should be free to have their own religion, no matter how crazy it is. I'm not gay, I'm straight, but I'm all for gay marriage. I'm not black, I'm white, so should I be against black, red and green? In my opinion, we should leave others in their own values. I sell property in Costa Rica, I really don't care what you smoke or what you do in bed.
I DO believe in the medicinal use of marijuana. I certainly hope they will soon legalize marijuana in Costa Rica for medical use soon. If you ask why, then check out this video.
Unfortunately, even CBD oil is still illegal in Costa Rica. Last I heard, a Costa Rican company is waiting for the Ministry of Health to allow for the import of CBD oil.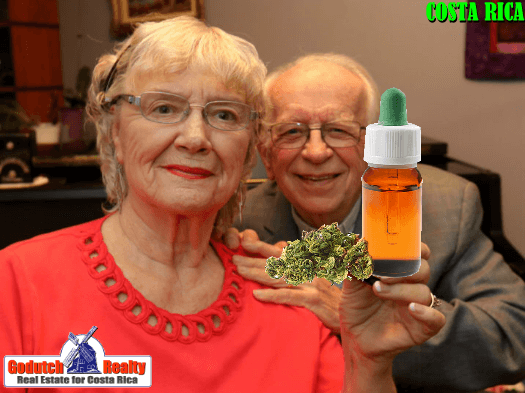 Legalizing
But I'm losing track now, today's topic is Marijuana in Costa Rica. I think it's awesome that Colorado legalized pot for recreational use, something they wouldn't put you in jail for in my home country when I was a kid. I've seen some junkies in my time but with this new Amendment, it's not like that you'll soon see the whole state of Colorado walk around like zombies.
The Dutch legalized the recreational use of Marijuana for Dutch, German and Belgian citizens inside the famous coffeeshops since 1998. That way, the government charges taxes on soft drugs like they do on liquor and tobacco and you'll be rid of most of the problem we have nowadays. Colorado is taking the first step so the rest of the United States of America can follow.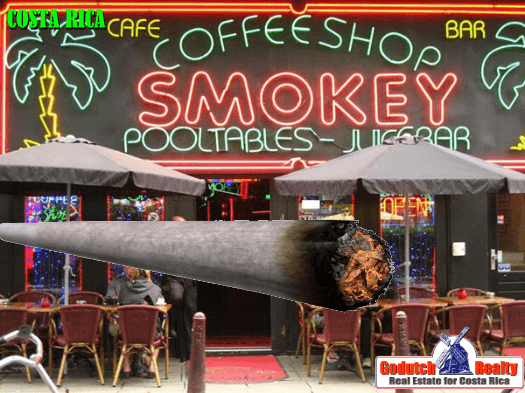 Montefuma
In Costa Rica, we have a place that is called Montefuma by the locals. Monte means weed and fuma means smoke. We have an affiliate realtor in that area, so if you are up for buying property there and have some fun, contact me now.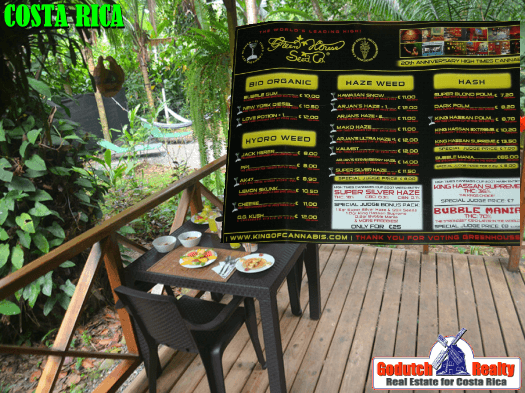 Grow it?
No matter where you live in Costa Rica, on the beaches or in the cities, you can buy pot everywhere. We don't have coffee shops where you can buy it legally like in Holland, but my nephews tell me you can buy it everywhere in Costa Rica and they know. I understand that you won't get arrested if they find you with a couple of ounces of pot, as long as it is for your own recreational use as long as you don't try to take any through customs.
Colorado's Amendment 64, which legalized marijuana for recreational use, also allows homeowners to grow up to six pot plants for personal use. We're not quite there yet in Costa Rica. So don't try to fill your garage with a hydroponic marijuana farm. For sure you'll get arrested and you might get 8 – 15 years in a beautiful Costarican jail.
Now you all know where I (Ivo) stand on the marijuana issue. Feel free to smoke all the pot you want in the new home in Costa Rica. You can trust your Marijuana friendly real estate broker in Costa Rica not to tell anybody. By the way, I quit smoking tobacco in December 2009 and it was the most difficult thing I've done in my life. I did NOT start on pot either. So I'm a marijuana friendly real estate broker but don't use it myself.
Looking for a house where you can grow your own pot? Then contact us now.