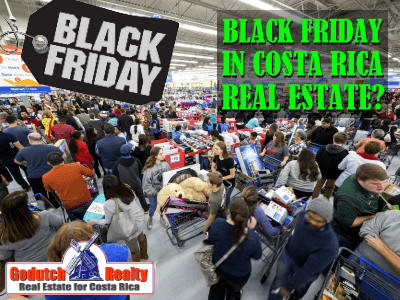 Who would have guessed that we have Black Friday in Costa Rica now too?
Black Friday in Spanish is Viernes Negro, but almost nobody uses that.
Last Friday, I saw no Black Friday signs on any Costa Rica real estate offices. I have asked a couple of sellers but they didn't think I was serious. Or they weren't motivated enough, I guess.
Maybe next year we will find sellers more willing to give a Black Friday 30 – 50% deduction on their property. I will do so on my real estate commission if the sellers cooperate too. So watch out for our newsletter in November!
Most businesses in Costa Rica call it that: Black Friday, few call it Viernes Negro. That's how we are becoming gringolized now in Costa Rica. You'll find a zillion advertising boards, signs, and other marketing materials in English. That's not done to make it easier for you! But because it sounds fancier than it does in Spanish.
Planning to move to Costa Rica or already living here? You might not have been able to figure out yet when and where to do your bargain shopping in Costa Rica. here are a few great tips.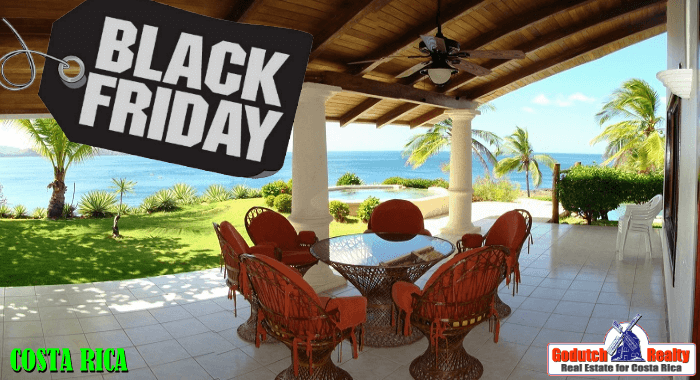 Do not Worry
You'll have your Black Friday in Costa Rica. Not only have the stores signs all over a week before Black Friday, but you'll also see advertising on TV from mail services like Aerocasillas, JetBox, FEDEX, and others that you can join in on purchasing your Black Friday promos online. Then you can have it sent to your Costa Rican address.
Black Weekend
Some stores in Costa Rica even started now Black Weekend. I've even seen a Black Week here and there. My wife and I are waiting for the Black Year to take advantage of and start shopping for offers. We need the extra time to shop around for the right prices.
I've been watching the news and shoppers take up to five 54" Flatscreen TV. You'd think that with the last Worldcup soccer in Brasil, every Tico family had bought his own huge flatscreen TV already. Maybe they couldn't make the payments and are trying again?
I live and have my office, only 8 blocks from Multiplaza Mall, one of the largest shopping malls in Central America. Already at 7 am (they open at 11 am), there were cars parked 6 blocks around the mall, in 4 wind directions. Not even at Christmas shopping time I have seen as many cars parked everywhere. The guachiman where all having their field day by helping everyone to find a spot and charge a couple of bucks to keep an eye out.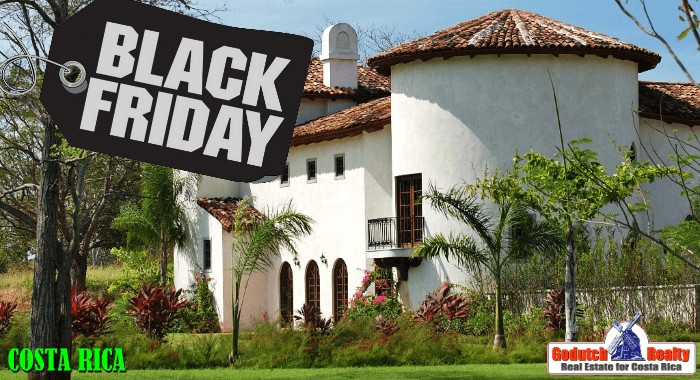 At 2:00 pm, another real estate broker was trying to drop me off at my office and I decided to walk the 8 blocks past the Multiplaza Mall, so he could turn around and not get stuck in traffic for hours. If you're crazy enough to try to find a parking spot, stand in line for hours so you can get hold of a Viernes Negro deal, you'll have plenty of places to go to.
You'll find Black Friday promotions everywhere in Costa Rica. Even in the smaller provincial towns throughout the country like Atenas and Grecia. You don't have to live in Escazu, where all the good stores are, to take advantage of Black Friday bargains.
Check Prices!
The price control department of the Ministry of Economy seems to be catching quite a few who say they're selling at discounted prices but they're not. So don't believe the advertising, make sure you check prices well ahead in the different stores before Viernes Negro.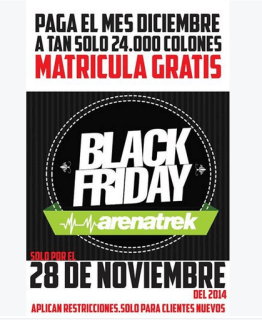 When buying a property, any day throughout the year, you can have your own Black Friday promotion. Just check on our Price Reduced Properties and see if you find anything interesting. Then contact us.
---
If you like this blog, subscribe to my newsletter by clicking the banner below.

I DO want to remind our readers that we appreciate any referrals you can send us. Also, please remember the GoDutch Realty agents when you talk about your home in Costa Rica, we appreciate it.