Once you move to Costa Rica and you drive your own car, you will have to find a place to park it. You can look for a public parking lot where you have to pay to park your car. But with a shortage of, you will probably park the car anywhere on the street.
When you want to leave, a guy will walk up to you. He will help you get out of your parking spot first, if you need assistance or not. Then, will hold up his hand. You probably didn't know it, but he was there watching your car while you were away. He does that so it doesn't get stolen or broken into. We call them a guachiman, watchiman or cuidacarros.
In Costa Rica, a guachiman is an informal security guard. The word was probably invented by a Tico who didn't know how to pronounce the English word watchman. Los Guachimanes (not guachimen) are informal guards.
To the mindset of a 1st world citizen, they are part of an unorganized mafia. They are specialized in ripping people off while parking their vehicles out on the public street.
Honest workers
BUT, many are just honest people who are trying to make a living. That's because they were not able to find a job in today's world that is run by large companies, computers, fast cars, and lawyers. Without the system of charging you for watching your car, they would be starving. In Costa Rica, we don't have a welfare system. So now they either have a job as a guachiman, or they're breaking into the car nobody is watching for you.
They each work a section of a city block, a certain restaurant, a bar, a beach, or even the parking lot of a strip mall. They are either totally independent or hired by the business where you will be parking. But, without a salary or social security, they depend on your tips.
The cuidacarros are regulated by Law "8395 de Servicios Privados de Seguridad del Ministerio de Seguridad Pública". But, the law is generally not applied. The law does apply in some municipalities like Cartago and Coronado. There, the municipality provides training to independent guards. They prepare a list of requirements to be met, and give them a card that identifies them.
It's also important to know who has the responsibility of your car when you park at the grocery store, a mall, a hotel, and a restaurant.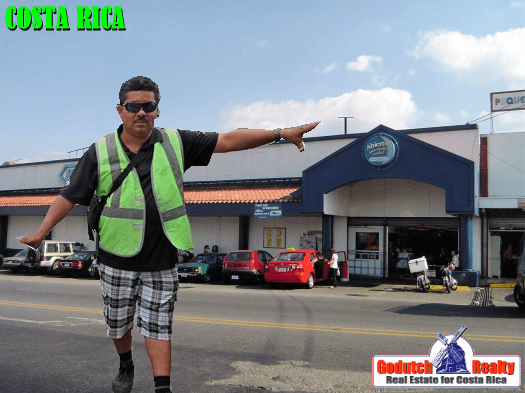 Cost of living
Go to a concert or an exposition in a location that doesn't have its own parking. Then, you will find a whole army of guachimanes all over the public road, helping you to park and watch your car. I went to the Jazz Café in Escazu the other night, where they have their own parking. There were two guachimanes working hard to find me a spot (the parking was half empty).
They gave me this blue ticket shown in the photo, that says "contribution to the security of your vehicle – ¢1,000 – thank you. I don't know if it's me, but that sounds like "I don't know what will happen to your car if you don't pay me ¢1,000". You will find these tickets handed out by a guachiman in the most incredible places.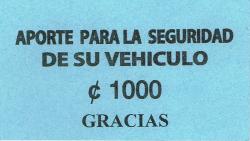 I'm not so sure what they will do when someone would try to steal your car. But in all these years of paying a guachiman wherever I park my car, it has never been broken into. That is the reason that the money you will be paying a guachiman is part of your cost of living in Costa Rica.
The obligation to pay or not
Last week I told you all about the responsibility a business has while you park your car on the parking they facilitate you. In some other countries, where they have a similar system, you give the guachiman money when you are parking your car. If you do so in Costa Rica, quite a few will be long gone by the time you get back, so you'd have paid for a service you did not get. In Costa Rica, we pay them when we leave, not before. Although often enough, when you receive one of those blue tickets, they want your money before.
How much?
How much is customary? That depends on where and how long. Anywhere between ¢200 and ¢500 is acceptable (in 2019). If you don't, next time you park at the same spot, he might remember you. Some are very decent people and others will scratch your car from top to bottom. The decision is yours.
Please feel free to leave your comments on this blog.
---