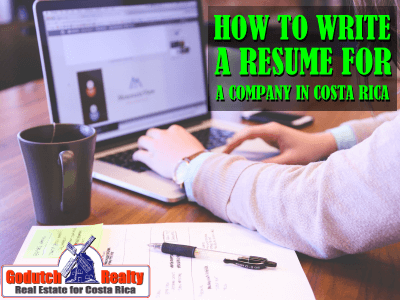 Do you know how to write a resume that hits a home run? I bet you don't!
Getting a job in another country can be a daunting task. When the country in question is Costa Rica, it becomes twice as hard. However, working in Costa Rica promises one an encounter with an intriguing culture and a myriad of recreational activities.
The country also boasts of a stable economy and this is a major pull for aspiring expatriates. Well, getting into Costa Rica can be quite a hassle. It starts with getting a work permit.
But, an excellent resume can make one's job easier. One has to know how to sell themselves to their potential employers by writing a great resume. So, here are a few tips on how you can do that.
An excellent resume
A resume introduces you to your potential employers. It offers them an idea of who you are and what value you will add to their organization. However, because they submit mediocre resumes many people fail to even acquire an interview.
The quality of work one puts into their resume mirrors the kind of person they are. Employers are wary of the effort job seekers put into their resumes. So, one must strive to deliver a resume that sets them apart. For those who are struggling to write a resume that stands out, there is no need to worry.
A visit to Resume That Works can help solve any writing issues you might have. On this platform, you will find professionals who are ready to offer you the help you need. The people on the other side of the platform know how to package their clients in ways that enhance their appeal to potential employers.
Know how to Skills Match
One of the reasons why many people do not get jobs abroad, especially in a country like Costa Rica, is because they are not aware of skills matching. Skills matching is a trick people use to enhance their chances of acquiring a job in another country. While wondering how to write a resume, it is crucial that one also learns something about skills matching. With this trick, one goes out of their way to acquire skills that are sort after in another country. For example, in Costa Rica, individuals who are bilingual have a higher chance of getting a job than those who are monolingual. So, a person who is bilingual and an IT programmer can land themselves a lucrative deal.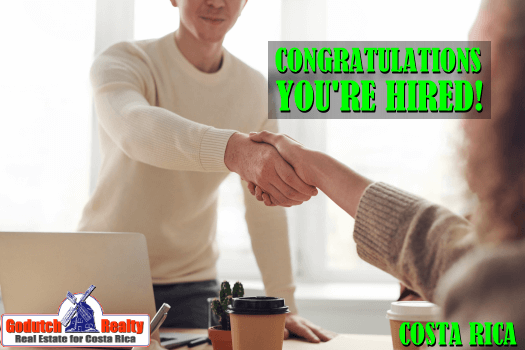 Education Background
Often, people spend a lot of their time trying to enhance their skills and forget that their educational background matters as well. While developing a resume, you have to provide your educational background. Include your academic achievements, your certifications (if you have any), and level of education. Depending on the job you are applying for, your education background can offer you a competitive advantage over other applicants.
So, let your potential employer see who you are, your accomplishments, and what you can do for them. Remember that there are many resume writing companies that can help you with resume writing. If you do not know how to make your educational background more appealing, you can ask for help.
Details of your Experience
Your experience sets you apart by showcasing how ready you are for the role you are applying for. Well, for those who are still in school, it is crucial that you consider volunteering to help gain experience. It is by doing something that people get to learn about themselves. When you involve yourself with a few chores, you get the opportunity to test your skills. Successful completion of such tasks helps to paint a picture of what kind of employee you are.
So, try as hard as you can to acquire tasks and jobs that enhance and grow your skill level. When you write a resume, include all these tasks and let your potential employer decide whether you are a good fit.
Make Use of Resume Examples
Two things come to mind here. The first one is that there is nothing new under the sun. The second one is the fact that we do not have to reinvent the wheel. In the world today, one does not need to start afresh. So, even in resume writing, you do not need to start afresh. There are numerous examples online and others you can acquire from a platform like EssayZoo. Read these samples, get a glimpse of the structure, understand how people sell themselves, and borrow an idea or two. Remember your goal is to get that dream job of yours. So, get a few samples and see how you can improve your resume.
Make Use of Resume Writing Companies
Resume writing companies have a long history of helping people like you. They have big databases with the names of people who wish to work abroad. They employ professionals whose only job is to make you look good as you go for your interview.
Their many resume examples can be of help to you, especially when you are in the process of deciding who to work with. You need to select a partner that has great reviews, one with great customer service, and one within your budget. So, try resume writing companies today and get to see what you are missing.
References are Important
When you write a resume it also needs to include referees. Referees are the people who your potential employer can call or get in touch with if they want more information about you. These people are crucial and can either ruin or increase your chances of acquiring a job. So, you need to find or include people who know you and can help sell your story. Your referees should not be your family members but people who know your skill-level, your commitment, and your values. These are people who can vouch for you and enhance your chances.
However, you do not have to struggle to write your resume. In the same way that platforms such as https://perfectessay.com/write-my-dissertation-for-me help their clients with writing essays, resume writing companies also do the same. When you place a request, they get to work and deliver whichever task you request. Get help today and rid yourself of this trouble of trying to understand the importance of having a correct resume structure.
In conclusion, some countries like Costa Rica can make life a little difficult. However, when you write a resume that is well-written, one can be able to make potential employers happy. One can also open the door of opportunities for themselves if they know how to present themselves. But, if you are unsure of delivering a great resume, remember that you can always ask for help.
Author
Allen Cranston is an analyst and resume writer. Allen committed to helping talented professionals show the world what he is truly capable of. Since launching in 2012, Allen has helped over 4,000 job applicants land their dream jobs for resumethatworks.com. He is constantly looking for new ways to help people achieve their career goals. Learn more on their social media: Facebook, Twitter
---
If you like this blog, subscribe to my newsletter by clicking the banner below.

I DO want to remind our readers that we appreciate any referrals you can send us. Also, please remember the GoDutch Realty agents when you talk about your home in Costa Rica, we appreciate it.