Estimated Reading Time: 8 Minutes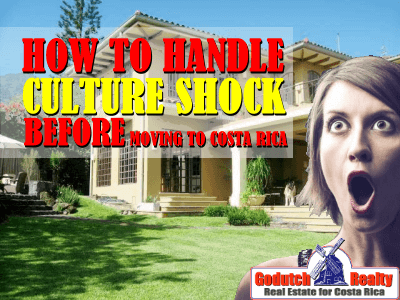 Would you like to learn how to handle culture shock when you move to Costa Rica? Did you know that culture shock is good for you?
Honestly, I didn't either.
George Santayana explains in his article that you should try culture shock to keep the mind nimble, kill prejudice, and foster humor. It's a great idea, and it's fantastic for my business.
The problem with that is that when you move and are not in your 20's anymore, you don't adjust as quickly as an exchange student. But that's why our agents are more than just real estate agents.
I've been through some culture shock myself when I moved to Costa Rica. But it's been a while. Culture shock would have knocked me out if I hadn't adjusted. I probably would have returned to my home country quite some time ago. Now I'm pleased I went through it because, even after 39 years, I still think Costa Rica is an incredible place to live.
I'll tell you my secret: I learned how to handle it.
Do you want to learn how to handle culture shock? Follow me then. Come, enter a world of surprise and fun with me, so you can keep your mind nimble.
The best way to adapt is to do things a bit differently than you are used to. That's why you want to move to Costa Rica, right? So from today on, you're going to try to do some things the Tico Way, go native! That way, before you make your move, you'll accept the new way of life in no time. Or you'll know Costa Rica is not for you.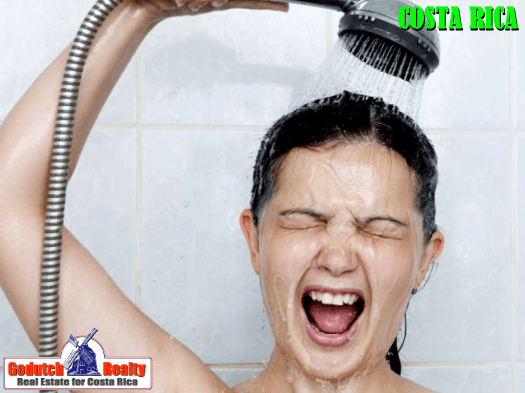 Taking cold showers
Many Ticos customarily take cold showers; my wife is one of those. Unless you can purchase a suicide shower in your hometown, you can practice taking showers without power. So, simply turn off the hot water and take a cold shower.
The reason is that, especially during the rainy season and when there is a lot of wind, the power goes. That can take anywhere between a couple of minutes and several hours. Unless you're sure you'll have a large hot water heater instead of an instant heater or a suicide shower. You will also learn that most showers in beach areas of Costa Rica have no hot water at all. In many areas of the Central Valley, you will find a suicide shower, which will give you just a trickle of hot water.
Be aware that practicing cold showers every day might not be that great for your sex life. But, for some reason, Ticos do not seem to have any problems with that.
If you like your showers really hot, talk to your real estate agent or your home inspector. They'll tell you how to install an instant heating system and a power backup in your home, that will keep you a happy camper.
Eating habits
Throw your gringo breakfast out the window. Instead, start eating rice and beans for breakfast, lunch, and dinner. You don't like it? Sorry, get used to it! Make sure you eat them with corn tortillas; no more cornflakes, Canadian bacon, pancakes and syrup, waffles, and whipped cream.
From Beans, Beans, the Musical Fruit:
Beans, beans, they're good for your heart
The more you eat, the more you fart
The more you fart, the better you feel
So let's eat beans with every meal
I'm still not too fond of rice and beans, and they'll feed it to you not only at breakfast but at any hour. So if you're not ready for rice and beans, your other choice is to have toast and eggs, whichever way you like them. The fruits in Costa Rica are also delicious, so you won't' starve to death when starting your day.
Family
Ticos are friendly people, but it's not so easy to become close friends with them. That's because they are very family-oriented. So one way to make a lot of friends in Costa Rica is to marry one.
Learn how important family is to Costa Ricans and how to deal with it.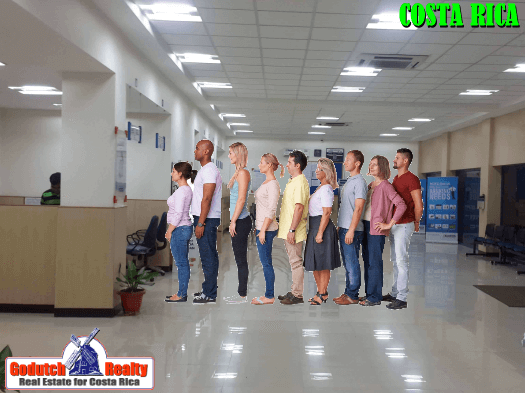 Wait in line
If you plan to live in Costa Rica, you need to learn how to wait in line. There are lines in banks, at every governmental office, and even at the gas station when gas prices go up. We have lines at the grocery store because they open up only two check-out lanes out of 12.
We also have waiting lines at the toll on highways 1 and 27, mostly during peak hours. If you take the bus, you'll see that passengers stand in line. And wait till you need to go to the Caja clinic or Ebais, they love lines there.
Standing in line teaches patience, of which you probably have very little. Well, I got news for you: learn how to stand in line.
You can practice standing in line by calling the Expedia help desk or any other online customer service at your convenience.
A few tips:
Banks and governmental agencies have a unique window for disabled, pregnant women, and seniors over 65. The line is shorter there, so the wait is better.
Get a quick pass and stick it on your windshield, most highway lines will magically disappear for you.
Always keep a book with you, or get an account on Facebook. That'll allow you to pass the time much easier.
Learn to accept bad writing
The other day is a gringo asking about Escazoo on a forum. Well, Escazoo is not written with a double o but with a ú. Escazú. The ú is pronounced as a double oo. That's why Washington should be written Whasington…Now go practice that for a while. I also know quite a few Costa Ricans with the name Jhonny.
Find other expats
The best way of not moving into a state of culture shock is NOT to look for the help of other expats for everything you need. Go NATIVE! The best way to go native is to use your time before your move to Costa Rica well.
Of course, you won't be able to stay away from people who speak your language. You will find thousands of expats online. There are online expat forums like Costaricaliving and many expat Facebook pages.
The Cure
That takes us to the next step of getting the cure for culture shock:
Learn Spanish
You can become another ugly American and by just speaking English to the local population, without even trying to speak Spanish. Or you can learn at least basic Spanish as soon as you can.
Work hard at it
Don't assume it will all go automatically. Try to be dependent on others and do your homework yourself. You'll be surprised how easy it is:
•    Hi guys, we're trying to adjust to our new country as fast as we can. Any expats out that can help us? Thank you!!
•    Does anyone know a good cleaning lady? Must speak English.
•    Where can a purchase a gas heater? I have been to every store in Costa Rica but I can't find anyone who sells heaters.
P.S. The best culture shock is the one you get when there is an earthquake in Costa Rica, unless you do what you can to make it work
Do your homework, and feel free to contact us when you're ready to buy or rent property.
Feel free to leave your comments on this blog.
---
If you like this blog, subscribe to my newsletter by clicking the banner below.

I DO want to remind our readers that we appreciate any referrals you can send us. Also, remember GoDutch Realty when talking about your home in Costa Rica to friends and family. We appreciate it.