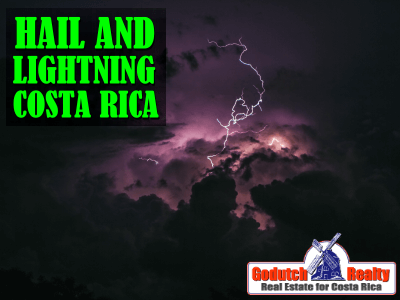 Yes, we have hail and lightning in Costa Rica. Real estate agents always write about the beautiful weather in Costa Rica, but this time I wanted to write about bad weather in Costa Rica, in fact, about hail and lightning in Costa Rica.
The girl in the photo below is not in Denver, Colorado. She is in her backyard in Heredia, Costa Rica. Yes, we had hail in Costa Rica on June 6, 2013 and specifically in the city of Heredia.
Costa Rica is a tropical country and we have tropical weather. Tropical weather can mean a lot of sunshine but also serious rainstorms, flooding and damage to possessions. That is the reason I write so much about needing the help of a real estate agent who lives in the area to purchase a property in Costa Rica. A good rain storm can make your home disappear if you did not buy in the right place or did not take the necessary precautions. Weather is a very important issue in Costa Rica real estate.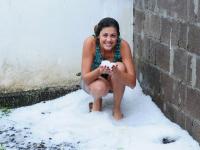 The tropical rainstorm of several hours started at 1 pm and kept up for over an hour. This storm, called by some journalists a tornado, left one dead and about 100 homes with damages. Those who think that moving to Costa Rica means sunshine every day is wrong. During the rainy season, we get a lot of rain. When there is a large hurricane up north, we generally get the tail end of that hurricane. If you purchase a home in Costa Rica, make sure you take insurance to protect yourself. So take insurance against damage to your home, like flooding, earthquakes and tropical rainstorms like this.
Hail Video
Check the size of the hail in this video:
Lightning
See this video, for some furious lightning
During this time of the year, the beginning of the rainy season, it is very common to have lightning during the afternoon rains. Our Collie Max hides under the bed when that happens. Fireworks and lightning are the only things that scare the poor dog.
You can count on lightning and thunder during many rainstorms. But if you stay away from the open spaces and you are careful when to use an umbrella, you should be okay.  Hail is very uncommon in Costa Rica though. I can remember only a few hail storms like this in all my years of living in Costa Rica.
The rainy season is part of life in Costa Rica and you should either get used to it or not move here, I'm just warning you. If you think you can live with some bad weather here and there but enjoy great weather most of the time, contact us now.
Our GoDutch Realty agents are good at telling you the good and the bad about buying Costa Rica real estate and living in Costa Rica. So, for your real estate purchase, contact the experts.
---
If you like this blog, connect with me on Google+ or subscribe to my newsletter by clicking the banner below.

I DO want to remind our readers that we appreciate any referrals you can send us. Also, when talking about your home in Costa Rica, please remember the GoDutch Realty agents. We appreciate it.