I'm pretty sure you already know that the Costa Rica weather is one of the most attractive advantages that the country has to offer.
I just received some very cold looking photos of snow-covered roads, rooftops, and cars from a friend. And I am sitting here at my desk, looking over my computer monitor. I can see the beautiful Escazu mountains on one side and the Heredia mountains on the other. The sun is shining in the palm tree in my neighbor's yard.
And I am sitting in shorts, a t-shirt, and flip-flops, enjoying the Costa Rica weather and the 80ºF temperatures that we have almost year-round.
Don't you just hate me now? I bet you do! Be smarter than that, move to Costa Rica just as I did many years ago and buy a property in Costa Rica from me. That way I can keep working in shorts and flip-flops. I still think it was the best decision I took in my life.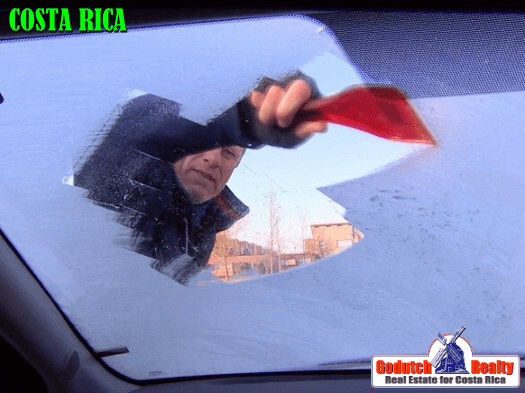 God, I always hated the cold and I bet many of you do too.
If you are still dreaming about moving to the tropics and get your taste of Costa Rica weather, keep reading. If you already did, also read on. And enjoy the fact of having taken the right decision by moving to Costa Rica. Bookmundi did an excellent article showing you when the best time is to visit the country.
Cold and Snow
Now is the time to stop worrying about having to clean your frozen windshield. We have much better options for you in Costa Rica.
If you run an internet business or any business you can run from home, you can do what I do: work in shorts and on flip-flops and enjoy the Costa Rica weather.
If you don't have a business, we'll sell you one, don't worry.
Or if you are planning for Costa Rica retirement, you have a bright future. Especially if you ask us how to use your IRA, 401 (k), or RRSP. The world has become so small now that it doesn't matter where you work and where you live. As long as you can enjoy it.
Fast speed internet allows you to work while sitting at your pool with your laptop and enjoy working from home as much as I do. But before you do, check out the residency requirements on our website.
Throw away my ties
I threw my ties away in 1980 when I move to Costa Rica. But I keep one for receptions and burials. I only dress up when I have clients and as soon as I get back, I change back into shorts again.
If my clients are nice people, I can feel comfortable to dress shorts when showing properties. If I don't feel comfortable, I generally get rid of them quickly and send them to my competitors.
Who needs a client who is not nice anyway?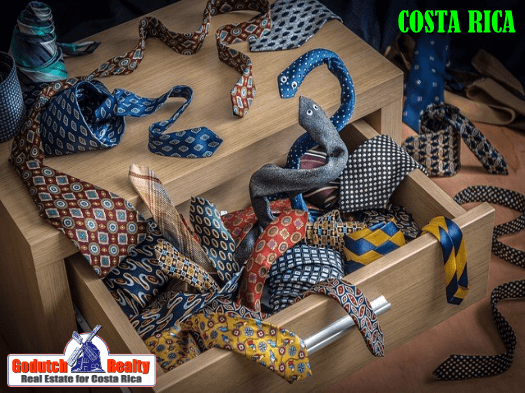 Sunshine baby
The most interesting thing about moving here is the Costa Rica weather and the temperatures. You just choose what temperatures you like best and that will tell you the location where you should look to buy a home. That is why it is VERY important to choose a real estate agent who knows the Central Valley well. Although these maps below give you a pretty good indication.
Rainfall Map
The first map is a Costa Rica Rainfall map. You will really want to look at this map because one can put up with only so much rain. If you click on it, you'll find it is interactive. If you hold your mouse over a location the chart will show when the rainy season and dry season occur. The colors give you an indication of the average yearly rainfall.
Sunshine Map
Another map that is probably even more important is the Costa Rica Sunshine map. Click on it and you'll find the interactive map showing monthly regional temperature charts. The Costa Rica guide has a lot of great information and they sell good maps.
Temperatures
Costa Rica has all these microclimates everywhere. To show you the difference, I will use the locations where I live.
My residence and office are in San Rafael de Escazu. The temperature, when I'm writing this blog, is 25°C  (77°F).
If we look at Barrion El Carmen, San Antonio de Escazu (which is 5 km – 3 Mi South) and the temperature is around 22°C (71.6°F).
At the same time, in San Rafael de Santa Ana, (which is 5 km – 3 Mi West) and the temperature is around 27°C (80.6°F).
In the evenings, it cools off a bit, but it's almost never hot, or cold. If you enjoy lower temperatures, look for higher elevations. If you like it warm, go to the lower elevations. And if you like it really hot, go to the beach areas.
You can find a few temperatures on AccuWeather.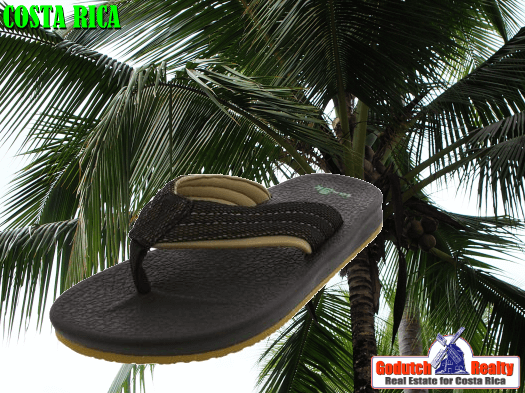 Your own flipflops
Come and find the Costa Rica weather of your dreams and bring your own flip-flops.
If you're not totally sure if you should relocate or stay where you are yet, check out how to winterize your vehicle before the next winter hits you, then re-read this blog.
Knowing what kind of climate you would like to live in will make the search for your dream home in Costa Rica a lot easier on you.
We know how important it is for you to find out which Costa Rica weather and temperatures will suit you best in the Central Valley. All our agents once had to go through the same steps as you when they decided to move here.
That is the reason we have agents in different locations in the Central Valley. They're all well trained to assist you in finding the right place to live and that property you are dreaming of, ask our clients.
Contact us now!
---
If you like to receive up to date information, I invite you to register for Ivo's blog, a weekly newsletter, by clicking the banner below.

I DO want to remind our readers that we appreciate any referrals you can send us. Also, please remember the GoDutch Realty agents when you talk about your home in Costa Rica, we appreciate it.