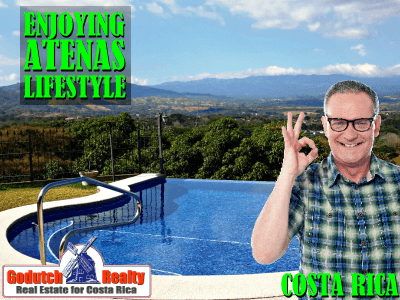 I knew I would enjoy the Atenas lifestyle even before my wife and I started this adventure. In another blog, a couple of weeks ago, I told you who I am and how I ended enjoying the Atenas lifestyle in Costa Rica.
Today, I will tell you more about the town of Atenas and more important: the Atenas lifestyle. It's a dream that came true, now 12 years ago.
In those days, around the year 2,000, when driving around Atenas, you could meet about three or four foreigners in a whole day. Today if you stop at any street corner,  you're sure to count at least five or six expats, at any time of the day. They all seem happy, enjoying the beautiful weather and the slow pace of Atenas.
In Atenas, you'll find quite a few outstanding residential communities, where mostly expats enjoy their new lifestyle.
The best climate
Sitting in the mountains enclosing the West part of the Central Valley, you'll find Atenas. This little town is already well known for having the best climate in the world.
Indeed, the weather will be in the eighty's Fahrenheit about every single day of the year. But because of its low humidity factor, those high numbers reveal themselves perfectly comfortable.
Nobody uses air conditioning for one thing; neither will you find any heating devices! Most washers and dryers stay under the roof but outside the houses, because of the rain. I invite you to try out the best climate in the world for yourself and try the famous Atenas lifestyle!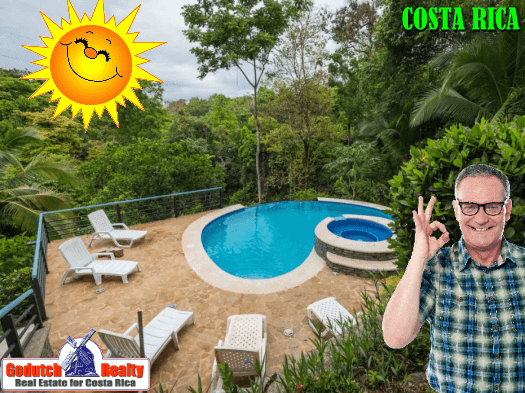 Amenities in Atenas
The town offers all kinds of services for all those living in Atenas, with many benefits for the residents. It is the center of a farming area in a twenty-mile circle around in each direction.
You can find maybe
Fifteen doctors,
Twenty lawyers,
Fifteen dentists,
Five oculists,
Three natural products stores,
Four big enough hardware stores,
Three good sized supermarkets
and so on.
Plus a good twenty-five restaurants, most of them somehow dedicated to us, the expats. And you are at a thirty-minute drive from San Jose. Or, if you go in the opposite direction, sixty minutes will get you to some of the best beaches in the Pacific.
Friendly people
People in Atenas are very kind, friendly, and open to expats. They will always answer your questions the straightest way they can, trying their best to help you. When you see some of their houses, you'll ask yourself how they can live in that. But don't be deceived on appearances.
If you walk inside you'll find a small but clean and sometimes very comfortable home. You'll ask yourself how can they make a living in Atenas, once you know how much they are paid an hour!
Gallo Pinto
You'll be surprised to discover that they live very well with very little. Most of them have savings in their bank accounts, one thing not so many of my fellow citizens back in Quebec enjoy.
Ticos eat vegetables and lots of fruits, plus their eternal Gallo Pinto. That's a mix of rice and beans that accompanies their meat.
Every Friday morning brings you the farmers' market where you'll find all vegetables and fruits fresh from the field. It is mostly for the freshness of the products, their low prices, and the close contact with the local people that make shopping there so much fun.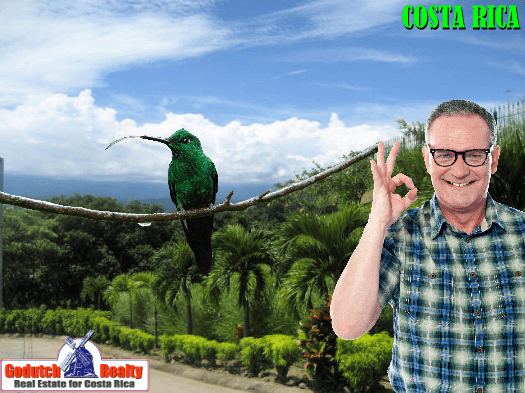 Early risers
If you go just a little native, you'll notice that the Ticos start their day around five o'clock in the morning. They and go to bed around nine at night. Surprisingly, you'll notice that most families have one or two dogs but you will see very few cats.
Because everyone is an early riser, you'll probably adjust your Atenas lifestyle as quickly as I did.
A meeting place
Like most other towns in Costa Rica, Atenas counts with a large enough central park. Just like almost every central park, it is in front of its main church. This is the place where the young singles still meet to make acquaintance on Friday nights, Saturdays, and Sundays just like in the old Tico time.
A friend of mine in her fifties who was walking that park by herself on her very first visit to Atenas was surprised to see that everyone was greeting her as an old friend with their usual " Adios " as she was passing by!
I often witnessed in that park flights of about fifty to one hundred small green parrots screeches happily. This is their way to make sure you notice their presence.
Bird watching
Other friends that are bird watchers said they found more parrots living in Atenas than they would expect. It seems that some birds are migrating here from South America during their winter seasons. Others do the same coming from the USA and Canada at the opposite time of the calendar.
Without mentioning the many that are just enjoying the Atenas lifestyle full time, like my wife and I. As it is said: it all depends on what kind of bird you are.
The Author
Claude Dugas is a full-time resident in Costa Rica and is very knowledgeable about living in Atenas. After being in business for 35 years in Québec, Canada, and in the USA owning a landscaping company and various automobile parts businesses, Claude moved to Atenas, Costa Rica in May 2005 as a permanent resident.
Claude soon got involved in building houses in Atenas. He designed and built seven houses in Atenas so far and now enjoys being retired in Atenas.
---
If you like this blog, subscribe to my newsletter by clicking the banner below.

I DO want to remind our readers that we appreciate any referrals you can send us. Also, please remember the GoDutch Realty agents when you talk about your home in Costa Rica, we appreciate it.