Estimated Reading Time: 6 Minutes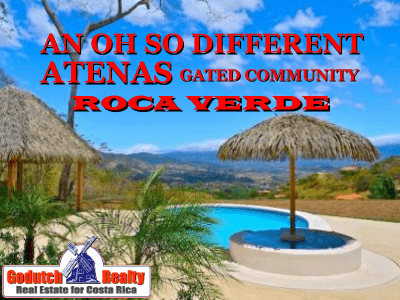 Did you know that Roca Verde homes are amongst the most popular homes in Atenas? I have lived in Atenas for almost 8 years now, own property in Atenas, and I still enjoy it. Over ten years ago, two French Canadian pioneers in Costa Rica, started to develop Vista Atenas and build some ranch houses there (one story), they tell me that this was kind of the middle of nowhere back then.
That's when all property in Atenas started to be as desirable as it is today.
This is where Howard my husband, my son Taylor and myself bought our first property in Atenas. This was our first spec home which connected us to Ivo and GoDutch Realty. I went through training and since then I have been the GoDutch Realty's representative for the area of Atenas. GoDutch Realty has the best Roca Verde homes and Atenas real estate for sale.
After finishing most of Vista Atenas out, they envisioned a much larger and better quality gated community. One of the Vista Atenas partners, Jean Luc Sauvé, his wife, and a partner bought a property in Atenas to develop. This is now known as Roca Verde gated community in Atenas.
It took them some time to get all the permitting in place but their timing was right. When they were ready to start marketing home sites for sale in Roca Verde, the boom started. Fortunately, by then, roads, water, and power were built.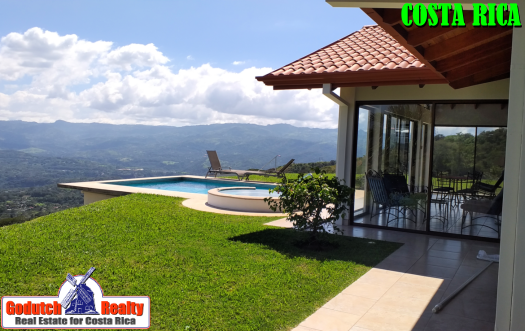 Homesites
We, at GoDutch Realty, have sold many homesites in Roca Verde. Because during the boom many people were looking to retire in the near future. Roca Verde offered the security, the views, and the potential of a great community. The fast growth in the boom made the development successful. The developers had all their ducks in a row:
The location
The concrete roads
Power and water throughout to build spec-homes to get the community
Spec-homes to get the community going.
Nowadays, you won't find a for sale sign on a Roca Verde property for long. All this fell into place to get the community going.
Roca Verde gated community has 75 home sites with sizes varying from ¼ acre to 1 ¾ acre, in 3 phases. Of these, probably 70% have a home built on them. The beauty of the community is its location, only 5 minutes west of the park in Atenas. The views each one of the home sites has to offer is what attracts most future residents of Roca Verde homes. Since Roca Verde is a hilltop, you can get views of the Central Valley on the east and the town of Atenas and surrounding mountains on the west. Those are the most gorgeous views in the entire Central Valley.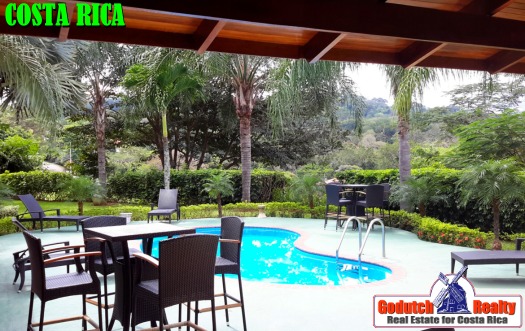 Roca Verde homes
Most Roca Verde homes are single-story homes or ranch-style as we call them here. 90% Of the Roca Verde homes have incredible valley views. Most have a swimming pool and are built for privacy.
Residential gated community
Roca Verde was developed as a residential gated community but has no common areas or amenities. There are no common swimming pools, playgrounds, and green areas because it is not registered as a formal condominium. Each property owner in Roca Verde pays only $50 HOA fees (this changes every year). These fees are used for the maintenance of the roads, maintenance of the 3 water wells, and the security guard at the entrance.
Though there is hardly any crime in Atenas, the town of Atenas has changed, as did the world around us. The community offers a 24/7 guard at the gate but there is no perimeter fence around the community, like most larger communities in Costa Rica. Most homes in Roca Verde have their own swimming pool.
Shopping
Roca Verde gated community is only 5 minutes from downtown Atenas. The town of Atenas offers a farmer's market on Fridays and has all the shopping, banking, many restaurants, and other amenities you need. For fancy shopping, you can either go to Alajuela or to Escazu, where you can find all the malls you want.
Atenas is also only about 30 minutes away from the beaches in the Central Pacific, like Jaco Beach, for those who are beach lovers. The climate in Atenas is said to be the best in the world, which to my opinion it is. Atenas climate has very little rainfall and year-round temperatures between 80º and 90º Fahrenheit.
If you are ready to retire to Costa Rica and willing to take up the adventure of living in Atenas and in a beautiful community like Roca Verde, please contact me. I can show you Roca Verde homes and lots for sale in Atenas.
Oh, and don't forget to look at other properties in Atenas, so you have a good comparison to what I'm sure you're going to love most: Roca Verde gated community in Atenas. When you're ready, contact me.
By Isabelle Jones, who is now retired from selling homes in Atenas. Isabelle was replaced by Marian Veltman, who also lives in Atenas herself.
Feel free to leave your comments on this blog.
---
If you like this blog, subscribe to my newsletter by clicking the banner below.

I want to remind our readers that we appreciate any referrals you can send us. Also, remember GoDutch Realty when talking about your home in Costa Rica to friends and family. We appreciate it.