Estimated Reading Time: 6 Minutes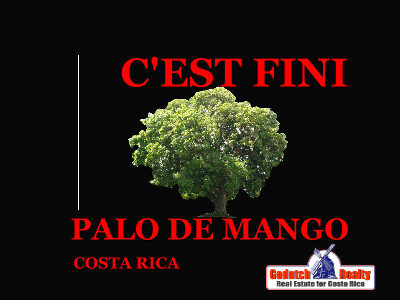 Did you know that a landmark can be incredibly important so visitors can find your house? Few things are as hard as directions or finding an address in Costa Rica if you have recently arrived. Even if you are fluent in Spanish.
Our addresses are weird. Even if you use Waze on your phone, you need to know about the landmark in the area you are visiting. That's the only way to not get lost.
Costa Rica is full of landmarks, even though they change once in a while. I have been living in Escazu, for most of my 36 years in Costa Rica, we just lost one of the most important landmarks: the Mango Tree. Escazu News picked up on the happening and allowed me to the photos.
Most of you probably say "what, a mango tree is a landmark?"
There are places in Costa Rica that have thousands of mango trees. I actually did a blog a while ago about mangoes and a tenant complaining about the mangoes that were keeping her awake.
Every Escazuceño (Escazu resident) knows about The Mango Tree in Bello Horizonte, the one that is in the middle of the road. I know people whose address is "del palo de mango, 50 sur, 150 este" and another one whose address is "25 sur del palo de mango, mano derecha, casa de una planta" which shows how important that landmark is in giving directions in Bello Horizonte.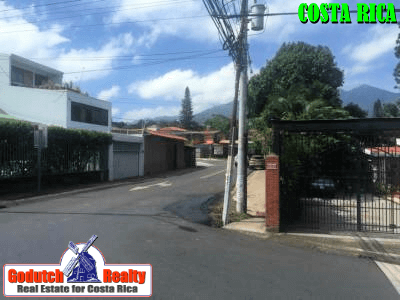 The mango tree before and after
Antiguo Palo de Mango
Well, it was, is no more, gone, c'est fini, kaput, eliminado!
From now on, those living in Escazu who were used to using the mango tree as a landmark to give directions to their guests on how to get to their house will have to change the "Palo de Mango" into "el antiguo palo de mango", or in English where the mango tree used to be.
May he rest in peace!
Save or cut?
It is important to note that several residents living in Escazu have tried to save the mango tree while others have continuously requested to get rid of the tree.  Due to the bad health of the tree, its limbs, and roots, the town council took the decision to cut down the famous landmark and re-pave the asphalt.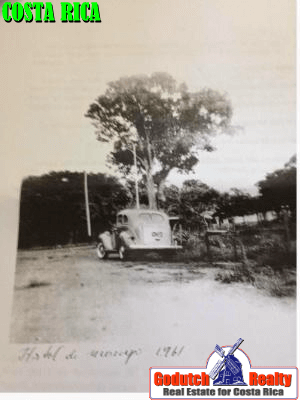 The Escazu mango tree landmark in 1961
A national holiday
It's really a shame that in Costa Rica, culture is so badly protected that they get rid of such an important landmark in the blink of an eye, even if it is just a stupid tree in the middle of the road. I agree it was a dangerous obstacle that obstructs a road with lots of traffic.
Some Escazu residents probably hoped that getting rid of such an important obstacle that is part of local history, at least another national holiday should have been declared on August 18: Palo de Mango day.
Kraantje Lek
For most of you, Kraantje Lek is probably quite difficult to pronounce. Kraantje lek is Dutch for "leaking valve". I don't know where the name came from, but there is this well-known pancake restaurant where I grew up and they had this hollow elm that we'd all play in when we were kids. The elm was as famous as the Palo de Mango in Escazu.
The story goes that the elm was born around 1350 and in 1812 a thunderbolt created a huge hole in the elm. They say that all children from Haarlem were born from that hole. Apparently, my mom didn't do anything.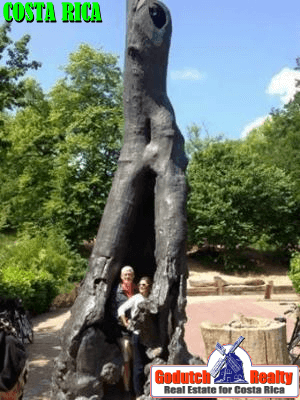 The dying Kraantje lek elm and living forever in bronze
A Bronze Tree
The elm went the same way as the mango tree; it died in 1972 in a storm and was cut in 2007. But the Dutch replaced the dead tree with a bronze tree in 2008, so it will be remembered forever. My wife and I were there a couple of years ago and though I didn't play in it, because I'm too old to play in trees, we did take a picture.
El Higueron
El Higueron in San Pedro is another tree that was an important landmark. Now, Ticos use el antiguo Higueron as a landmark.
It's a shame it's too late for a palo the mango statue. The next generations will only know what the palo de mango was all about because it's still a landmark.
Nonetheless, Costa Rica has other trees, many of them.
If you like trees, contact us now. We have lots of properties for sale with lots of trees and even might have a few with odd directions.
---
If you like this blog, subscribe to my newsletter by clicking the banner below.

I DO want to remind our readers that we appreciate any referrals you can send us. Also, when talking about your home in Costa Rica, please remember the GoDutch Realty agents. We appreciate it.